President Hu Jintao Visits Tencent
2010.09.05
Government officials led by Hu Jintao General Secretary of the CPC Central Committee President of the People's Republic of China and Chairman of the Central Military Commission came to visit Tencent in the afternoon on September 5 2010 the 30th anniversary of Shenzhen Special Economic Zone. Those officials included Wang Yang a member of the Political Bureau of the CPC Central Committee and Secretary of the CPC Guangdong Provincial Committee; Ling Jihua a member of the Secretariat of the CPC Central Committee and Director of the General Office of the CPC Central Committee; and Wang Huning a member of the Secretariat of the CPC Central Committee and Director of the Policy Research Office of the CPC Central Committee. Ma Huateng Tencent's Chief Executive Officer (CEO) and Chen Yidan Tencent's Chief Administration Officer (CAO) received the officials led by the General Secretary on behalf of the entire corporate staff.
Beginning from how they started up Ma Huateng elaborated on the corporate history businesses and staff as well as their pursuit of innovation to the General Secretary in Tencent's exhibition hall. President Hu listened to the presentation carefully and nodded his understanding from time to time. President Hu showed a great interest when Mr. Ma presented Tencent's wireless Internet business as he learned things such as the developments of 3G and 4G in China from Li Yizhong Minister of Industry and Information Technology. He smiled approvingly when he learned that local Internet companies such as Tencent firmly hold leading positions in the Chinese market in the competition with international Internet giants.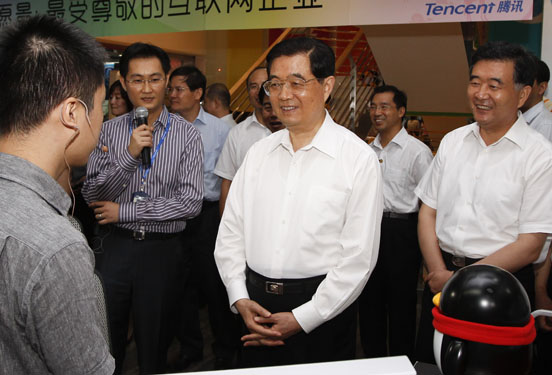 Instant messaging (IM) interactive entertainment online information and e-commerce are Tencent's major Internet services. President Hu was smiling all over his face when he saw a slogan that says "Hello Motherland!" and a smiling face both of which were cartoons that a staff member displayed on a screen using QQ at the IM stand. Mr. Ma elaborated on the significance of the Internet in its ability to increase China's intangible power drive traditional industries and improve the quality of human living while vowing to the General Secretary that the Shenzhen-based Tencent will leverage opportunities and shoulder its mission in an effort to become a world-best Internet company.
President Hu then came to Tencent's Emergency Response Collaboration and Control Center where Chen Yidan told him how the company deals with various emergencies to provide a massive amount of users with stable data services as well as secure and healthy information services. On behalf of Tencent Chen vowed to President Hu that the company is resolved to support and execute the national Internet security strategy and aggressively contribute to the building of a harmonious society!
At Tencent Research Institute and User Experience and Design Center President Hu walked into the Xiao Q R&D User Experience Research and QQ Concept Version R&D areas where he listened to presentations from the explainers and watched demonstrations made by some engineering staff members carefully. Beside the seat of the Xiao Q appearance and functionality design engineer President Hu watched with interest how the engineer woke up Xiao Q by touching it and performed remote voice control over it thereby controlling the PC and manipulating software; in the User Experience Research area an engineer used a data distribution chart generated from the eye-tracker test result to explain to President Hu how Tencent uses that technology and combines it with users' habits to better provide them with more scientific and human-oriented services; in the QQ Concept Version R&D area President Hu watched how a researcher operated next-gen QQ software running on a touchscreen PC using his finger. He shook hands with the researcher twice with a knowing smile when he learned that the concept version of QQ brings more natural user operations and personalized interfaces including a series of new functions such as a dynamic and personalized photo frame that can be changed by pulling the photo at will a vector interface that can be smoothly resized by fingers and 3D interactive visualization all of which let users be free from constraints of mice and keyboards to surf the Internet more freely and experience richer Internet applications.
Ma Huateng presented the General Secretary with a carefully-prepared QQ ID on behalf of the Tencent staff. President Hu was very glad when he received the gift. Looking encouragingly at the young and energetic Tencent employees around him President Hu said in a stentorian voice "Ladies and gentlemen I'm very glad to come to Tencent and meet you here especially so many young people. You are not only young but also vigorous and creative. As we often say both the future of a country and technology innovation depend on young people. You are the ones who decide whether China will join the world leaders in the Internet industry." With a deep affection he then added that "I hope that our young people will have a strong sense of responsibility and mission keep innovating and work hard to master core technologies and address technical challenges. And I heartily hope that your continuous efforts will let our Internet industry take the lead in the Internet world." His remark received an immediate round of applause in Tencent Research Institute where everyone else was expressing their resolution with the applause – "We will surely do a better job Mr. Chairman."
More than 100 Tencent employees sent President Hu off on their own initiative with a lasting round of applause in the hall of Tencent's office building. The General Secretary walked toward them and shook hands with the ones in the front row one by one. As soon as he moved outside the hall President Hu stopped and said in a stentorian voice again "Good day and we pin our hopes on you!"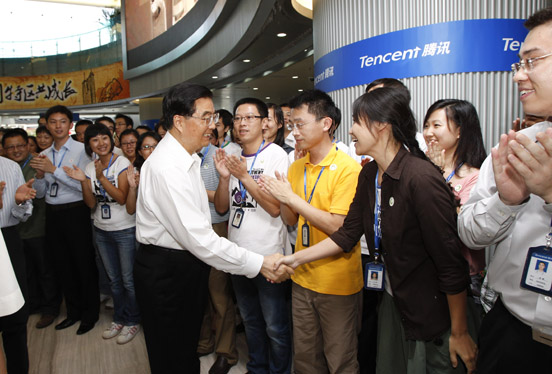 4th to 6th September Hu Jintao General Secretary of the CPC Central Committee President of the People's Republic of China and Chairman of the Central Military Commission came to Shenzhen Guangzhou Province for inspection.This photo was taken on 5th Sep President Hu was in Tencent hearquaters encouraging young employees to contribute their talents keep innovating and devote themselves to the development of our Internet industry.(Photo taken by Xueren LiXinhua News Agency)