Tencent Launches Four Smart Transportation Products at the First China Smart Transportation Conference in Beijing
2018.10.23
 On October 23, the first China Smart Transportation Conference jointly held by Tencent and China Communication News was convened in Beijing. Zhou Wei, Chief Engineer of the Ministry of Transport, Jiang Yang, Vice President of Tencent, Zheng Haojian, Vice President of Tencent, Cai Yuhe, President of China Communication News, Deng Zigang, Vice Director of the New Rail Transit Technology Research Institute of the State Key Laboratory of Traction Power as well as many other representatives from the political, industrial, academic and research fields attended the conference. Under the theme of "Walking into the Future", the conference discussed the status quo and future trends of China's smart transportation industry.
 The conference also invited Li Xiaoyao, Chief Economist of China Transport Telecommunications and Information Center, Jian Lian, Deputy General Manager of Shenzhen Metro Group Co., Ltd., Wang Huinong, General Manager of Shenzhen Bus Group Co., Ltd., Yang Dongyuan, professor and doctoral supervisor of Tongji University, Shen Linchong, Deputy General Manager of Hangzhou Metro Group Co., Ltd. and other distinguished guests. They conducted in-depth analysis on the topic of "Smart Transportation for Smart City Construction" and "Digital Upgrade of Public Transportation".
(Signing ceremony of China Smart Transportation Alliance)
 Tencent's efforts in smart transportation in the industrial Internet era
 Jiang Yang, Vice President of Tencent, said, "There is a long way to go in developing smart transportation. Close cooperation and complementary advantages of the supply side and demand side is the path must be taken to realize future development of smart transportation. While the government promotes smart transportation from the supply side by ways of road network planning, transportation system construction, traffic management and so on, enterprises including Tencent enrich the forms of transport and enhance travel experience from the demand side and user side."
(Jiang Yang, Vice President of Tencent)
 "Transportation is a very important area for Tencent's exploration in the industrial internet. We hope we can utilize our technological achievements from the past two decades to become a digital assistant to the public transportation industry." Said Zheng Haojian, Vice President of Tencent. He shared Tencent's experience in promoting smart transportation. based on cloud computing and big-data innovation, Tencent worked together with partners and developed innovative products such as QR code payment service for buses, bus hailing service, smart transportation assistant, and urban nerve center.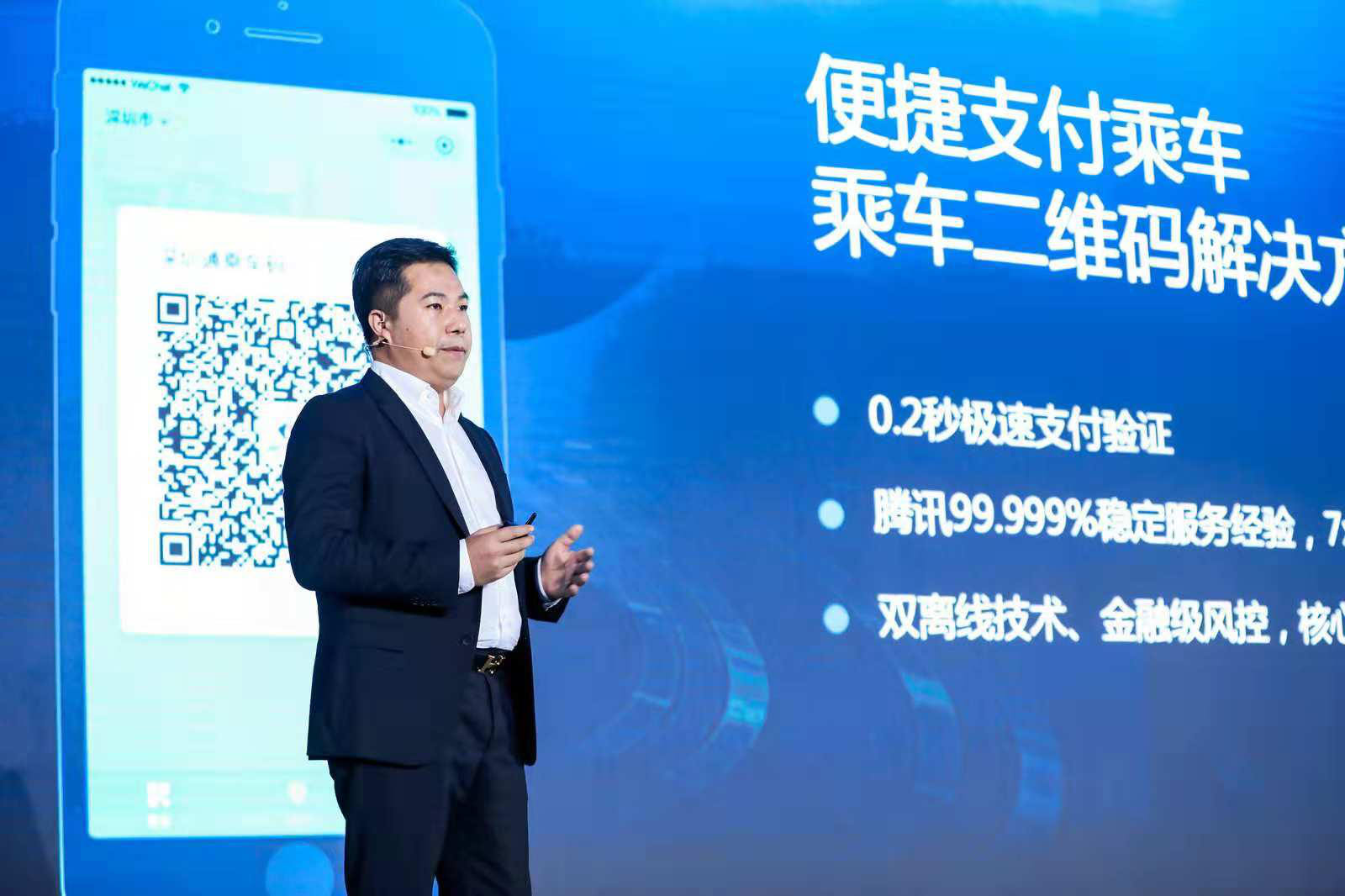 (Zheng Haojian, Vice President of Tencent)
 Mr. Zheng pointed out: "Tencent has developed a '0-1-3-5-7' smart transport system (0 kilometers: "unconscious" payment for parking fees; 1 kilometer: scan-to-go service for shared bikes; 3 kilometers: Tencent QR code payment service for buses; 5 kilometers: car hailing service of DiDi; 7 kilometers: Tencent QR code payment service for subways; intercity travel: WeChat access to 12306; travel beyond the mainland: purchase of MTR tickets with WeChat Pay or WeChat Pay HK). With the support of partners, Tencent's QR code payment service has reached to over 50 million users in more than 100 cities."
 At the conference, Tencent released four smart transportation products - QR code payment service for buses and flights, smart travel assistant, bus hailing service and urban nerve center. The smart travel assistant provides users with considerate services through real-time bus/metro broadcast and route planning to improve travel efficiency; through the bus hailing service, users can customize their bus route based on specific needs and traffic conditions, so that a group of passengers can plan their transportation needs accurately thus improving service efficiency and creating higher profits for the company; the urban nerve center collects and presents visualized real-time traffic data of the whole city through intelligent calculation and analysis, which is a new tool for intelligent governance of urban traffic. The nerve center comprises three parts, i.e. the urban data resource warehouse, integrated large-scale computing platform, and application display and command terminal. It is an innovative practice combining the new Internet technology with the transportation industry.
 Tencent's strategic cooperation with Shenzhen Airlines for brand-new smart air travel experience
 At the conference, Tencent signed a strategic cooperation agreement with Shenzhen Airlines. According to the agreement, the two sides decide to bring users new digital flight experience across the whole process of air travel by tapping their strengths in the field of smart aviation. Their partnership, based on the co-developed APP that allows passengers to use QR codes for security checks and boarding planes, penetrate all links of passenger travel and service, comprehensively enhancing user experience. The two sides also explore thorough application of face recognition technology in the identification of passengers. To boost payment convenience, information security, travel security and technological innovation, Tencent and Shenzhen Airlines have joined hands to promote cross-border cooperation in civil aviation Internet with their advantageous businesses and resources.
 The APP provides users with one-stop service and digital air travel experience, which covers real-name authentication before check-in, online membership registration, online seat selection and check-in, purchase of electronic luggage tickets, passing the security checkpoint by scanning a QR code, boarding by scanning a QR code, baggage tracking, electronic invoice application, and getting the flight delay certificate. In the future, as more data are collected, the platform will be able to provide tailored services and products for different users according to their behavioral characteristics and interests, creating customized air travel experience for every passenger.
 Besides, Tencent is cooperating with the King Lounge of Shenzhen Airlines to develop the feature of "face swiping" entry, through which VIP users can complete the identification process and enter the lounge for exclusive VIP service through face recognition after uploading their face information in the APP. No paper tickers or mobile devices are used in this process. In the future, the two sides will explore mobile payment capabilities in a network-free environment to meet the demand of users onboard. This will empower on-board businesses and services, make the "on-board time" more diversified, and offer innovative experience of on-board mobile payment.
 In addition, the partners will carry out in-depth cooperation in the fields of big data, cloud computing, artificial intelligence, information technology, and public welfare brands to create a new model of smart aviation.
 Establishment of an alliance to drive cross-border integration
 As an important advocate and active practitioner of the "smart transportation" concept, Tencent hopes to take the China Smart Transportation Conference as a great opportunity for joining hands with partners to co-build China's strength in transportation. At the conference, Tencent and public transportation companies in major cities across the country formed the China Smart Transportation Alliance, marking a new starting point for the strategic cooperation between Tencent and its partners. Members of the alliance will continue to cooperate with each other closely in the political, industrial, academic and research fields, and integrate technologies, projects, talents and market resources for the development of smart transportation, so as to boost the development of urban public transportation, improve the operation efficiency, and enhance user satisfaction through technological means.
 Tencent has achieved cooperation in smart transportation projects in more than 100 cities across the country, covering diversified traffic scenarios such as buses, subways, ferries, and ropeways, providing users with smart, low-carbon and environmentally friendly travel experience.