Walmart China Partners with Tencent in Extensive Strategic Collaboration to Set Digital Retail Benchmark
2018.06.07
Shenzhen, June 7th, 2018 – Walmart China and Tencent have announced their official strategic partnership. Both parties will bring forth their competitive advantages and strengths in their respective industries. The collaboration aims to introduce extensive digitization to the smart retail operation, which will enhance retail experiences, refine marketing campaigns, and offer comprehensive payment service and membership benefits. The two companies will explore effective ways of developing and upgrading smart retail applications, creating a blueprint and benchmark for the future of the digital retail industry.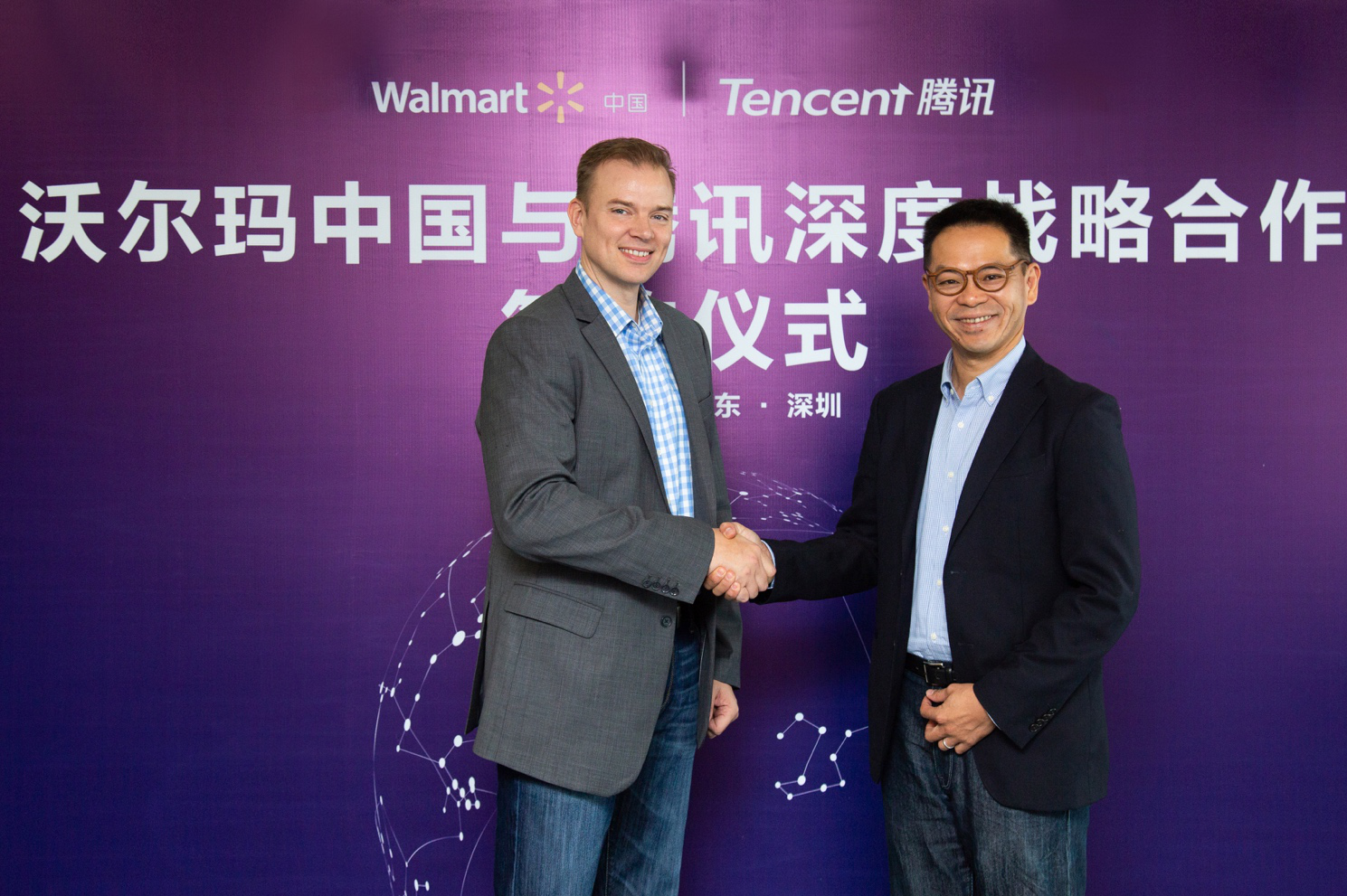 (Left: Ben Hassing, Walmart's Vice President of E-commerce and Technology in China; Right: Davis Lin, Vice President of Tencent)
Walmart China has always maintained a close partnership with Tencent. The strategic collaboration will focus on the following aspects:
Convenient Shopping Experience: Walmart and Tencent will consolidate all retail experiences in the digitization process, enabling a completely digitized operational model for the physical stores. The transformation will combine the capabilities of Tencent's social networking platforms and Walmart's personalized services.
Diverse Payment Methods: The partnership will continue to improve the Mini Program - "QR Shopping." With the help of WeChat Pay, the two parties hope to create more versatile payment methods, which include facial recognition and self-serving options. 
A More Focused Marketing Campaign: Tencent and Walmart will explore web-based tools such as WeChat Pay, Mini-Program, and Tencent Social Ads to develop more precise and attractive marketing campaigns. The collaboration will help Walmart in launching a more effective online and offline marketing campaign with elevated sales experience.
Enhanced Membership Program: The partnership will further strengthen Walmart's Digital Membership Program; 'Sam's Club', and facilitate an organic connection with Tencent's content portfolio, resulting in a stronger membership structure.
More Effective Cooperation: With the help of Enterprise WeChat, Walmart aims to prompt efficient communication among staff and with customers.
"Committed to our customer-oriented approach, Walmart believes that any technological innovation should serve the customers and offer a better shopping experience. This partnership will leverage the competitive advantages and resources of Walmart and Tencent in drafting the blueprint for smart retail and its all-around digitization. Customers will be able to enjoy a more convenient and reliable shopping experience across online and offline shopping channels," said Ben Hassing, Walmart's Vice President of E-commerce and Technology in China. 
"The principal strategy of Tencent's Smart Retail is consumer-focused. We introduce toolkits to assist the digital transformation of the retail industry and achieve win-win results with retailers. Our collaboration with Walmart will motivate us to explore ways to digitize consumer-oriented services and increase operational efficiency," said Davis Lin, Vice President of Tencent.
Walmart and Tencent share a strong partnership. As the largest international retail enterprise in the world, Walmart has been operating in China for 22 years. In recent years, Walmart committed to driving comprehensive digitization of all retail channels. Through its remarkable collaboration with web-based enterprises, Walmart can design a more user-friendly shopping experience for their customers. Meanwhile, they will be able to integrate online and offline shopping exercises into a seamless journey. In March of this year, Walmart trialled the "Smart Store" concept with the help of Tencent's Mini-Program – "QR Shopping." Customers can experience the self-serving payment method through scanning the QR codes on the products. An "QR Shopping" trial took place at Walmart's Shenzhen branch over two months, which achieved a penetration rate of over 30%. To date, 28 branches of Walmart in China have launched the "QR Shopping" Mini-Program. Walmart plans to introduce "QR Planning" to its 400 branches nation-wide within this year.
Tencent is dedicated to its role as a facilitator in the field of smart retail and promoting the digital transformation of the industry. Starting from last year, Tencent has begun to collaborate with sizable enterprises which have resources and capabilities of digitalization. The cooperation prompts the development of digitized retail products and encourages full-scale digitization of the industry.  
The strong alliance between Walmart China and Tencent is driving smart retail development to new heights. Tencent combines its versatile platforms, powerful statistical support, and technologies with Walmart's market-leading experience in digitization. The two parties will raise the efficiency of digitization, reduce operational cost, improve customer experiences and ultimately set the benchmark of industrial digitization.