Tencent and the UK Department for International Trade Established Strategic Partenership in Digital Cultural Creative Industries
2018.05.09
On May 9th, Tencent and the UK Department for International Trade (DIT) signed a Memorandum of Understanding (MOU) of strategic cooperation in London, announcing extensive collaboration in the cultural creative industries to boost the rapid development of the cultural creative industries through digital means. Liam Fox, Secretary of State for International Trade, LAU Sengyee, Senior Executive Vice President of Tencent, and a number of key DIT officials and representatives of various renowned local corporatations attended the event. Following the signing of the MOU, Tencent will work closely with British institutions and corporations, including British Tourist Authority, British Broadcasting Corporation (BBC), British Fashion Council (BFC), Springer Nature, among others, to launch a package of cooperation projects.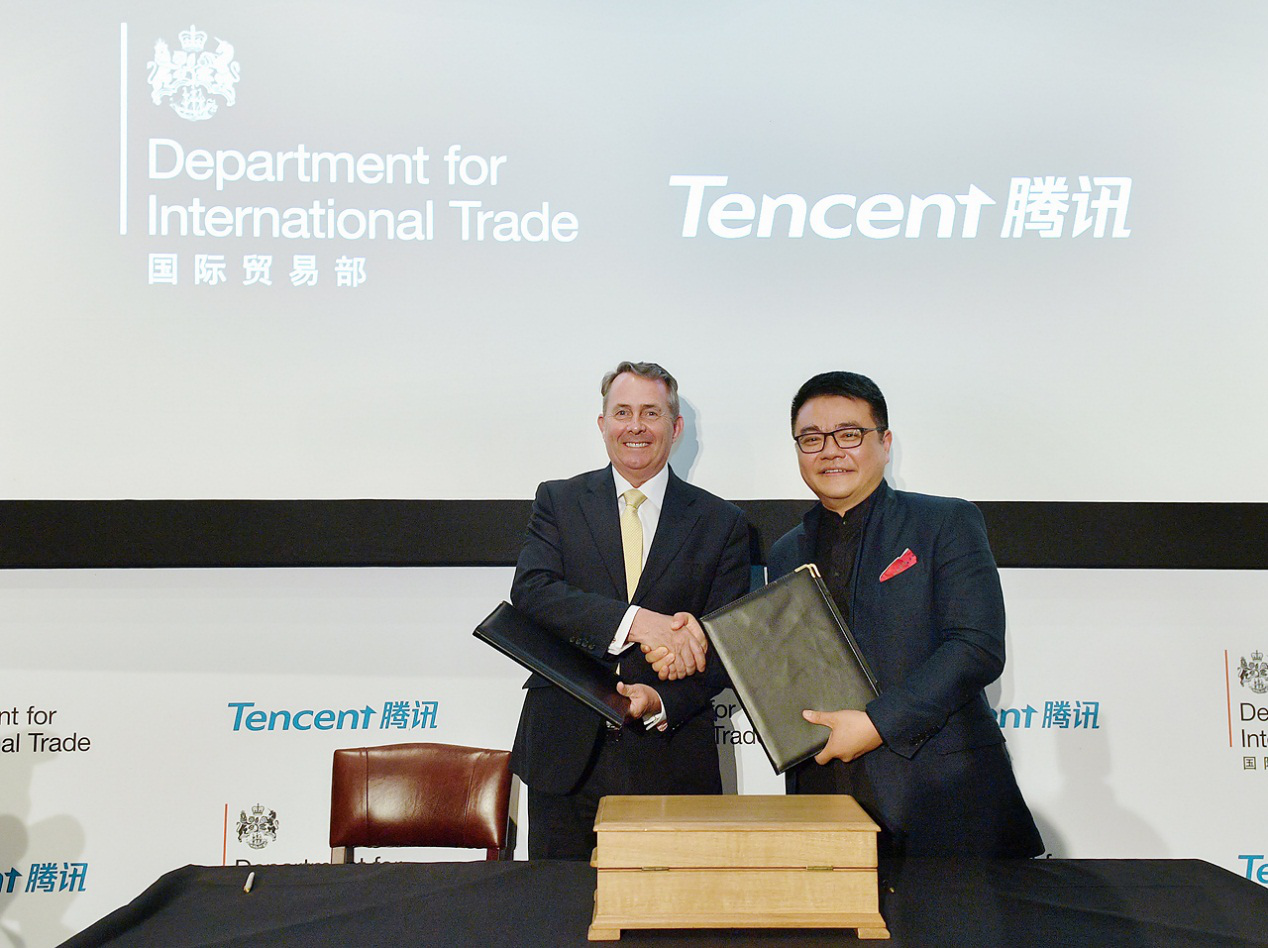 Liam Fox, Secretary of State for International Trade and LAU Sengyee, Senior Executive Vice President of Tencent at the signing ceremony
"We are delighted to enter into strategic partenership with Tencent. As one of the world's top Internet groups, Tencent has been at the forefront of the cutting-edge technologies, with great enthusiasm and strength in promoting the development of digital cultural creative industries, in which the UK is a world leader. The partnership is conducive to drawing on each other's strengths to accelerate the growth of the global digital creative industries," said Liam Fox. "As an international economic department, we are determined to help UK companies to forge new global trading ties that will boost trade, drive growth and provide jobs to every part of the country."
"Openness, partnership and sharing at a global level have become our common vision for the future of human development in this digital era. Within this context, the MOU signed between Tencent and the UK Department for International Trade is of great significance. As an Internet-based technology and culture company, Tencent has been committed to exploring how to empower people by virtue of avant-garde technologies in Internet and AI, in a bid for more innovative achivements by integrating technology and humanity," said LAU Sengyee, Senior Executive Vice President of Tencent. "The cultural creativity and technology industries in the United Kingdom are well recognized around the world. We believe that there are broader prospects for cooperation between Tencent and various British institutions and corporations in the fileds of culture and technology. We look forward to a digital future beneficial to all. What we are doing today is a first step towards that future."
Starting by collaborations in film and television, high-end art and games by leveraging comparative strengths in digital cultural creativity
Tencent will kick-off collaboration with leading British enterprises and corporations in the arena of digital cultural creativity, with a focus on film and television, high-end art and gaming in the initial phase.
In the field of film and television, Tencent Penguin Pictures will sign a three-year partnership with the BBC on co-production, content development, business licensing, and marketing and distribution of content-rich documentaries on diverse topics. In 2017, Blue Planet II, which is jointly produced by Tencent Video and the BBC, broke the global record as the most viewed documentary. The program has garnered a record-breaking 220 million views and has topped the Douban Documentary ratings with an overall score of 9.9.
In the filed o f high-end art, Tencent has regarded the introduction and promotion of quality high-end art content among Chinese users as a part of its social responsibility. Tencent Online Media Group has been collaborating with the Royal Opera House. Take, the cooperation on the World Ballet Day for example. Tencent Video, Tencent News, WeChat and Tencent Live collaborated with the Royal Opera House to conduct a 20-hour World Ballet Day live stream during the National Holiday in China. Together, the four platforms cover most of the internet users in China. Such stratragic partnership will continue to be expanded in the future.
In the filed of games, Tencent will fully leverage the British cultural intellectual property (IP) and gaming resources for integration of culture and entertainment as well as promotion of Sino-UK cultural exchanges. Together with the British Tourist Authority, renowned British IP content corporations and British fashion institutions, Tencent will introduce a British version of the "QQ Speed Mobile Game", a 3D mobile racing game launched in 2017, which has 100 million registered users and more than 20 million daily active users (DAUs) to date. The British version will feature unique cultural elements in new racing tracks, game characters, background music and game character costumes. In collaboration with the University of Oxford, Tencent eSport will create tournaments and courses to drive global development of eSports, a growing global industry that recorded close to US$ 700 million in revenue in 2017 and expected to reach US$1.5 billion by 2020.
Furthermore, Tencent will also establish strategic partnership with the British Fashion Council to design innovative, digital solutions for the fashion industry. Tencent Youtu Lab and Qzone will team up with British fashion designers in a pilot project to integrate AI technology, social media platform, big data analysis, and other innovative applications with fashion design, to generate a deeper understanding of young people's preferences and integrate technology with art. Prior to the current collaboration, Tencent Youtu Lab had identified clours that were most popular among the post-1995 generation through computer vision and Big Data analysis and organized the industry's first "AI + Fashion" show during the 2017 New York Fashion Week together with China's pioneering designer Zhang Chi.
Launch of "Young Scientist Award" with the ocus on quantum, AI and other cutting-edge technologies
Tencent has put great emphasis on the long-term investment in cutting-edge technologies such as AI and quantum computing, while keeping a close eye on potential collaboration opportunities around the world. Tencent has forged a long-term partnership with the University of Oxford on such frontier disciplines as quantum computing and computer vision to promote the integrated development of academia and industry sector. Tencent and Babylon Health, a leading UK-based AI healthcare provider, signed a collaboration agreement to offer AI health consultation service on WeChat in the near future. Tencent AI Lab and Nature Research, a division of leading academic and educational publisher Springer Nature, has also formed a strategic partnership to support the interdisciplinary collaboration between the healthcare industry and AI research communities. The partnership will develop and implement more "AI+ Healthcare" products and applications through scholarships and industry-academic research exchange. Tencent Artificial Intelligence Medical Innovation System (AIMIS) was launched in 2017 as Tencent's first step into the "AI+ Healthcare" sector. This innovative technology can perform an endoscopic examination in less than four seconds, with a 90% accuracy for detecting early cases of oesophageal cancer. The product has already been adopted by more than 100 top hospitals across China, and its usage has been expanded to screening for multiple diseases, including pulmonary nodules, diabetes and ocular fundus disease.
Add to that Tencent and Nature Research will jointly launch the "Young Scientist Award" to encourage young investigators around the world to conduct interdisciplinary research to address key challenges faced by humanity. In 2018, the award will focus on breakthroughs in the "AI+ Healthcare" sector. In addition to monetary incentive, winners will also have the opportunity to deliver keynote speech at the Tencent WE Summit and share their research achievements with audience from across the globe.
Founded in 2013 as an annual global science and innovation event, Tencent WE Summit has been hailed as one of the most influential technology events in China. Since 2017, Tencent has co-organized the WE Summit with strategic partner Springer Nature. As a non-commercial event, Tencent WE Summit connects breakthroughs in scientific discovery with cutting-edge thinking and technology to stimulate innovation and discovery of various possibilities in an ever-changing world. The event attracts global technology practitioners, media and young people who are passionate about science and technology. In 2017, the global live broadcast of the WE Summit garnered over 9.08 million online views. Among the previous keynote speakers at the WE Summit are world-renowned scientists and inventors, incudling the preeminent cosmologist the late Stephen Hawking, Barry Barish (a key contributor to detecting gravitational waves and Nobel Laureate in Physics), Tim Berners Lee (founder and director of World Wide Web Consortium), Ito Koichi (director of MIT Media Lab), Peter Diamandis (Founder of XPRIZE Foundation and Executive Director of Singularity University), and Alan Stern (Principal Investigator of the New Horizons mission to Pluto).