Tencent Unveils "Global Digital Museum Open Platform Initiative" at Cannes Lions Creating the Ultimate "Technology + Culture" Experience for All
2018.06.18
The annual Cannes Lions International Festival of Creativity (Cannes Lions) – the world's most influential advertising and creative communications event – took place from 18th to 22nd June. This year, Tencent joined hands with chief marketing officers (CMOs) and brand communications leaders from 25 of the world's leading enterprises to establish the inaugural CMO Growth Council at Cannes. Hosted by the Cannes Lions and the Association of National Advertisers, the Council was created as a platform to drive discussion, collaboration and implementation among global marketing leaders. Shengyi Liu, Senior Executive Vice President of Tencent, Chairman of Tencent Advertising and Chairman of Group Marketing and Global Branding, was the only Chinese corporate representative invited as a broad member of the Council.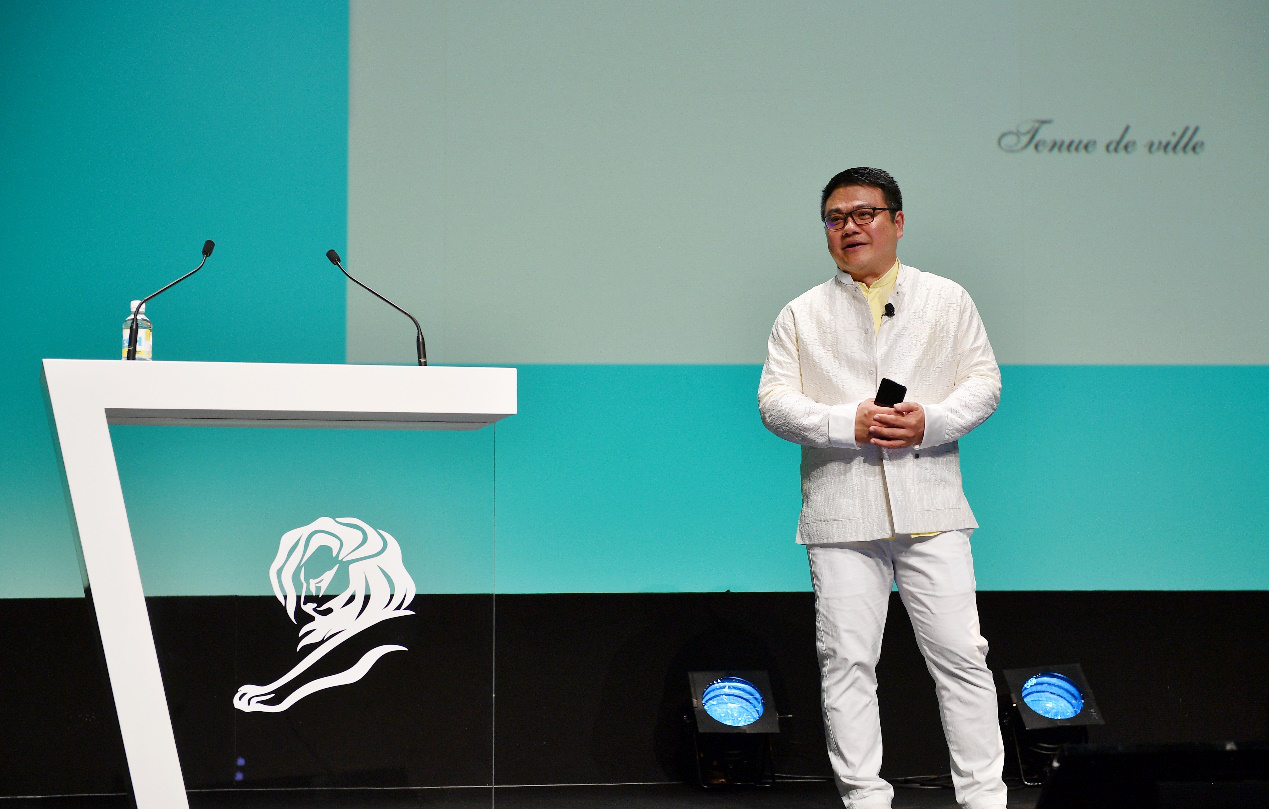 On June 21, Liu attended the first board meeting of the CMO Growth Council and shared his industry insights on the roles of marketers with fellow board members. "Marketers need to focus not only on business value but also the long-term impacts and changes in economic behavior in society. That is why the full integration of technology and culture should be the starting point for marketers to consider," said Liu. During the session, Liu also introduced the unique experience Tencent has created for a billion users in China, an experience centered around the unique role of technology and culture in advertising and marketing, and its long-term impact on society.
The Cannes Lions is the largest event for the advertising and creative communications industry in the world. It brings together global trends on creativity and digital culture and promotes exchange and understanding between the East and West. As an essential component of this year's Cannes Lions, Tencent Advertising hosted more than ten presentations, industry discussions, and customer interviews. These events attracted thousands of representatives from global technology enterprises, corporate clients, marketing gurus and industry experts, who joined together to learn more about Tencent's insights on China's market trends, as well as the company's experience with innovation and creative solutions. 
Creating an exceptional experience for a billion users through "technology + culture"
In his themed keynote speech, Liu highlighted Tencent's positioning as a technological and cultural corporation with a strong foundation in Internet technology and shared the experience of creating exceptional user experiences for one billion users, through the convergence of technology and culture. In this digital era, users are looking for both empathy in shared experiences as well as personalized experiences that enable self-expression. In July 2017, on the eve of the Anniversary of the Founding of the Chinese People's Liberation Army, Tencent Pitu released the "Look! This is My Military Uniform Photo" function in its mobile application, allowing users to upload personal photos to generate their military uniform photos with a swift click. This interactive H5 creation quickly went viral and brought a novel method to express nationalism with personal style. The photo application received record high user participation of over 1.074 billion page views and 168 million unique visitors within two weeks. While this landmark event created a common experience for all participants, everyone had a distinct personal experience, addressing the different need for users to enjoy both a shared experience and personalized experiences simultaneously. In addition to the successful military uniform photo campaign, Tencent also initiated themed functions including "Chinese New Year Family Portrait" and "My Student Photo" during major festivities like Chinese New Year and Children's Day, attracting over 100 million users to interact and share their creativity with their families and friends. "Technology makes unique user experiences possible. The extraordinary experiences created for a billion users is not only a product experience but also a cultural experience. Blending the two helps create both an 'individual' and 'shared' experience," Liu said.
With the convergence of technology and culture, as well as the creation of unique user experiences, new tipping points of digital culture will emerge. The WeChat red packet is a perfect example of combining mobile payment and Chinese tradition, which has led to a tipping point in Chinese digital payment development. Another example is the "99 Charity Day", which leverages mobile payment to educate the public about the culture of philanthropy. "The integration of technology and culture has stimulated the emergence of new digital culture, leading to a new era of civilization – digital civilization," Liu added. "Digital civilization will release personal creativity on a massive scale while ensuring equality, universal benefit and a sustainable development model that helps connect the world to form one digital community."
Introducing the "Digital Global Museum" Initiative
To facilitate the construction of the "Technology + Culture" ecosystem, Liu announced the launch of Tencent's "Global Digital Museum Open Platform Initiative," which targets museums and cultural organizations around the world. By opening up the platforms of Tencent Cloud, Tencent Maps, and WeChat applets, and integrating technologies including audio guides, artificial intelligence, and augmented/virtual reality, Tencent hopes to create a comprehensive digitalized solution akin to a digital assistant for museums. Combining the three key aspects of "universal connection, experience enhancement, and heritage activation," the Initiative will enable more people to experience traditional culture in innovative ways, promoting multicultural exchange.
The "Global Digital Museum Open Platform Initiative" was introduced following Tencent's successful experiences in creating similar programs in China. In 2017, Tencent forged strategic collaborations with heritage institutions such as the Palace Museum and Dunhuang Academy to provide digital solutions for preserving and promoting cultural heritage through the integration of digital technology and Internet service platforms. More users, especially the youth, would be able to experience the unique culture and historical background of Dunhuang Mogao grottoes, a symbol of ancient Chinese civilization and world cultural heritage with significant value in history and art. Earlier this month, Tencent and Dunhuang Academy jointly launched the "Digital Donor" charity program, which featured 35 disappearing Dunhuang murals in a creative and interactive showcase. The program encouraged people to play a role in the promotion and preservation of Dunhuang culture through donations. Within the first day of the launch, nearly a million users had donated to the cause.
Ahead of this year's Cannes Lions, Tencent also kicked off the NEXT IDEA Innovation Contest with Art Exhibitions China (AEC) at the Louvre Museum in France. The contest brought together top museums and cultural organizations in the world, including the British Museum, the Great Wall of China, the Palace Museum, Dunhuang Academy, and the Emperor Qinshihuang's Mausoleum Site Museum to showcase dozens of extremely precious cultural heritage paintings. With the aim to inspire creativity among young talents, the showcase included "Panoramic Landscape" by Wang Ximeng, "Along the River during the Qingming Festival" by Zhang Zeduan, "Mona Lisa" by Leonardo da Vinci and the "Admonitions Scroll" by Gu Kaizhi.
Moving forward, Tencent will continue to promote the "Global Digital Museum Open Platform Initiative" in various parts of the world to encourage cultural exchange, enhance understanding of cultural diversity, and nurture a global vision among the next generation of talents.
Launch of an open marketing ecosystem and the showcase of smart retail solutions in China
The Cannes Lions "China Day" was represented by Tencent, with Vice President Steven Chang delivering the keynote speech. "Brand marketing faces various challenges and digitalization provides an opportunity for brands to stay competitive," said Chang. At the panel session of "Onward and Upward: Where Does China's Innovation Take Us Next?", Sophia Ong, General Manager of Strategic Partnership and Key Account Service, Tencent Online Media Group, joined other senior marketing executives to discuss how international brands can leverage creative Chinese marketing concepts to explore new opportunities. Other panelists joining the discussion included Asmita Dubey, Chief Digital Officer, Consumer Products Division, L'Oréal; Matt Che, VP Marketing, AB-InBev APAC North; and  Minyi Zhang, Deputy General Manager of Tencent Social Ads.
In addition, Tencent also hosted a series of Tencent Cannes Lions roundtables and case study sharing sessions that focused on the recently launched "Tencent WE+" marketing service, discussing market insights and marketing trends with industry elites. "Tencent WE+" marketing service is a system developed based on an "open" concept which consists of three key components: "WEmpower", "WEngage" and "WEmbrace". This marketing system aims to provide a nurturing environment for further innovation and breakthrough in digital marketing, which could drive business growth and ensure a win-win model for brands and consumers.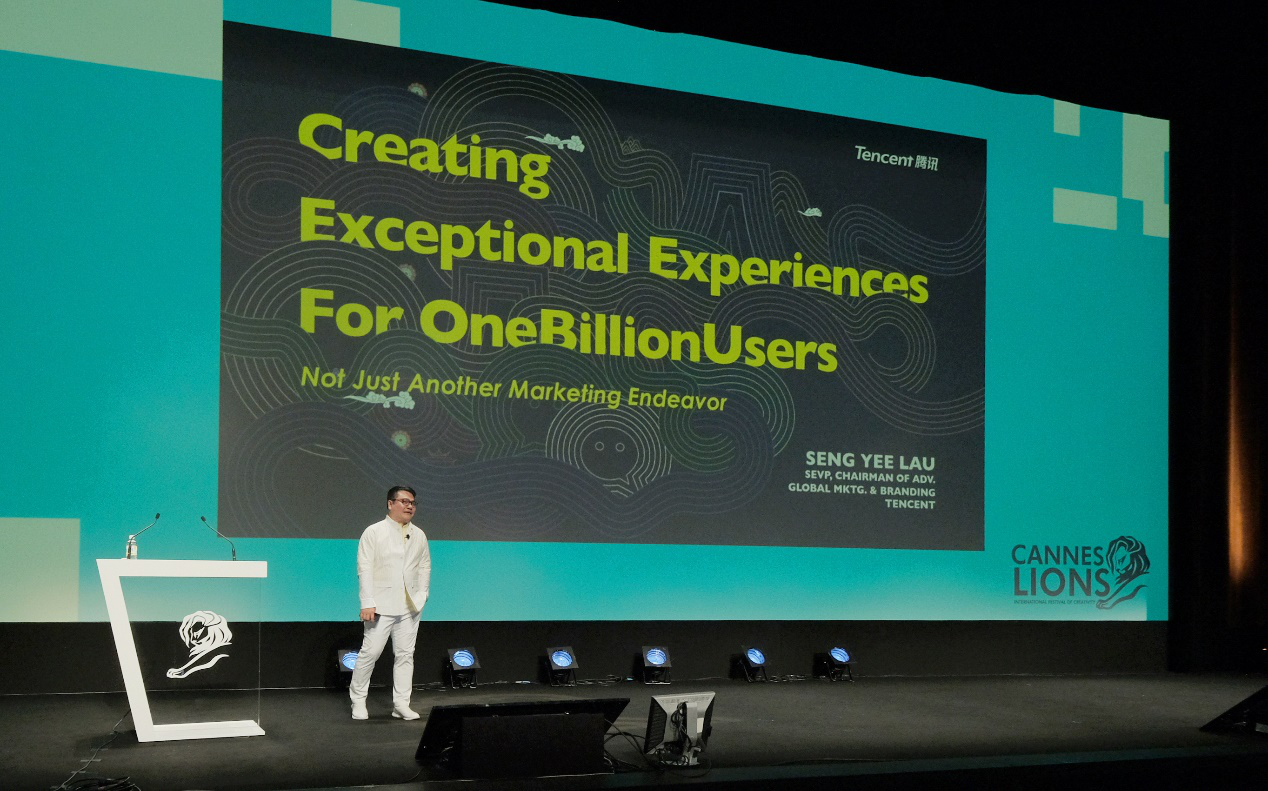 At the session titled "Breaking the Boundaries – Online and Offline Marketing Convergence," Davis Lin, Corporate Vice President of Tencent, shared his insights on the digital trends of the Chinese business environment and consumer behaviors. He showcased Tencent's smart retail solution, which was explored and executed in collaboration with retail brands and business partners. "With the rapid advancement of the mobile Internet, super applications like WeChat have not only been breaking the boundary between the online and offline world, but also reshaping the way of life and shopping habits," said Lin. Facing a full-scale enhancement of consumer needs, Lin recommended businesses to adopt consumer-centric digitalization, integrate online and offline infrastructure, and create new business logic. Lin also highlighted three significant elements in the smart retail solution – WeChat applets, QR code and Tencent Intelligent Recommendation. WeChat applets can be leveraged in every step of the consumer journey, creating new forms of purchase and shortening purchase decision processes; while QR codes seamlessly connect the online and offline world, helping brands to achieve cost-effective conversions; and Tencent Intelligent Recommendation enhances brand service effectiveness by targeting the right audience. More importantly, with the support of powerful Internet tools and technological advancement, Tencent can create novel consumer experiences through digital operations, connecting brands with consumers, bridging users to the world, and ultimately advancing the lives of people.
Ms. Ying Yu, Vice President of Carrefour China, a Tencent business partner, shared her experiences in smart retail. "Carrefour leveraged data and technology to drive product development and customer purchases, as well as to upgrade our customer service. It also helps us discover consumer needs, enhances purchasing experience and transforms to a membership model. Our CRM system, which connects to WeChat Pay, was created based on Tencent's infrastructure and technologies. This enriches our online-offline channel convergence and helps us migrate to digital operations," said Yu. The accurate and precise user insights provided by Tencent Social Ads also helped optimize the effectiveness of Carrefour's brand marketing initiatives, leading to an increase of 454% in download rate of the mobile application and growth of online sales by 157%. Leveraging the occasion of the Cannes Lions, Carrefour opened a pop-up store "City Cannes ALEX 3" in the city center, allowing visitors to shop through interactive technologies with a scan-and-pay and facial recognition payment system which were jointly provided by Tencent and Carrefour.