Five Tencent Businesses Announce Pan-Entertainment Upgrades to Neo-Culture Creativity
2018.04.23
On April 23, at the UP2018 Tencent Neo-Culture Creativity Eco-Conference, CEO of Tencent Pictures and Vice President of Tencent Wu Cheng introduced Tencent's core strategy for upgrading "Neo-Culture Creativity" with "pan-entertainment." The strategies were presented under the theme of "With Love We Create."
Following the release of the roadmap for neo-culture creativity, each of Tencent's digital culture operations (including Tencent Pictures, Tencent Comic, Tencent Literature, Penguin e-Sports, and Tencent Games) shared their strategic priorities and latest updates. Of particular note, Penguin e-Sports made its first public appearance as an individual entity at the UP conference.
In his opening address before the conference, Wu introduced the strategic vision for "neo-culture creativity" – meaning the promotion of mutualism between cultural and industrial values through broader mainframe connections to realize higher efficiency in digital cultural production, as well as a more systematic development process for intellectual property.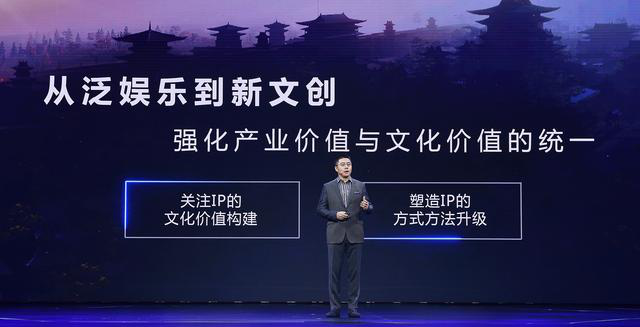 "The idea behind our strategy was to upgrade pan-entertainment into neo-culture creativity – but where is the upgrade? I think there are two core points," Cheng explained in a speech. "The first point is to focus on the value construct of intellectual property in a more systematic format; the second point is to upgrade the method and format of creating intellectual property. Only through the extensive connections of various collaborative approaches, cultural resources, and creative methods can we realize the digital cultural production of higher efficiency," he added.
The introduction of "neo-culture creativity" is not only an upgrade to Tencent's 6-year old "pan-entertainment" strategy but also an entirely new line of thought on a cultural level for Tencent.
Wu Cheng: the five key points from "Pan-Entertainment" to "Neo-Culture Creativity"
After six years of implementing the Pan-Entertainment strategy, Cheng believes that intellectual property is a familiar concept in the industry. The shaping of intellectual property, cooperation, and logic within the industry, as well as the entire business ecosystem have gone through significant change. The fields related to pan-entertainment have much space for both self-development and co-development.
From "Pan-Entertainment" to "neo-culture creativity", Cheng added one key point to existing four major components. They are:
Establish "new standards" with attention to the intellectual property of "Industry + Culture";
Build "new communities" that connect to more diverse cultural mainframes;
Create "new experiences" to construct a more enriched and three-dimensional integrated digital experience;
Explore "new possibilities" by paying close attention to cutting-edge technology and prepare accordingly;
To be constantly patient in the journey of co-creating a digital China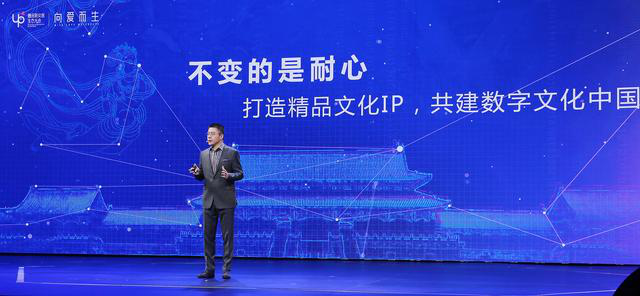 On the final point, Cheng said, "The one consistent theme is patience. Culture is a product of time – even just a good piece of work, intellectual property or not, requires many years of hard work." Cheng added that building "neo-culture creativity" is a long and systematic project that requires patience and ingenuity, coupled with open-minded cooperation.
Tencent Pictures: establishing wholly-owned subsidiary Tencent Pictures Distribution
As the first industry session at the conference, Tencent Pictures announced a list of 15 film and television productions, including Mystery of Antiques ("古董局中局") that would be released in 2018. Five cultural production series consisting of Melody of Time ("时代旋律"), Stories from the East ("东方故事"), Dimensional Break ("次元破壁"), Chinese Sci-Fi ("中国科幻"), and International Expedition ("国际探索") were showcased. Also highlighted were the games Honor of Kings ("王者荣耀") and JX3 ("剑网3"), the Japanese anime Saint Seiya: Knights of the Zodiac, which will receive live-action adaptations; and an animation series for Journey to the West ("西行纪") this summer.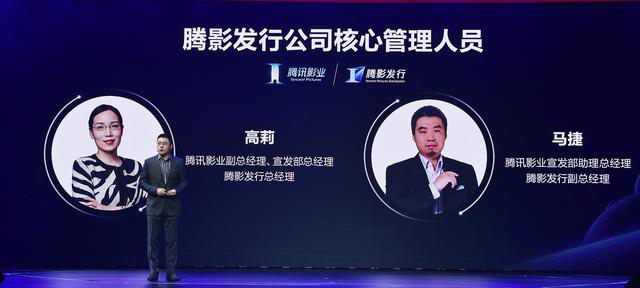 Tencent Pictures released four important announcements:
the establishment of Tencent Pictures Distribution, a wholly-owned subsidiary;
a Strategic cooperation with Angie Chai's M.Y. Entertainment, TMP, and Skydance Media,
a collaboration with Skydance Media to produce a remake of the first "Terminator", with James Cameron as one of the producers; and
the initiation of Long Gu's complete series of works over the last decade with his eldest son, Xiaolong Cheng.
Tencent Pictures also announced the "Contract Writer Initiative" to cultivate NEXT IDEA talent with high-caliber screenwriters.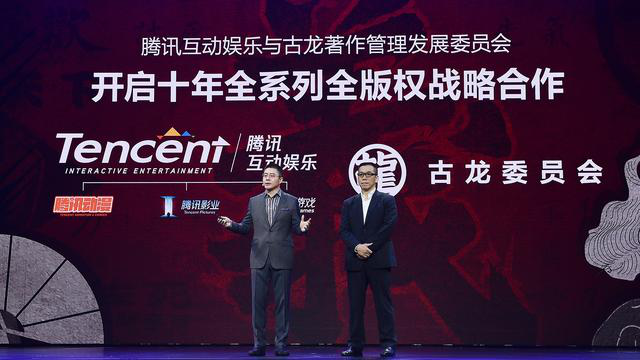 "Tencent believes that the film and television industries are important carriers for popular culture within the neo-culture creativity ecosystem. Apart from realizing industrial values, we must also bear the greater cultural values," said Tencent Pictures CEO Wu Cheng.
Cheng introduced Tencent Pictures' concepts and initiatives on cultural values from three directions, including "Content Creation," "Platform Building," "Open Collaboration." Further news on Tencent Pictures' projects and the "List of Production Items" of 2018 was announced at Tencent Pictures' annual conference on September 17.
Attached: 2018 Tencent Pictures releases and broadcasts (15 works, continually updated)
Movies (7):
Animal World ("动物世界"), Pathfinder ("拓星者"), Long Day's Journey into Night ("地球最后的夜晚"), Boonie Bears: The Big Shrink ("熊出没·变形记"), College Days ("草样年华"), L.O.R.D: Legend of Ravaging Dynasties 2 ("爵迹2:冷血狂宴"), Ready Player One ("头号玩家")  (jointly promoted by the China region) 
Television series (8):
Mystery of Dynasties ("古董局中局"), The Golden Eyes ("黄金瞳"), We Are Family ("都是一家人"), The World is Not Fraudulent ("天下无诈"), Meteor Garden ("新流星花园"), The Nights ("将夜"), Breaking the Vault of Heavens ("斗破苍穹"), and the animation - Journey to the West ("西行纪").
Attached: Tencent Pictures' first batch of cultural series (released and planned):
Melody of Time Series
Facing the Sea ("面向大海"), We Are Family ("都是一家人"), The World is Not Fraudulent ("天下无诈"), Blue Armor ("蓝盔"), and Encounter ("交锋")
Stories from the East Series
Mystery of Dynasties ("古董局中局"), Breaking the Vault of Heavens ("斗破苍穹"), The Nights ("将夜"), and Year of Celebration ("庆余年")
Dimensional Break Series
Journey to the West ("西行纪"), Saint Seiya: Knights of the Zodiac, The Crown Moment ("王者时刻") and JX3 ("剑侠情缘叁")
Chinese Sci-Fi Series
Pathfinder ("拓星者"), Shanghai Fortress ("上海堡垒"), Two Million Miles Program ("两万里计划"), The Dark Side of the Moon ("月球暗面")
International Expedition Series
Warcraft, King Kong: Skull Island, Wonder Woman, and Animal World;
International English version: Zombie Brother, The Tibet Code, Terminator remake (official name to be determined)
Tencent Comic: Brand upgrade "meeting a different world", mobile games Fox Spirit Matchmaker ("狐妖") and A Person ("一人") begins official registration
As an important source of intellectual property content in the neo-culture creativity ecosystem, Tencent Comic announced an entirely new brand concept – "meeting a different world." "Anime is a method for young people to express their feelings. Their content preference reflects their different emotional needs," said Zhengyu Zou, General Manager of the Animation Department under Tencent Interactive Entertainment. "Different works of anime are inherently different worlds, and we hope users can choose these different worlds to show their feelings through experiencing different works of anime," he added.

According to the new brand concept, Tencent Comic will plan for more diverse content. Zou also introduced projects in collaboration with partners, including; Dunhuang Academy, Tsai Chih Chung, Super Gen, the Honor of Kings team, M.Y. Entertainment and Jiaxing Media:
A joint project with comics master Tsai Chiih Chung and Dunhuang Academy to remake the historical story of Dunhuang. The project has been launched exclusively on Tencent Comic in September.
A collaboration with Phoenix Entertainment on "Jin Yong's Works in Comic Form", to be released this year, including:
the Condor Trilogy,
The Deer and the Cauldron,  
The Smiling, Proud Wanderer,  
Demi-Gods and Semi-Devils, and
Fox Volant of the Snowy Mountain 
Currently, three of the comics are being released in a serialized format.
A joint co-creation project with Super Gen and Next Animation Studio for e-sports themed anime. With five projects already confirmed Future: Reactivated ("未来重启"), The Boss ("野区老祖"), Master of Sales ("贩卖大师"), The Door to Galaxy ("星原之门"), The Battlefield of the Sky ("天梯战地"), productions will be successively uploaded onto the Tencent Comic mobile app.
A collaboration with the Honor of Kings intellectual property content team to create an official comic series that remakes the heroic story of the game.
A joint co-creation and property rights-sharing project with M.Y. Entertainment President and brilliant producer Angie Chai to produce a comic – My Quarter Boyfriends ("我的1/4男友")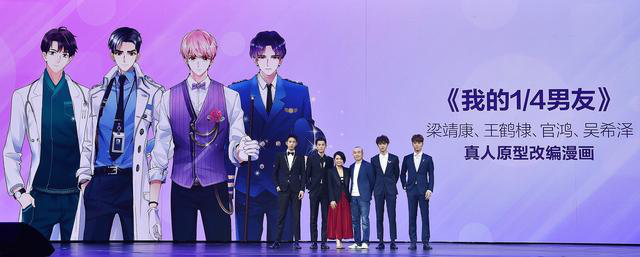 A collaboration with Jiaxing Media to kickstart the incubation of celebrity ACG intellectual property. Jiaxing Media tailored a comic titled Dilreba Action ("冷巴ACTION") for Dilreba Dilmurat, with an exclusive release on Tencent Comic.
Zou also discussed the important progress regarding the development of Chinese comics intellectual property.
Excellent comics displaying traditional Chinese culture, such as Qin Xia ("秦侠") and The National Landscape ("山河社稷图"), both of which will be animated this year.
A game titled Fox Spirit Matchmaker, co-created with Tencent Interactive Entertainment Aurora Studios, is a Chinese-styled romance ACG game that began receiving pre-registration on April 23, pending a late 2018 release. Both parties will also collaborate on more brilliant Chinese comics and create a "Chinese-styled Romance Alliance".
The pre-registration for the mobile game A Person began on April 23 as well. Tencent Comic jointly launched a "The National Intellectual Properties Activation Program" with Mofang Studios in coordination with the release of A Person this year, exhibiting the allure of China's local culture.
Zou stated that Tencent Comic will continue to reinforce its cooperation with partners to explore how to fully transform the ACG realm of content into intellectual property.
On platform development, Zou announced that Tencent Comic has already reached a consensus to cooperate with quality platforms such as WeChat, QQ mobile, Tencent Video, book.qq and QQ browser. With content being the core consideration, these collaborations will initiate personalized joint-operations according to the different natures of their users.
Zou stated that after three years, Tencent Comic has already developed a relatively mature "ACG economy" business model, providing authors with better creative environments on one hand and helping intellectual property to grow on the other, thus increasing industrial value.
Tencent Literature: Releasing strategy and system for intellectual property for running the "IP partners" system to its full course
"In the era of 'Made Intelligently in China', we're witnessing the rise in the demand for digital cultural products. Among these products, online literature, a culture relatively unique in China, has proven to be the most popular cultural item," said Tencent Literature CEO Wenhui Wu at the conference.
Wu first recapped Tencent Literature's performance in 2017.
In 2017, Tencent Literature's copyright operation revenues grew by 48%, with a total of more than 100 productions having undergone authorized intellectual property adaptation. A total of 11 independent animations were broadcasted, with many becoming new benchmarks for Chinese animation. One such animation, Fights Break Spheres, recorded the most streams for a Chinese-made 3D animation in 2017 with 1.4 billion streams during its first season run. Another such animation, The King's Avatar, recorded the most streams for a Chinese-made 2D animation in 2017 with 1.1 billion streams during its first season run.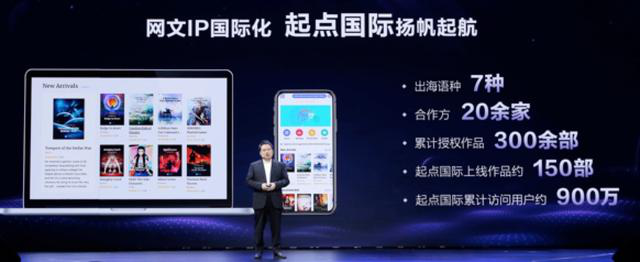 On cultural output, overseas online portals have published about 150 English translated works internationally, accumulating about 9 million visitors. Meanwhile, digital and print publication has been authorized for original works in Japan and Korea; southeast Asian countries such as Thailand and Vietnam; as well as European countries such as the UK, France, Turkey; and America, totaling 7 different languages and more than 20 partners producing more than 300 pieces of work.
On the system for cultivating writers, Tencent Literature reached 6.9 million creators in December 2017, with the "Twelve Kings of Internet Literature" leading the charge for many emerging writers.
Wu announced the strategic system for intellectual property in 2018 that includes plans for adapting a series of intellectual property works, as well as executing the next step in the "IP Partners" system.

On maximizing intellectual property value, China Literature will release many popular intellectual property television and film adaptations, such as The Shared Moment Between You and I ("你和我的倾城时光"), CMFU Academy ("CMFU学院"), The King of the Military ("兵者为王"), The Caterer ("美食供应商"), and Heavy Industries of the Nation ("大国重工"). On promoting premium content, high quality intellectual property shows such as Year of Celebration ("庆余年"), The Nights ("将夜"), Martial Universe ("武动乾坤"), Breaking the Vault of Heavens ("斗破苍穹"), The Golden Irises ("黄金瞳"), Legend of Fuyao ("扶摇"), and The Rise of Phoenixes ("凰权·弈天") will be released on screens too.
On developing the ACG field, Tencent Literature released "The Reading Spirit", the first integrated ACG platform. ACG productions adapted from Internet literature such the special edition of The King's Avatar ("全职高手") and Legend of Immortal ("星辰变") animations; The Full Time Mage ("全职法师") comic; as well as the games Devour the Stars ("吞噬星空") and The New Continent ("新斗罗大陆") will be released as well.
Wu believes that 2018 will be the breakthrough year for Tencent Literature's intellectual property. Tencent Literature Group will focus their efforts on maximizing intellectual property value, as well as creating flagship literature products with premium content, transforming the symbiotic operations of intellectual property into an ecosystem. Tencent Literature hopes that platforms of even higher quality will further elevate intellectual property value and bring more possibilities to China's neo-culture creativity ecosystem.
Penguin e-Sports: Strategic planning for the next five years, Building a new industrial ecosystem with the thinking of "sportization"
As an important part of the neo-culture creativity ecosystem, Penguin e-Sports presented itself as an independent entity for the first time at the UP conference.
General Manager of Tencent Interactive Entertainment, Research and Integrated Marketing, Miao Hou stated that e-sports is not only based on gaming, but transcends gaming by combining technology, competition, entertainment and socialization into one industry. E-sports is a digital, entertainment, cultural, and sporting industry with unique commercial attributes and user value.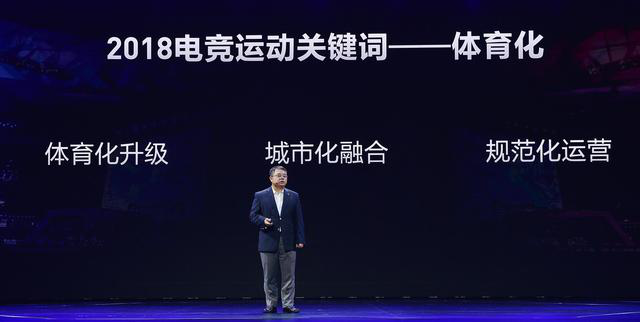 During the conference, Penguin e-Sports announced that 2018 is a year of "strategic planning" for Chinese e-sports industry's five golden years. Penguin e-Sports will create strategic plan for "systematic upgrading", "urbanization deployment", and "standardized operations" based on the concept of "sportization"; as well as continue to explore the e-sports business model to support talent cultivation, promote regional industrial development and build a positive "e-sports +" ecosystem.
Penguin e-Sports established on December 9th, 2016. With "Chinese e-sports is entering a golden era", there are over 11 major e-sports tournaments across multiple fields with two major focuses - the "League of Legends" and the "Honor of Kings" tournament series. These tournaments have maintained a high rate of growth with 22 billion spectators and 250 million players. Penguin e-Sports has established in-depth collaboration to create numerous courses with seven universities, including the Massachusetts Institute of Technology, Communication University of China, Wuhan University, and Shenzhen University. Of particular note, Penguin e-Sports organized a China-US e-sports industrial exchange forum with MIT, creating for the first time a "China-US university e-sports exchange competition format". In addition, the first e-sports lecturers training course has produced 45 potential talents for the industry, while public e-sports courses hosted by 15 university across the country have successfully elevated the influence and recognition of e-sports in the society. In addition, the certification of the Beijing Hopson One Pan-entertainment e-sports ecosystem has helped build a reputation of e-sports in the regional cities.
Referencing the primary problems of the e-sports industry – such as the professionalism of tournaments, talent cultivation system, industry rules and regulations, and urban e-sports foundations, Hou clearly stated that Penguin e-Sports will focus on sportization of the industry when implementing the strategic planning in 2018.
In particular, the tournament and commercialization systems under Penguin e-Sports will be fully upgraded in 2018 to continue building the international influence of Chinese e-sports. The "King Pro League "and "League of Legends Pro League" will adopt a fixed-seat system to allow teams more leeway to run long-term operational planning. Simultaneously in June, Penguin e-Sports explored innovation of different tournament types and set up an S-league for the mobile game "QQ Speed". Penguin e-Sports will learn from traditional sports industries and cooperate with top brands such as Mercedes-Benz, vivo, McDonald's, SPD Bank Credit Card, and L'Oreal Paris to create an international e-sports commercialization system. In addition, the Honor of Kings Champion Cup International Invitational took place in Beijing on August 11, with a prize of 1,000,000 USD. In addition, the winners of the League of Legends Pro League Spring Finals represent their region at the MSI Mid-Season Championship, while the Asia Match of the Continental Tournament takes place in Dalian.
On the urbanization planning, Penguin e-Sports will launch an "E-sports City Development Plan", using dedicated funds and resources to match the needs of local governments for creating premium competition, while continuing to explore the in-depth integration of regional culture with tournament under a home-and-away format. While providing support for scrimmage, Penguin e-Sports will link up with other industries to help build the reputation for e-sports and digital culture in different cities.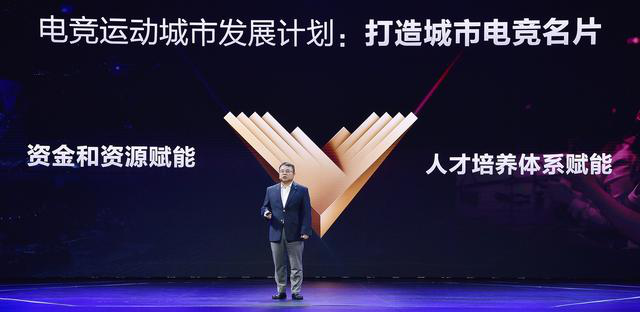 Penguin e-Sports will continue their efforts in nurturing talent, and will actively cooperate with government departments to develop industry rules and regulations. The 2018 Penguin e-Sports Brand Launch cum Global E-Sports Leaders Summit was held on June 14, detailing out its development plan with a focus on "sportization".

Tencent Games: Integrating more cultural experiences and exploring further possibilities of gaming
At Tencent Games' brand launch, Vice President of Tencent Games Li Gao shared her views on the value of games: when more cultural experiences, artistic expressions, and sentimental resonance, are integrated into games, they can reveal more potential positive energy and therefore become an important cultural carrier for positive effects and values of the public.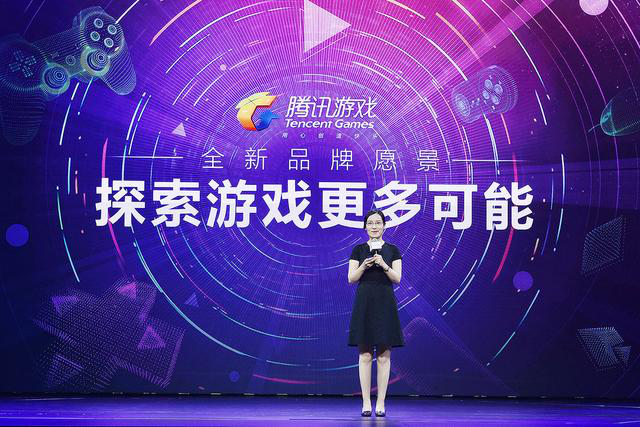 With this goal, Tencent Games started a series of explorations long ago:
First, upgrading parental controls to build a new way of communication for parents and children and allow gaming as a type of entertainment and interaction for families. Parental controls serve not only to "manage" the gaming behaviors of minors, but also to facilitate parent-child "communication" through agreement and interaction;
Second, setting up the infrastructure for functional games to open up new perspectives for application in different industries. The Joint ("榫接卯和") and The Folding Fans ("折扇") released earlier by Tencent Games, providing education of traditional craftmanship through interactive experiences, while solo games such as "Human Resource Machine" have been well-received by students and programmers;
Third, protecting traditional games and creating new carriers for the output and passing down of culture. Since 2015, Tencent Interactive Entertainment has cooperated with ONUÉSC to initiate the "Open Digital Library on Traditional Games" project. This year, the project started with Dunhuang, initiating the exploration and passing on of traditional Chinese games, and will follow the Belt and Road initiative to bring traditional Chinese culture to the rest of the world, through games. In addition, the project will reach a strategic cooperation with the National Library of China this year to process and interpret the cultural values of traditional Chinese games.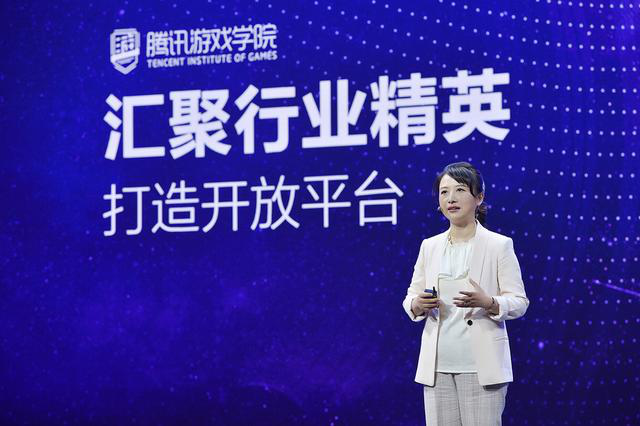 Whether it be the strategic industry plan, or the exploration of cultural integration, the most important element involved is talent. At the conference, General Manager of Tencent Interactive Entertainment and Research Management and Tencent Institute of Games Lin Xia also introduced two major initiatives by the Tencent Institute of Games in talent cultivation:
Cooperate with universities across the country on a large scale to provide closed-loop creation, production, incubation, and publication experiences to university talent;
Create an open exchange platform for the industry to promote talent exchange in vertical sectors and support excellent innovative projects, and to further supply brilliant talent to the industry.
In addition, to help more creators better involve in the gaming ecosystem, Tencent Games also established the first ever content creation and sharing platform; "Tencent Game player creation League" – and looks forward to more players building a more diverse gaming cultural content ecosystem together.
Li stated that Tencent Games will cooperate with more partners to inject a range of cultural content and generate a larger platform for application in the era of neo-culture creativity. "Exploring more possibilities for games" will also become the brand's new vision.
As a "Technology + Culture" company rooted in the Internet, Tencent has organized many sessions of "WE Summit" with a focus on technology and innovation since 2013; nowadays, Tencent has rolled out another "UP Conference" based on the concept of "neo-culture creativity". This "UP conference" spans two days. The first day of the conference on April 22nd was an industry summit where Tencent introduced the strategic thinking of "neo-culture creativity". Eleven veterans of global cultural and creative production, including "House of Cards" author Michael Dobbs, Chief Designer of League of Legends "Ghostcrawler", and famous Hollywood screenwriter David S. Goyer, were invited to share their thinking and experiences. The second day of the conference on April 23rd featured announcements on the newest initiatives from neo-cultural creative businesses under Tencent, such as gaming, animation, literature, film and television, and e-sports.  
Following the launches of neo-culture creativity and the announcement of five business units, Tencent Games has also announced a full product roadmap for 2018.