Tencent Forms Strategic Partnership with WWF to Build a "Beautiful China" with Digital Technology
2018.04.20
April 20, 2018, SHENZHEN – Tencent and the World Wide Fund for Nature (WWF) today announced a signed memorandum of understanding in Shenzhen to begin a strategic partnership. The two parties will jointly work to empower ecological conservation using digital technology. Beginning this journey from the Guangdong-Hong Kong-Macao Bay Area, the alliance will explore a digitally-driven approach to construct the "beautiful Bay Area", as a first step in a broader effort of building a "Beautiful China".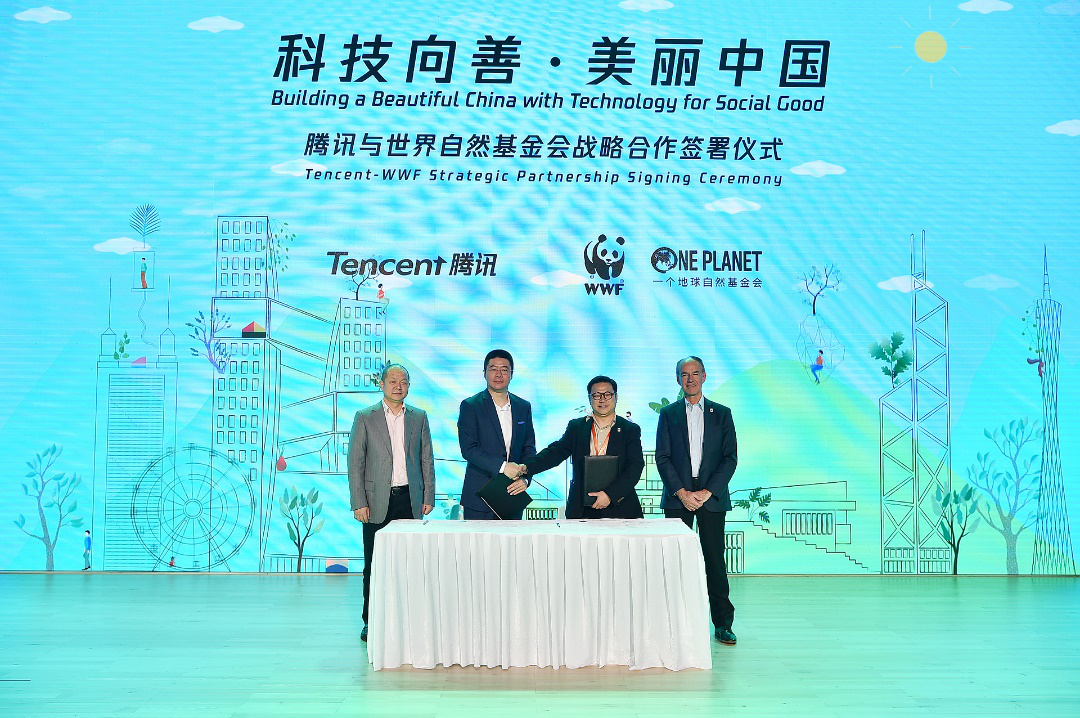 (Tencent and the World Wide Fund for Nature – WWF signed a memorandum of understanding in Shenzhen to begin a strategic partnership.)
"We have entered a new age where digital technology is unleashing its immense potential in pushing forward the international motion of sustainable development. Tencent has long been committed to the digitalization of ecological conservation," said Mr Leon Guo, Senior Vice President and Public Charity Foundation Director of Tencent. "We have full confidence in the future prospects of the collaboration because it draws upon Tencent's strengths in digital technology and culture, as well as WWF's deep expertise and global experience."
Mr Marco Lambertini, Director General of WWF, added, "The harmonious coexistence between mankind and nature is an important topic for all of us, and it is something WWF has been focused on since it was founded. Stepping into the digital age, we are proud to work alongside Tencent, a global leading Internet company, to accelerate the extensive applications of digital technologies in the ecological conservation domain,and strive to create a 'China paradigm' by leveraging the country's rich culture of experimentation and its highly dynamic ecosystem."
The formation of a conservation culture is a multilateral project that requires organizations and talents from all walks of life to work in synergy to achieve the best result. This synergy is the primary idea behind Tencent and WWF's partnership. Mr Edward Cheng, Vice President of Tencent, has summarized the partnership with three constituent elements, namely the convergence of global experience and local practice to create a "China Paradigm", the unity among governments, businesses, and NGOs to encourage collaboration, and the synergy between digital technology and ecological conservation to explore new directions to empower the ecosystem.
Tencent and WWF will commence the partnership with a series of digital-based ecological conservation projects in the Guangdong-Hong Kong-Macau Greater Bay Area. The initial phase of the collaboration will focus on three themes, namely "Igniting Public Awareness of Ecological Conservation", "Nurturing Conservation Talent" and "Combatting Internet-based Illegal Wildlife Trade". These initial goals will be achieved through the implementation of three programs: "Digital Landmark", "Digital Classroom" and "Digital Rescue".
The "Digital Landmark" program will adopt an approach that integrates digital technology with art exhibitions to ignite the public's awareness of ecological conservation.  Landmark buildings and sculptures often serve as the symbols of a city's history and culture. With the help of Tencent's advanced Augmented Reality (AR) technology, these iconic landmarks will become the new medium of digital content, and change into "Digital Landmarks".
When citizens and tourists take strolls along Shenzhen Bay, they will pass by the first batch of "Digital Landmarks". When they scan the landmarks with the "QQ app" on their phones, a beautiful scenery will be reflected on their screens – dolphins frolicking in the sea and birds twirling free in the sky – integrated seamlessly into their surroundings. For instance, the remaining 2,000 Chinese White Dolphin inhabits in the Pearl River's estuary region and the rare Black-faced Spoonbill, the municipal bird of Shenzhen City, are both under first-class state protection and "natives" of Shenzhen Bay. By bringing together the physical and virtual worlds, and a series of vivid and situating interactions, members of the public will be able to learn more about the stories behind the local wildlife.
By offering a brand-new perspective to experience the wonders of nature, the program will elevate the public awareness of the ocean and endangered animal conservation, particularly for a younger generation.
By providing online education training, the "Digital Classroom" program is designed to help enhance the expertise of ecological conservation practitioners of National Parks. National Parks are the cornerstones for maintaining the ecological balance and fostering a conservation culture. There are currently 370,000 forest rangers in the country who act as the guardians for these premises. However, their skills training has been constrained and challenged by factors such as a very scattered distribution of manpower and lack of training personnel.
Garnering support from the State Forestry Administration of the People's Republic of China, "Tencent Classroom" –  China's largest online platform for vocational education -- will incorporate WWF's ample resources in content and expertise from think tanks, to provide online training courses for practitioners such as ecologists, in order to enhance their professional knowledge.
The "Digital Rescue" project aims to combat Internet-based illegal wildlife trade and utilize big data technology to drive the research and protection. In November 2017, Tencent worked with WWF/TRAFFIC in developing a Chinese Web-based Alliance to combat the illegal online trade of wildlife and plants. Tencent launched a social welfare project named "Tencent for the Planet" in 2015. By establishing special reporting channels on two instant messaging platforms, WeChat and QQ, hundreds of millions of Internet users could take part in the fight against web-based wildlife trafficking and trading. The project has recorded significant achievements over the years.
WWF, one of the initial partners of "Tencent For the Planet", will continue to support the project and further expand the scope, by launching a series of new collaborative programs targeting the theme of "Protection of Marine Wildlife". Meanwhile, the two parties will work on modernizing the study of species diversity by upgrading the traditional data collection methodologies of using pen, paper and telescope, to a digital database system using Tencent's platform to analyze and manage data on species in order to formulate the most suitable plan.
Tencent has always prioritized ecological conservation as one of the most crucial topics and has been committed to its social purposes and responsibilities. Underpinned by its unparalleled strengths in social network product offerings and cutting-edge Internet technologies, the company has long been contributing to ecological protection in a multitude of ways, such as fundraising, combatting crime, public services and green building initiatives. Under the universal motion of seeking the harmonious coexistence between mankind and nature, Tencent will take on a new role as the pioneer of using technology to empower ecological conservation.
At the 2018 China "Internet+" Digital Economy Summit held earlier this month, Mr Ma Huateng, Chairman and CEO of Tencent, outlined the five key pillars of the company's "Internet+" model, one of which is ecological conservation. As a representative of the National People's Congress of China, Mr Ma has previously initiated discussion on topics such as "Constructing the Country's Sponge Cities" and "Encouraging Social Welfare Organizations to Participate in National Park Building and Management".