Tencent, the First Company Winner of the UNESCO Emir Jaber Al Ahmad Al Jaber Al Sabah Prize for Digital Empowerment of Persons with Disabilities
2018.12.04
Dec. 3rd, Paris——On the 27th World Disabled Day, UNESCO unveiled at its Paris headquarters the winners of the "Emir Jaber Al Ahmad Al Jaber Al Sabah Prize for Digital Empowerment of Persons with Disabilities" in recognition of "outstanding contributions of individuals and organizations in promoting inclusiveness and enhancing the lives of persons with disabilities through digital solutions, resources and technologies." Tencent won the Prize for its remarkable effort in this field. It is reported that Tencent is the first organization in Asia and the first company in the world to receive this Prize.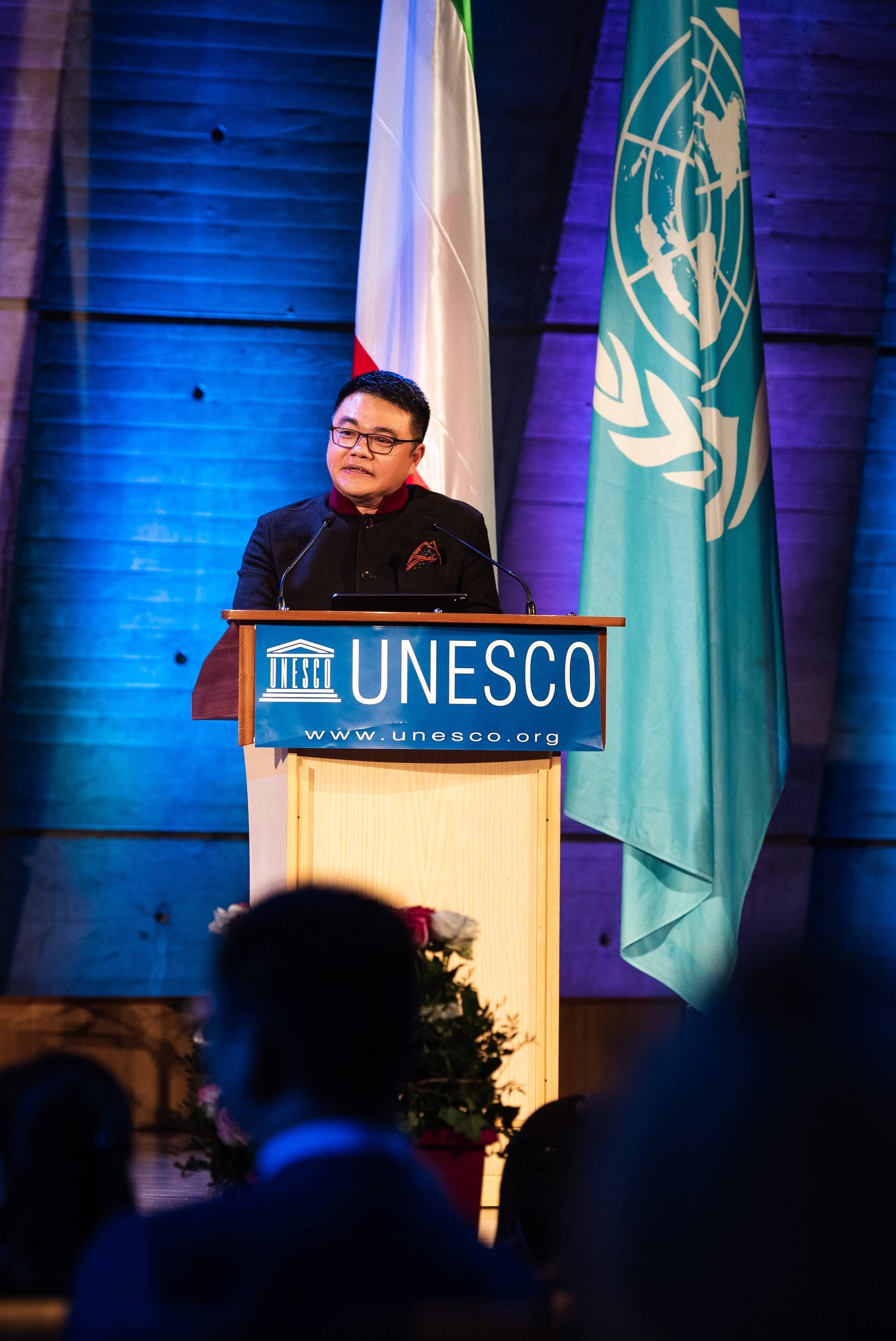 Senior Executive Vice President of Tencent SY Lau gave his speech on behalf of the winning organization Tencent
Established by UNESCO, the Prize is the only one of its kind to honor organizations and individuals for their contributions to empowering people with disabilities through digital technology. With application open to all UNESCO member states, the Prize is awarded biennially and equally to an individual and an organization. This year, UNESCO received applications from 29 countries.
Senior Executive Vice President of Tencent SY Lau gave his speech on behalf of the winning organization Tencent
As early as during China's "Two Sessions" in 2015, Pony Ma, member of the National People's Congress and Chairman of Tencent, called for accelerating to establish mobile internet information accessibility standard in order to help persons with disabilities enjoy the benefits of technology advancement. SY Lau, Senior Executive Vice President of Tencent attended the awarding ceremony. "We are extremely honored to be given this award," said Lau. "This is a recognition of Tencent's persistent pursuit of the 'Tech for Good' philosophy. Today, 'Information accessibility' feature is available for almost the full range of Tencent's products. But we still have a long way to go when it comes to digital empowerment of the Community with a Shared Future for Mankind. Tech for Good is a promise to empower all people and leave no one behind."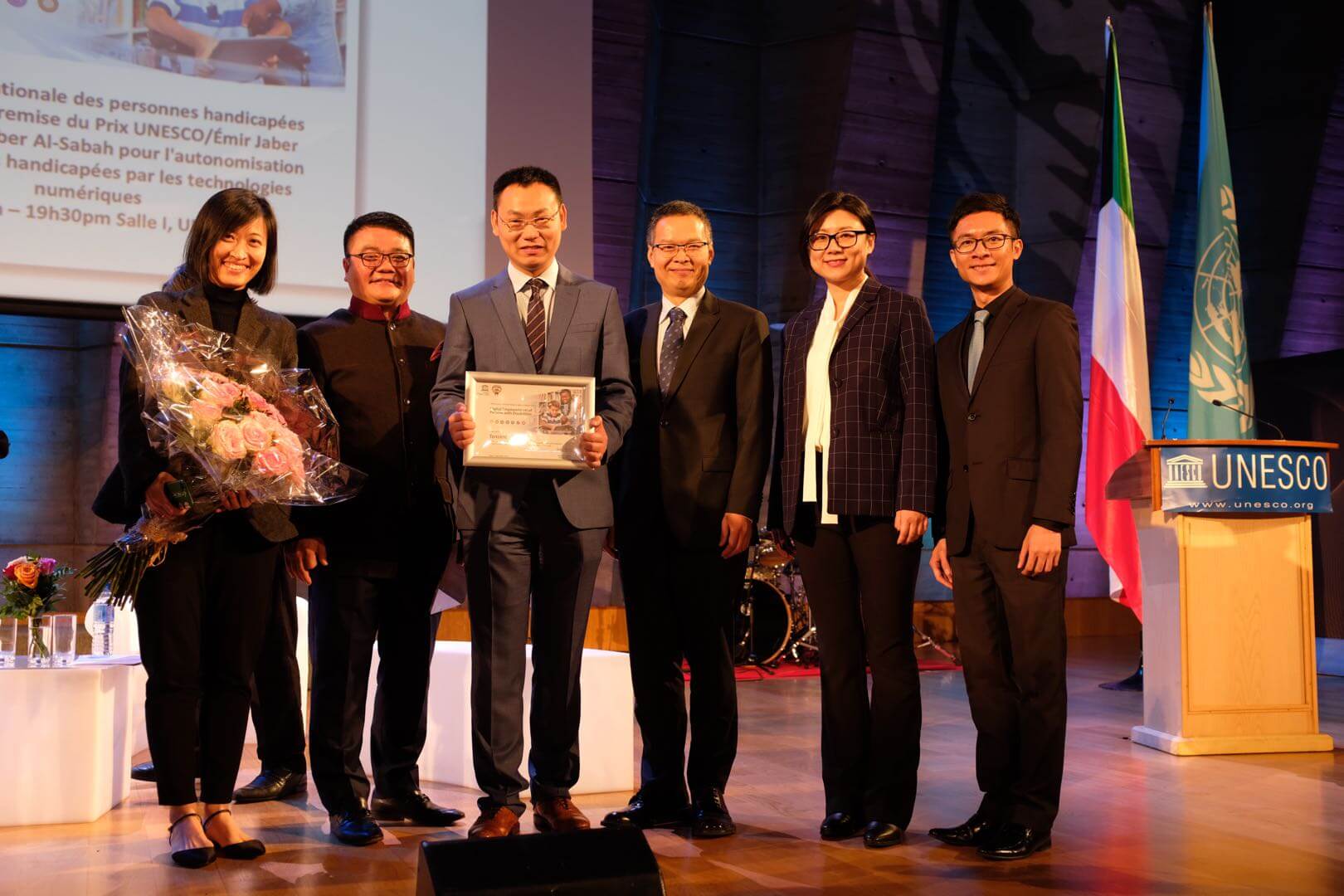 UNESCO Director-General's representative presents the award to Tencent
Statistics suggest that there are about one billion people with disabilities across the globe, accounting for 15% of the world's population. 80% of them live in developing countries. Disability prevalence is particularly high among those living in dire poverty. In 2017, China's State Council launched the Outline of Planning for Acceleration to Help Disabled People Live a Fairly Well Off Life during the 13th Five-year Plan which states to strongly promote internet and mobile internet information accessibility. In the same year, China Disabled Persons Federation (CDPF) and China's Ministry of Industry and Information co-launched the Guiding Opinion on Supporting Information Consumption of People with Visual Impairment, Hearing Disorder and Speech Disorder which encourages internet companies to actively provide support to people with visual impairment, hearing disorder and speech disorder in terms of online entrepreneurship and online shopping.
Committed to the principle of "Tech for Good", Tencent is dedicated to creating better digital experience for persons with disabilities. By now, lots of Tencent's products, including WeChat, QQ, Qzone, QQ.com, Tencent News, MyAPP, Tencent PC Manager, WeSing, QQ Browser, QQ Mail, WeChat Read, Tencent Map, Tencent Cloud and Penguin FM, have been optimized for persons with disabilities. Tencent AI Lab and Youtu Lab have both conducted intensive research on AI technologies such as computer vision and voice recognition and applied them to digital accessibility.
Accessibility features of social platforms are used 160 million times a year
From 2009, QQ started paying greater attention to the experience of users with visual impairment and has since been improving the accessibility of its products for desktop users. At the moment, Mobile QQ has introduced 2,425 information accessibility features and has developed innovative functions such as "Add a Friend by Voice", "Sticker Reader" and "Send a Red Packet by Voice" etc. Such accessibility features are being used by more than 60 million people every year.
In 2010, Qzone launched a version dedicated for the blind and added accessibility features to its universal version in order to comprehensively improve the experience for visually impaired people when they use social network service. After the entry into the mobile era, Qzone continues to optimize the accessibility experience of its major functions like Friend's Update, Message and Personal Page. In Jan. 2018, the "Voice Description of Image" function became available on Qzone. based on the "Image Description Generation" technology developed by Tencent AI Lab, the function automatically identifies the content of the image and then "reads" the text, a way to build better social experience for visually impaired users. Currently, more than 100 million people use accessibility features on Qzone.
Huang Junhong, General Manager of Tencent Social Platform Department, said, "In order to better improve user experience and address the pain points faced by special groups of people, we had established a dedicated team to actively work with the Information Accessibility Association. In the meantime, we had set up an Accessibility Leaders Group which provides us with professional suggestions on function improvement. Moreover, we engage visually impaired users in product test and assessment as early as from the phase of internal test so as to constantly optimize the accessibility versions. Now, QQ and Qzone have both become major social platforms for people with visual impairment in China. We hope to build a bridge for these people to communicate with the outside world and ease their lives through technology."
A social platform covering more than 1 billion users, WeChat has been making active effort in improving the experience of accessibility. Now, all its major functions are equipped with "Screen Reader" feature and it continues to ease the operations of text input, voice-to-text conversion and Moments posting etc., helping persons with disabilities to access information and communicate with others in a convenient manner.
Developing Accessibility Products to Create All New Life and Cultural Experience for Persons with Disabilities
In 2018, "Yue Sheng Shi", a mini program on WeChat co-developed by Tencent, was released. With this mini program, people in China's southeast Guangdong Province can access more than 500 municipal and public services online, such as paying social security fees. In particular, "Yue Sheng Shi" provides accessibility functions for persons with disabilities. For example, light reflection face recognition is applied to quickly match with user profile, helping users with disabilities finish real name authentication easily. When the authentication is done, they can apply through the mini program for disability certificate, nursing allowance for seriously disabled person, living allowance for disabled person in poverty and rehabilitation service for disabled person, among others. Information to be filled on application forms reduces by 81% and materials to be submitted reduce by 82%. Today, they can just enjoy public service at home.
In recent years, Tencent Map and the Palace Museum have been working together and one of their outcomes is the "Travelling in Palace Museum", a mini program on WeChat as a tour guide. Besides, accessibility features are also available. based on mobile phone's "Voiceover" mode, people with visual impairment can listen to the information like locations, roads, recommended routes and scenic spot introduction, a better experience when traveling in the Palace Museum. 
Another example is the "Jing Meng", a game developed by Advanced Technology Center of Tencent Interactive Entertainment Group. based on the culture which the Palace Museum represents, the game features eye movement and tracing. People with mobility difficulties just need to "move their eyes" to play the game and enjoy the beauty of the ancient paintings in an interesting way.
Sharing Technologies and Capabilities to Co-build an Information Accessible Society
In addition to promoting information accessibility, Tencent also shares its technologies and capabilities and calls for public attention to the digital experience for persons with disabilities. In 2011, Tencent released the Bright Internet Declaration and at the same time, Tencent and Tencent Foundation co-initiated the "Bright Internet 2011" charitable campaign together with China Blind Person Association (CBPA), Bright Angel Fund, Shenzhen Care and Love Office and China Braille Press, calling more companies to join in the information accessibility activities.
Supported by CDPF, CBPA and Information Accessibility Working Committee of Internet Society of China, Qzone started its "AI for Accessibility" program on Mar. 2018. With the "AI for Accessibility" of the "Multimedia AI Platform" mini program as the entrance, Qzone first shared three AI technologies for accessibility, including OCR, speech synthesis and image-to-voice conversion, aiming to enable more companies and developers to use Tencent's technologies and build a more accessible, more friendly information society for persons with disabilities.