Tencent and Nintendo First Shared the Progress on Localizing Switch Games for China Market
2019.08.03
At 10 AM, 2 August, the Tencent Nintendo Switch media conference with the theme of "To share joy with Nintendo" was held in Pudong Shangri-La Hotel, Shanghai. This is the first media conference from Tencent since the company announced its distribution of licensed Nintendo Switch in the China market this April. Meanwhile, Tencent will be featured at ChinaJoy 2019, together with Nintendo Switch, to provide game trials and interactive experience for participants from Aug 2 to Aug 5.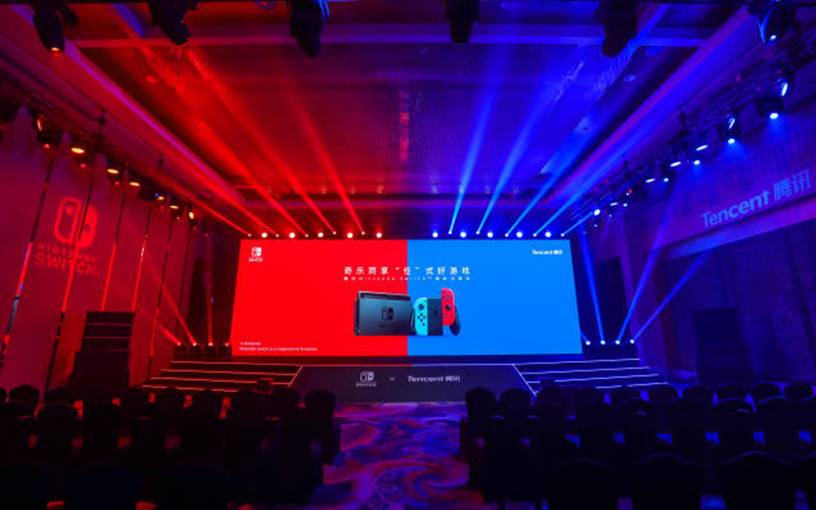 Steven Ma, Senior Vice President of Tencent, Shibata Satoru, Director in charge of Marketing and Licensing of Nintendo and Qian Geng, the General Manager of Tencent/Nintendo Partnership Department attended this media conference. Both sides elaborated the foundation and consensus for this partnership and shared the progress on introducing Switch games into the Chinese market through this partnership.
"In many countries, Nintendo Switch is more than a video game console, it has been a lifestyle and the emotional bond of parents and their children. One of my friends often says that he used to play Nintendo Switch with his father, now he plays it with his kids." Steven Ma pointed out, in his opening remarks, that Tencent wished to introduce this lifestyle to the players in China, so that more friends and family members can share this incredibly interesting experience.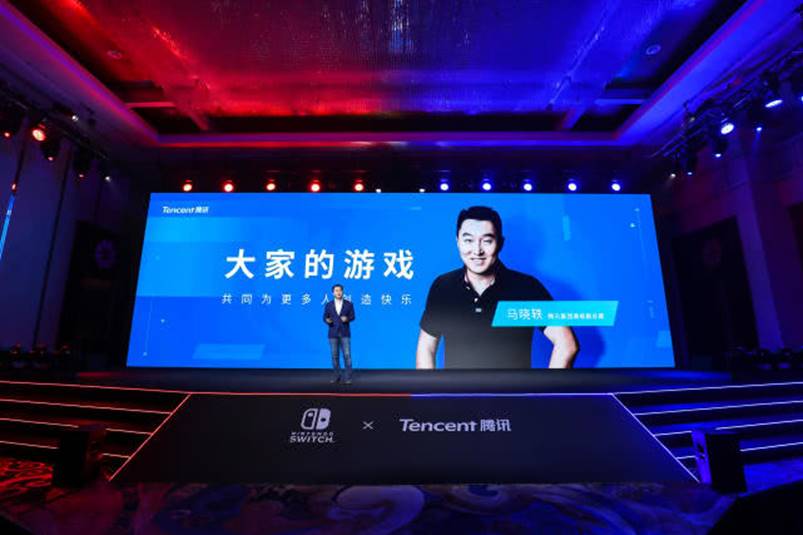 Tencent joins hands with Nintendo: building a new starting point for an excellent and balanced game content experience
"As one of the predominant game companies, nowadays, Nintendo has already become a symbol for game culture."
In the conference, Steven Ma spoke highly of Nintendo's unique craftsmanship and creativity. He said that Nintendo had created a series of popular video game consoles worldwide over the past 30 years, from Family Computer to Nintendo Switch, and created so many classic games one generation after generation, along with classic characters that have won tremendous support from players, as well, such as Mario and Link. Nintendo's highly innovative creativity and the inclusiveness of content designed for all ages have become a development consensus acknowledged by the entire games industry.
At the same time, Steven Ma also said that, through the licensed Nintendo Switch and a series of campaigns, they hoped to introduce this lifestyle into Chinese households, so that more and more people might be able to enjoy the fun provided by games, and it would also make games an important channel through which parents communicate with their children, help their children form balanced habits of playing games, and provide protection and assistance as they grow up in the digitalized era.
The cooperation between Tencent and Nintendo was built on a shared acknowledgement of this principle. Steven Ma said, "Today, I believe the cooperation between Tencent and Nintendo regarding the Nintendo Switch in the Chinese market will mark an important beginning. In the future, how to fuel the development of the video game console market in China and how to drive the video game console ecosystem to its completion and full maturity, will be the target for both Tencent and Nintendo under the same vision. I believe that, although these two companies have different genes, there will be sparkles when they work together, and the chemistry will be wonderful. Let's all look forward to it!"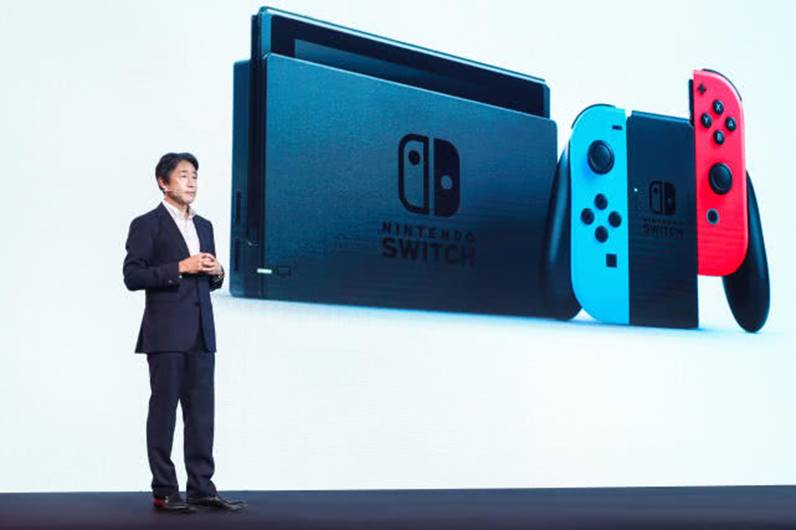 After saying hello in Chinese, Shibata Satoru started his remarks. In his remarks, he said that Nintendo aspires to bring joy and laughter to Chinese consumers with its game and entertainment content over the years. Regarding the cooperation with Tencent, Shibata Satoru said that Tencent had made amazing achievements in terms of game operations, game development, social networking services and social responsibility initiatives, which is the main reason for choosing Tencent as a partner. Nintendo feels so lucky to join hands with Tencent in providing Nintendo Switch consoles and the game entertainment content that are well crafted by Nintendo developers to consumers in China. Meanwhile, Shibata Satoru also introduced Nintendo's R&D capabilities on both hardware and software. "Ever since Nintendo released its family-dedicated console, Family Computer, in 1983, it has focused on developing and selling game consoles and game software for over 35 years. In Nintendo, developers for game hardware and software work closely in the same environment day in and day out. Providing brand new entertainment for customers has been Nintendo's sole objective all along, which can be achieved by developing the game consoles and game software in parallel, and we carry out our development projects while picturing the smiles on customers' faces.
When it came to hardware development, Shibata Satoru indicated that, Nintendo focused a lot on enhancing the controls on video game consoles. It started by adopting unique technologies like cross button, analogue joystick, vibration function, manual control and touch screens, and promoting these technologies to be the standards in the games industry. Nintendo has never made any compromise in designing the controllers that can fit naturally into the players' hands and enable the players to naturally feel what is happening on the game screen.
He also indicated that, in terms of game software, Nintendo had been working hard to add brand new surprises into games. It's the only way to ensure unprecedented gaming experiences, which must be the reason why Nintendo has been able to create so many game series and characters that are loved by all the players, especially for Mario, which was created almost 40 years ago. Whenever there was a new version of Mario, players would become a Mario in the game and have a taste of this unique adventure, which is the reason why Mario is popular worldwide, right down the years, and players have loved playing it for generations. 
"It has been 35 years since the release of Family Computer. Now, Nintendo Switch provides a brand-new experience for people, and everyone can enjoy playing games anytime, anywhere and with anyone. Nintendo Switch represents the culmination of its previous game consoles. Today, Nintendo, together with Tencent, will take ChinaJoy as a starting point to bring smile to many people through Nintendo Switch," said Shibata Satoru in finishing.
Then, Steven Ma, Shibata Satoru, the QQ penguin representing Tencent, and Mario representing Nintendo, took a photo together.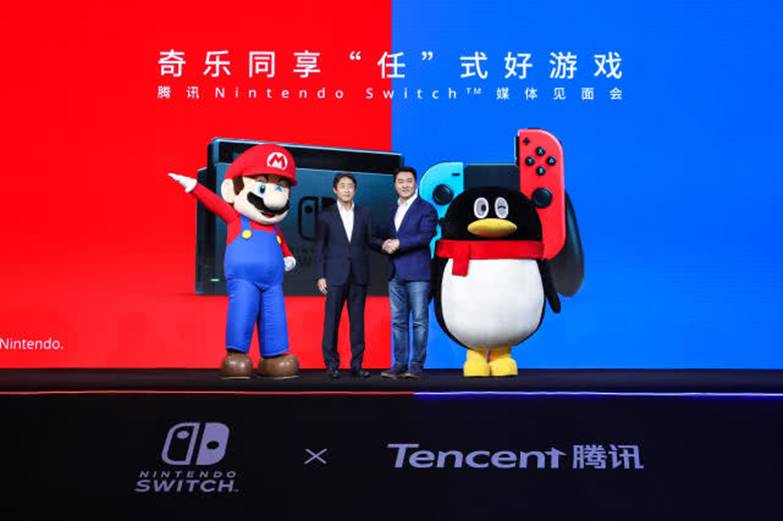 Authorized Sales of Nintendo Switch in China: better experience and faster localization services
Then, the conference moved into the media salon section, in which Shibata Satoru and Qian Geng addressed the questions. Qian Geng shared some of the localization actions of the licensed Nintendo Switch.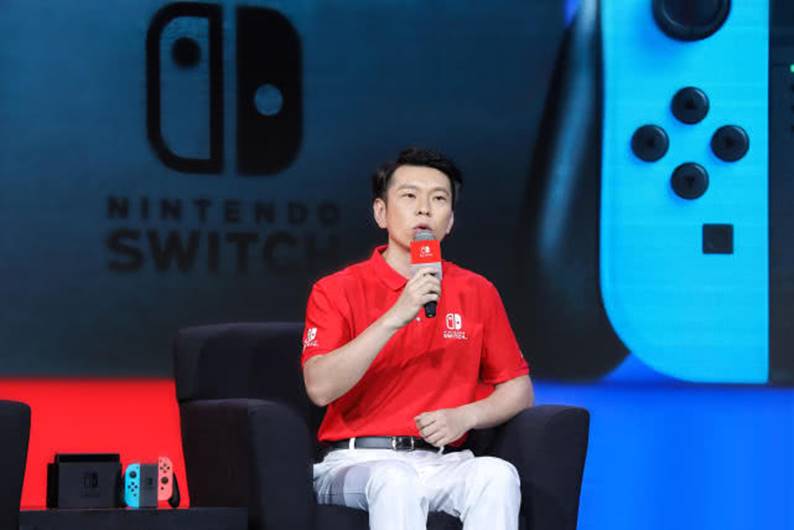 Qian Geng said that Tencent will work closely with Nintendo to complete every localization service. In terms of game localizations, Tencent will complete the localization translations for some famous games with Nintendo, more and more localized games in simplified Chinese will be released into the Chinese market to help players remove language-related roadblocks. Meanwhile, Tencent will support Nintendo build a network system that is the most suitable for the network environment in China and build a localized network service through Tencent Cloud, so that people can experience the games more conveniently and smoothly. Additionally, Tencent will work with Nintendo to refine the "Nintendo eShop", supporting WeChat Pay, in order to lower the bar for purchases and reduce cross-border procedures. Tencent is also planning to assist Nintendo in setting up an off-line channels and a player community center. At last, Tencent will provide an official warranty service, including a one-year warranty for the licensed game console and "three guarantees" for its peripheral products.
In the cooperation with Nintendo, Tencent will import not only the licensed Nintendo Switch video game console, but also the games from the Nintendo Switch platform. Qian Geng said that Tencent, as a publisher, would introduce appropriate Nintendo games and other top-notch non-Nintendo games. As the platform provider for Nintendo Switch, Tencent and Nintendo at the same time welcome all sorts of high quality games to publish on the licensed Nintendo Switch platform.
In the media salon session, Shibata Satoru further described the purpose of Nintendo Switch, the background against which the cooperation between Tencent and Nintendo was established and some related concepts from Nintendo, in the form of a Q&A.
The full-text Q&A from this media salon is as follows:
Q1: What does Nintendo expect to bring for Chinese players through Nintendo Switch?
Shibata Satoru: We hope to spread smile in China through Nintendo Switch.
As introduced by the video clip before the conference, Nintendo Switch is such a unique game console that can be linked to TV, or taken out from the base for outdoor use, or be placed on the table to share Joy-Con with others.
You can play Nintendo Switch with others anywhere and at any time, by yourself or share it with your family and friends. Nintendo Switch can bring joy and fun for you, your family and friends in different circumstances.
We sincerely believe that the games and entertainment provided by Nintendo will bring Chinese customers more joy and happiness.
Q2: Which advantages from Tencent were attractive to Nintendo?
Shibata Satoru: I have mentioned in my speech, if you want me to elaborate, I think it's Tencent team members' deep understanding of Nintendo and their enthusiasm move us.
Nintendo and Tencent have built an amicable relationship with mutual respect. We are very grateful for Tencent's understanding and appreciation about the long-established spirit of our brand. 
Q3: Nintendo has been selling video game consoles for years. What are the philosophies that you have consistently adhered to or valued?
Shibata Satoru: As I mentioned in my remarks, Nintendo released a game console for families, named Family Computer, in 1983, in which the word "Family" was included in the product name.
From Family Computer to Nintendo Switch, we have been continuously developing game consoles that parents allow their kids to play without concerns, which have been appropriate for family use and praised by parents.
I also introduced that Nintendo Switch is the culmination of Nintendo video game console, not only suiting for game players, but also having many game functions and content that is appropriate for all ages, allowing customers across all generations to experience the fun of games.
With this in mind, I hope my dear friends from the press will be able to try out the Nintendo Switch games at China Joy.
Q4: What are the featuresof Nintendo Switch presented in the cooperation between Tencent and Nintendo? Which aspects will Tencent build and refine?
Qian Geng: The licensed Nintendo Switch product will be in line with international practices, and Tencent will utilize its technical advantages in internet industry to perfect this product as much as possible, based on all the classic designs and styles from Nintendo.
First of all, we will work together with Nintendo to localize some famous games. More and more games in a simplified Chinese version will be launched in the Chinese market, to help players overcome language barriers.
Secondly, Tencent helped Nintendo set up a network system that is suited to the Chinese network environment and will set up a localized network service via cloud services. With strenuous efforts, we are working on the development to make sure that the Nintendo Switch console can play online games with the shortest latency.
Additionally, Tencent will also work with Nintendo to refine the Chinese version of "Nintendo eShop". People can purchase the games they love with WeChat Pay, which greatly lowers the bar for purchases and reduces cross-border procedures involved in the purchase. Tencent will also assist Nintendo to set up an off-line purchase channel and a player community center, where players can easily try out the products and games they like, and we are also considering adding the peripheral products that players like into the scope.
As for the post-sales services, Nintendo will provide official warranty, which is a one-year warranty for video game consoles. Players will also get the "3 guarantees" service for Nintendo's peripheral products of various kinds, which ensures a better experience when using the licensed Nintendo Switch product, more convenience and greater reassurance.
Q5: Other than distribution rights on selling Nintendo's Nintendo Switch hardware, will Tencent also bring the games of Nintendo to Chinese players? Does Tencent have its own plan to publish its own Nintendo Switch games?
Qian Geng: Other than introducing Nintendo Switch hardware, Tencent, as a publisher, will introduce appropriate Nintendo games and other top-notch non-Nintendo games. As the platform provider for Nintendo Switch, Tencent and Nintendo at the same time welcome all sorts of high quality games to publish on Nintendo Switch platform. We keep an open mind for Nintendo Switch and provide as many chances as possible to create more and more quality games for all the players.