The Right Team is the Heart and Mind of an AAA Game
2021.01.21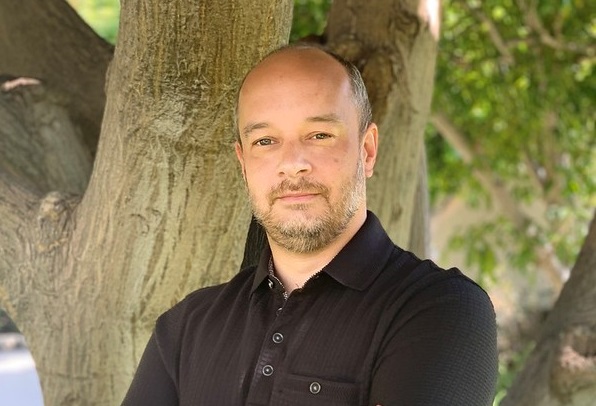 Steve Martin, General Manager of LightSpeed Studio, Lightspeed and Quantum Studios, Tencent Interactive Entertainment
What makes a successful AAA game? Many will say it's creativity, while others might point to technology. Perhaps it's building the multi-layered worlds where users transfer themselves inside the games?
Steve Martin, General Manager of LightSpeed Studio said the hardest part was assembling the right team.
Tencent Interactive Entertainment Group launched the LightSpeed Studio in Los Angeles, U.S., with Steve Martin as General Manager in July 2020. Martin, a veteran in AAA game development, was the core member of the development team of Grand Theft Auto V and Red Dead Redemption 2 at Rockstar Games.
After 24 years in the game industry, Martin has experienced first-hand the importance of the right team. Creativity and great technology are both important, but they're nothing if the team can't execute. At the same time, there's no question that technology is helping drive the industry forward. Martin's experience in game development gives him a unique and profound understanding of trends in the industry.
Q: What's your definition of AAA games?
A: The visuals and production quality are obviously very core in giving an immediate feeling of AAA quality, but the fluidity of design and interaction are also key tenets of AAA, especially in character, weapons, and vehicle control. The players must feel like they have precise and nuanced control of what's happening on the screen. Beyond that, I really feel like an AAA game needs to do something 'new' for the player, whether that's a new experience, a unique gameplay style or mechanic, or a feeling of emotional connection to a character or game.
Q: What is the hardest part in developing a good AAA game? How do you crack it?
A: I think the hardest part in developing any game, is assembling the right team. We can have amazing ideas, cutting edge equipment and software, and world-class production systems, but without the right combination of creative talent to execute and develop from the initial vision, then a quality game experience just isn't possible. It's not a case of hiring 'the best of the best' either, it's a much more nuanced process and finding the right combination of talent, experience, and personality to ensure that the team has the best chance possible of really connecting and bonding in the creative process.
Production-wise, probably the biggest challenge is scheduling a AAA game on a new platform or in a new genre and not really having any reliable data to use, nor having historical data to look to for estimates for tasks and content. We can gather best estimates of work where possible. But beyond that, we must track what we learn as we move forward. Identifying the level of technical risk each major feature has is also an essential part of planning. Identify as early as possible any elements that are both high risk and high impact.
Q: You mentioned that you would provide a "no-crunch working environment" to your team. Tell us more about it and how do you manage your team to achieve higher efficiency?
A: First of all, I'd like to distinguish the difference between working over-time and crunch. In a creative endeavor, I think we'll always have a degree of over-time. Meaning a voluntary extra hour here or there when we're heavily involved in a task or an issue. Crunch, in my mind, is systemic over-time, mandated, expected, or implied over-time, and trying to get more production that the time and people power you have can produce.
Crunch is something that I have been a part of, and something I've even embraced earlier in my career. It always felt like a 'part' of game development, and we as an industry had convinced ourselves that it was an essential part of the creative process.
I'm very glad to say that I, and many others, were wrong!
Avoiding crunch means being realistic. Sometimes uncomfortably so.
The most important part is communication. Expectations should be communicated clearly. There should also be an office environment where people are comfortable telling management when there's an unreasonable expectation, or high-risk task.
Sometimes crunch can come not from management giving unrealistic expectations, but from the honest creative process of something proving to be a bigger or more complex task than anticipated, which can lead to well-meaning team members trying to push hard to deliver on what they committed too. But a healthier way is to communicate the delta between expectation and reality and change the plan accordingly.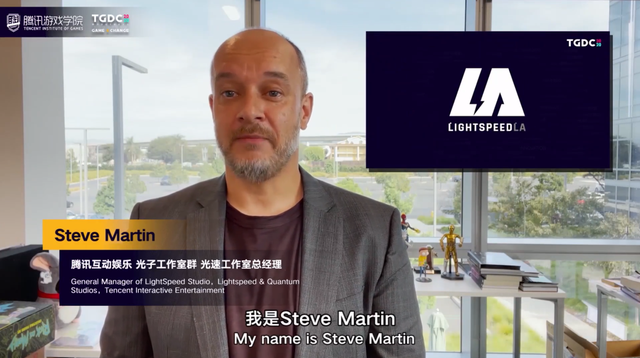 Steve Martin speaks about AAA game development at the Tencent Game Developers Conference
Q: You joined us for one year now, how do you feel about the new environment? 
A: After departing from Rockstar Games, I was contacted by my now good friend at Tencent, Ben Fray in the Talent Recruitment department, who wanted to discuss a potential new endeavor with Tencent, and specifically with Lightspeed & Quantum Studios.
Over the course of a few months, I was able to speak with several leaders in the company to compare our visions and desires for such a project. Above all I was blown away by the passion for games, and the commitment to producing something truly excellent. The vision and knowledge of those I talked with, especially the President of Lightspeed & Quantum Studios, Jerry Chen, was truly inspiring.
It was clear that I could not miss this chance to not only be part of building this first title, but a whole new studio and AAA development team. That's why I joined Tencent.
We have a very good relationship with the focus centers at Tencent Games, such as Art Center, Tech Center, and others. We're exploring ways we can work together on elements of our tools or production that can benefit the wider game division.
In addition, we work closely with the business division in coordinating with external companies in various ways. And even our fellow US based Tencent co-workers are helping in many ways. One of the things that pleased me the most at Tencent is witnessing the incredible coordination and cooperation between the various areas of the company.
Q: What does it take to enrich and expand our pipeline of AAA games?
A: There is an amazing depth and breadth of talent at Tencent, but the most unique factor to me is the variety of cultural and creative backgrounds. It gives us a truly global outlook not only in business and production, but more critically in the areas of entertainment taste, gameplay styles, and aesthetic visions.
This 'melting pot' of creativity will help us push AAA games in amazing and more global ways. It is unlikely to have an immediate impact, but long term I see this evolving in some truly unique ways.
Q: Some new open-world games have been released recently and become popular. What is your take?
A: I think they show very clearly the hunger that gamers around the world have for open-world games. But also, that game quality and engagement are most important, whether on mobile, PC, or console platforms. Gamers want great experiences that they can engage and connect with. Some products also demonstrate a continuing and growing market for free-to-play games, the quality and depth of which continue to increase.
Q: In China we frequently talk about "globalization". What kinds of games do you think can be successful globally?
A: Of course, we have seen that both fast-paced and casual mobile games provide excellent entertainment globally and can really be successful anywhere. But when I think about the globalization of video games, it always strikes me as a continuation of centuries of entertainment sharing around the world — whether that be great art, music, literature, comics, or movies. We have seen time and time again that compelling experiences, stories, characters, and emotions can connect across cultures and across language barriers.
Great stories will always be great stories.
We'll of course look to publish in all global areas that make business sense to us. I would look to localize all text of course, but also cast high quality voice actors where applicable to ensure that wherever a game is experienced, that its fully accessible and enjoyable. Depending on the final content of the game, localized customization is also possible, but that is a decision for the future as we get further into development.
Q: What does the future hold for the games industry?
A: I think we're in an incredibly exciting time for video games. We see the rapid growth of mobile and casual games, console games continue to thrive, PC games remains extremely popular, VR games continues to gain traction, and we're also seeing the expansion of streaming platform games.
Seeing the mass increase of accessibility to video games is really incredible, we can see what an expansive and resilient market that video games has. Particularly in 2020 when we've seen a huge decrease in in-person social interactions due to the pandemic, many people have newly discovered, or rediscovered a love for video games.
What I love to see most is the incredible diversity in video games now. Personally, as a gamer and as a developer, I have a huge passion for deep experiences, super high production values, and emotive experiences. Seeing more and more developers explore that area of game production is really exciting and motivating for me. But also, seeing the games that excite my children, which are often very different to my personal tastes, is amazing. Not just the titles and genres, but also seeing that they're mostly platform agnostic, is a very interesting sign for the future. My kids see no difference between picking up their phone, tablet, console controller, or VR headset. They just love games in any form.