Old Traditions Meet New Technology: The Spring Festival Celebration Goes Virtual
2021.02.26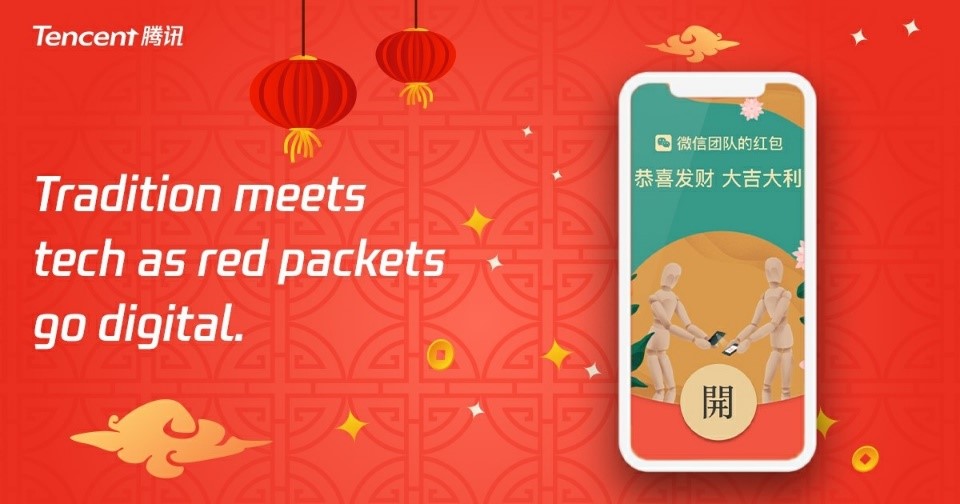 The Lunar New Year holiday is usually a time for family reunions as an estimated one-sixth of the world's population celebrates the Spring Festival with family and friends. Things were a little different this year, though, as most families held smaller, safer, and more intimate gatherings to curb the spread of COVID-19.
More than 100 million people in China chose to skip returning home for the New Year of the Ox. While many people were not able to be physically present at the sumptuous Spring Festival Eve meal in their hometowns, it didn't mean they couldn't mark the holiday virtually through social media, videoconferencing applications and other technologies. The various apps helped enable families to share special moments with their loved ones remotely.
With fewer opportunities to pass on blessings in person, the traditional custom of handing out hongbao – little red packets filled with money – also became virtual. In fact, it became a custom even before the pandemic. Hongbao are usually given by elders to young people -- or bosses to employees -- as a gesture of good luck and good fortune for the year ahead.
While physical red packets are still very much a part of this annual tradition, electronic red packets have gained in popularity since they were launched as a function of Weixin (the sister app of WeChat used outside of the Chinese mainland) in 2014. Weixin Red Packets are inspired by Tencent's tradition of distributing red packets to employees during the Spring Festival every year. At the time, Tencent cofounder Tony Zhang suggested Weixin team members improve the way Tencent distributes red packets to its staff. From there, the idea came to life, becoming a successful example of innovation that integrates traditional customs and mobile payments.
The red packet function quickly gained a strong user base because it is unique, easy-to-use, and fits the Chinese culture and tradition. Sharing Weixin Red Packets became a popular online activity during the 2014 Spring Festival when they were introduced. Since then, more tech companies rolled out their electronic red packets function and made sending electronic red packets popular and mainstream.
Weixin's in-app payment service Weixin Pay lets users send fixed amounts to friends, colleagues and family members or hide the amount until the packet is opened by the recipient. The money is added to receivers' Weixin Wallet and can be transferred to a bank account, used to send more red packets, or shop online and offline.
There also are settings for variable amounts, which depend largely on the luck of the draw. For example, you can send red packets worth RMB100 in total to a group of 10 people and specify that you want the money, in random amounts, to go to the first five people to open the packet. One might receive RMB65, another RMB6.5, while others receive amounts as small as RMB0.01. This became a huge hit when it was introduced.
In 2015, Weixin became an exclusive partner for the Spring Festival Gala on China Central Television (CCTV), which is the world's most watched television broadcast. Hundreds of millions of viewers shared RMB500 million in prize money simply by shaking their phones at their TV sets. In fact, users shook their phones an astounding 11 billion times on Spring Festival Eve that year.
Weixin continued to innovate the red packet function in 2016 by adding the option for users to add photos to their red packet covers. Animated stickers were also added later as an option.
In 2019, the team behind WeCom, a business communications and collaboration tool developed by the Weixin team, introduced a feature for customizing red packets specifically for enterprises. It lets them create custom red packets and share them with their employees through the company's WeCom notifications and QR codes.
To curb the spread of the pandemic, many enterprises encouraged their employees to stay where they were for the holiday celebration this year. Weixin Pay thus launched the red packets reward program to help employers send red packets conveniently and efficiently through Weixin Mini Programs, Weixin Official Accounts, and WeCom.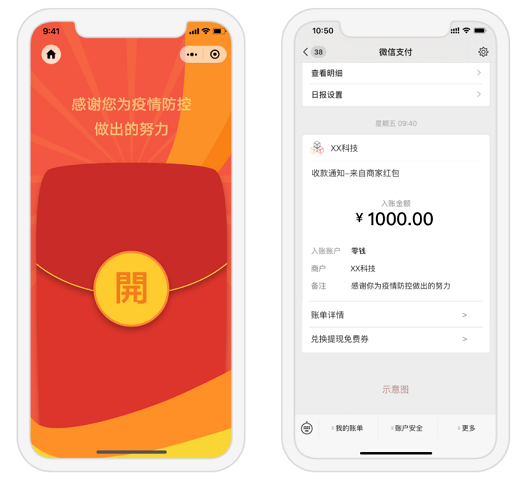 Some enterprises sent heart-warming encouragement to their employees who chose not to travel home in an effort to halt the spread of the pandemic.
From New Year's Eve to the fifth day of the Year of the Ox, Guangdong Province sent and received the most Weixin Red Packets, according to the 2021 Spring Festival report (Chinese only) recently released by Weixin. A total of 30 million Weixin Red Packets covers were listed on the Weixin Red Packet covers open platform. Each Weixin user has 7.37 red packet covers on average. The live broadcast function of Weixin Video Account, or Channels, also provides people with a unique way to share new year greetings.
The red packet function was expanded to markets beyond the Chinese mainland to Hong Kong, where Tencent has offered mobile payment services in Hong Kong dollars since 2016. To better curb the pandemic, more users in Hong Kong chose to give red packets, or lai see in Cantonese, electronically.
WeChat Pay Hong Kong as a frontrunner in e-lai see, has seen the number of electronic red packets and users more than double from New Year's Eve to the fourth day of Year of the Ox. A drawing function, in particular, for e-lai see was introduced to Hong Kong. The receivers need to draw a picture of a designated theme to get the lai see, which makes sending and receiving them more fun and bring more joy during these trying times.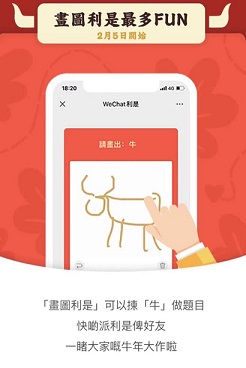 The most popular drawing is naturally the ox in the Year of the Ox.
The annual Spring Festival remains a centerpiece of Chinese culture and tradition that continues to endure – regardless of the pandemic. Families and friends always find ways to be together, connect, and share stories and laughter, even if it has to be virtual. Technology helps make it possible.