Visually Impaired Engineer Helps Others with Low Sight Connect, Access Information
2021.06.22
Globally, at least 2.2 billion people have a near or distance vision impairment, ranging from mild to severe. For most, it can be corrected or assisted, but for many, it not only impacts their lives, but also limit career opportunities. In the digital era, accessing the information world is just as important as accessing the physical world, which is why some engineers are focused on building programs for those who are severely visual impaired.
Fugui Zhou is a visually impaired software development engineer at the Information Accessibility Research Association, a social entity located in Shenzhen. Every time the 25-year-old turns on his computer, he must stick the tip of his nose up to the screen and zoom in five times the normal font size. Fugui does this so he can see small English coding on the screen with the limited vision remaining in his left eye.
Many visually impaired software developers like Fugui are dedicated to improving the information accessibility by technology.
When Fugui was 16, he attended a vocational school to learn massage therapy. When he started looking for a job after graduation, he discovered how challenging it is for visually impaired people in the workforce. Most companies don't understand the varied skill sets and specific requirements of visually impaired employees.
Certain that he had more to offer the world, Fugui began to look for a job outside the world of massage therapy. He was interested in math and logical reasoning since he was a child and he soon became passionate about information technology and, specifically, software coding.
For more than a month, he spent all his time watching and listening to software development videos online. He zoomed into the screen, paused the screen to see the codes clearly, and spent many hours learning everything he could about coding.
Being immersed in the world of code, Fugui came up with a new idea: to make an app for the visually impaired so his friends and others with low vision could use their mobile phones for information and entertainment like seeing people.
People with low vision, like Fugui, are often unable to read information that others take for granted. "In a supermarket, the bottles of soy sauce and vinegar look very similar," he said.  "You have to read the small print to distinguish the two products, but it is very difficult to see the lettering without some sort of tool."
Some screen readers provide users with support for functions beyond text-to-speech, such as optical character recognition (OCR), a technology that can be used to scan the screen for images that look like text and convert it into something readable. This could include graphical interface recognition, text recognition, coordinate recognition and paper-data recognition.
Most ordinary developers like Fugui do not have the ability to develop this technology themselves. Cloud computing suppliers are developing these capabilities with application programming interfaces, allowing developers to use them directly, which greatly reduces the threshold for application development.
OCR only provides basic capabilities, though, so in order to fully understand the needs of the visually impaired, developers need to think about the interactive experience of the application. For example, there is a lot of information on the interface, so which details should be read aloud? And, in which order should the screen reader read information? This inspired Fugui to do a deep dive into the field of information accessibility.
After months of development, Fugui designed several functions commonly used by visually impaired users into an application that allows users to listen to novels, check the weather and browse forums where visually impaired people gather. He named the app "World in the Palm", and many of his friends are already using the app to improve their lives.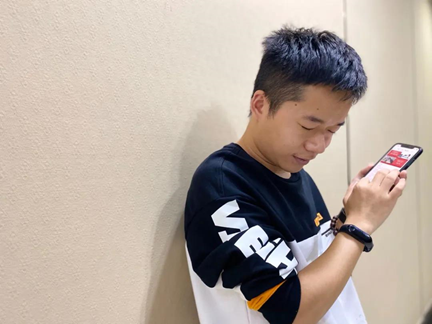 Fugui is listening to the information by the mobile app.
Fugui became well known among visually impaired developers, after "World in the Palm" was released. The positive accolades he received for the app provided additional opportunities and projects for Fugui to expand his experience and technology insight.
In 2020, Fugui got an offer from the Information Accessibility Research Association and officially became an information accessibility engineer. This opportunity will change not only the course of his life, but also the way he helps other visually impaired people around the world.
Using technology to build "information highways" for the visually impaired
In June 2020, Tencent Cloud received a thank-you letter from the Information Accessibility Research Association for its work focused on bringing information and accessibility to the visually impaired community.
Six months ago, Tencent Cloud provided OCR support for developers with disabilities. Now, in addition to the "World in the Palm" developed by Fugui, many other apps are built with OCR capability. The total number of OCR requests has exceeded 1.8 million, now serving more than two million visually impaired users.
Thanks to these developments, visually impaired users can now "see" the text in the product detail page when shopping online. They are also able to identify the "press button", verification code and other information required for online activities. In fact, a visually impaired father in Beijing was able to use the app to take a picture of his TV screen, learn the order and content of the program list, and successfully play the Peppa Pig cartoon for his child. Without the help of technology, wins like this would not be possible. 
Now Fugui has an even bigger dream. He hopes advanced tech development can help in more specific scenarios and bring richer, more detailed experiences to the visually impaired. For example, when an app describes a picture, it will now be able to describe what the sky looks like, how the clouds flow in the sky and the ripples spreading in the lake.
With the gradual improvement of the accessibility experience of various internet software, the visually impaired can enjoy more of what the Internet has to offer and have more choices to realize their value and potential.
Tencent is dedicated to providing developers continued support with the goal of helping everyone attain a more accessible internet, no matter their limitations.