WeChat Pay HK and Tencent Charity Launch "Stamps for Food"
2021.06.30
Hong Kong residents are encouraged to donate charity stamps and support Food Angel to provide meals to people in need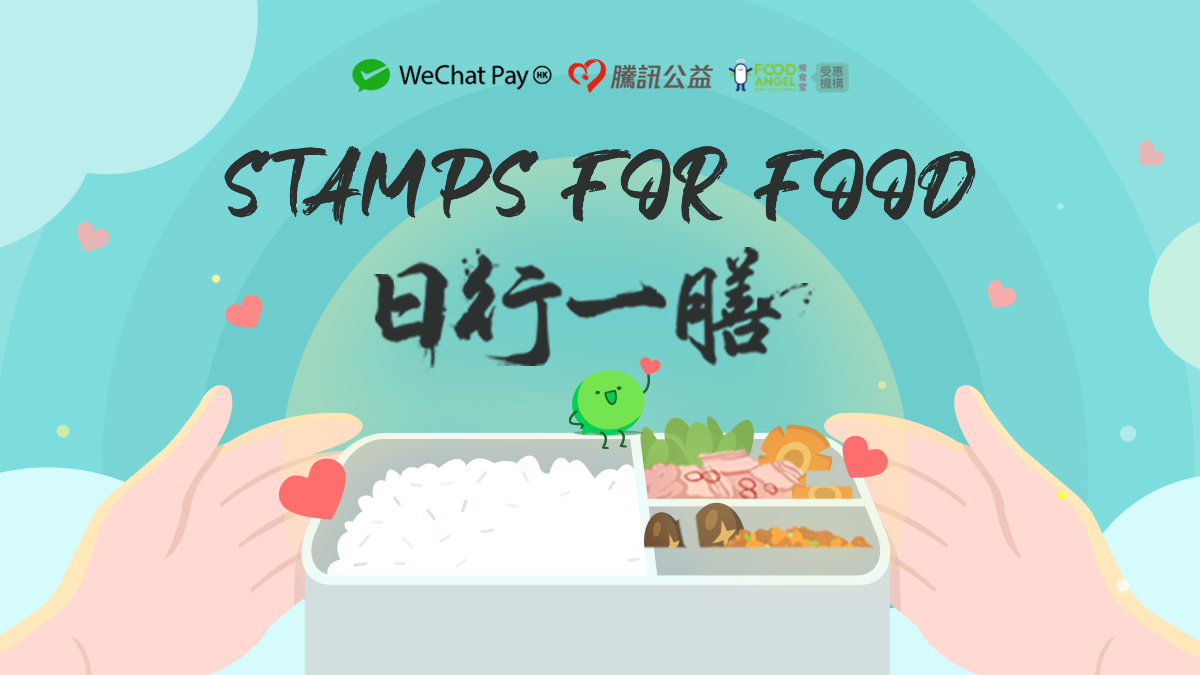 In response to the Consumption Voucher Scheme of the Hong Kong Special Administrative Region Government, WeChat Pay HK and Tencent Charity are jointly launching a charity activity, "Stamps for Food", in Hong Kong. Users of WeChat Pay HK can donate a charity stamp after completing a purchase to support Food Angel in food rescue and the preparation of hot meals for those in need in the city. While promoting economic recovery through consumption, the activity would reduce food waste, protect the environment, and provide food to more people in need.
Although the government consumption vouchers cannot be used for charitable donations, WeChat Pay HK has designed an innovative charity stamp for the enthusiastic charitable contributions of local residents. Over a six-month period from July 1 to December 31 this year, any WeChat Pay HK user can get a charity stamp that they can donate after completing their first purchase of the day via WeChat Pay HK, regardless of whether any consumption voucher was used for payment. WeChat Pay HK will convert all charity stamps donated by users into corresponding amount of monetary donations each month, and the Tencent Charity Foundation ("Tencent Foundation") will donate the corresponding funds to Food Angel. Every 10 charity stamps will go toward the preparation of a hot meal worth HK$12.
A beneficiary of the "Stamps for Food" activity, Food Angel was established in 2011. It rescues edible surplus food from street markets, supermarkets and other sectors of the food industry that would otherwise be disposed of as waste. Following strict safety protocols, the rescued food items will then be prepared as nutritious hot meals and food packs in its central kitchen and be distributed to serve the underprivileged communities in Hong Kong. On normal days, Food Angel rescues 35 tons of edible surplus food each week, and prepares 12,000 nutritious meals daily.
Daniel Hong, Vice President of Tencent Financial Technology, said: "WeChat Pay HK, as one of the operators of the Stored Value Facilities that are assisting in the implementation of the Consumption Voucher Scheme, has prepared a large number of discounts with merchant partners to boost consumption and support small and medium-sized merchants in Hong Kong with all-out efforts. Meanwhile, we launched this charity activity, hoping to encourage residents to participate in charitable activities through technology, promote environmental protection, and help more people in need. Since obtaining the Stored Value Facility (SVF) license in 2016, WeChat Pay HK, with its deep local presence and livelihood-oriented service, has actively assisted all residents in fighting the pandemic through contactless payments, such as promoting mobile payments at wet markets, which embodies Tencent's 'Tech for Good' vision and mission."
Ge Yan, Secretary-General of the Tencent Foundation, said: "Since its launch in 2015, Tencent's 99 Giving Day has become a national charity event in China. Last year, 99 Giving Day was launched for the first time in Hong Kong to assist local charity organizations to raise donations through contactless payments during the pandemic. This is the second time that Tencent Charity is working with WeChat Pay HK to promote charity in Hong Kong. We are very pleased to connect Hong Kong residents with technology in joint efforts for charity through consumption and the innovative donation of charity stamps, a way favored by local residents. It demonstrates Tencent's upgraded strategy of promoting sustainable innovations for social value."
WeChat Pay HK supported two charity organizations in setting up charity programs for donations on 99 Giving Day last year, and the Tencent Foundation matched donations. The event was warmly welcomed by Hong Kong residents, and donations were nearly 100 times higher than the usual donation traffic.