People Turn to Technology to Help Victims of Devastating Flood
2021.07.29
Images from the historic rainstorm in Henan Province that left more than 70 people dead and a million forced from their homes have circulated around the world, with many people in China pitching in to help find survivors and their loved ones. The death toll could have been much worse had a 21-year-old student, Manto, not quickly turned to technology to help those affected.  
Manto, a student at Shanghai University who is originally from Henan Province, was shocked at the damage caused by the devastating "thousand year" flood and knew she had to do something.
"I looked online and saw all kinds of people who needed help," she said. "But rescue teams were overwhelmed, and information was not readily available. I was trying to think of a way to connect rescue teams with people in need."
Inspired by a university alumna who organized an online event to help people through the COVID-19 pandemic, Manto began by posting an update to her Weixin timeline.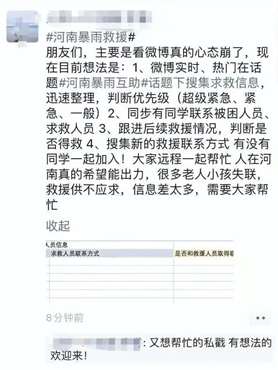 Manto posted her initial idea of the online document on her Weixin timeline.
"I thought it was possible to use the power of the internet to collect and disseminate accurate information quickly in a time of crisis," Manto said. "The main idea was to quickly sort out all kinds of information across the internet, verify the information, and look for new rescue resources."
"I was thinking we had to collect information about the victims, identify those who had not been rescued, and categorize them into high, medium and low levels of urgency. Then we could match them with someone willing and able to help."
On July 20, with water still blanketing the city, Manto created a spreadsheet on Tencent Docs, a document sharing app that she uses to collect information and collaborate with her fellow students. She then shared her idea in Weixin chat groups with her junior and senior high school classmates.
It didn't take long for people to get involved. The first group to come forward included Li, who studies engineering; Meng, Manto's friend from high school; and Zong Miao, a squad leader from junior high.
Within hours, Manto's "Henan Rainstorm Remote Rescue Team" was established, including 32 members from Manto's former and current classmates and colleagues from her internships.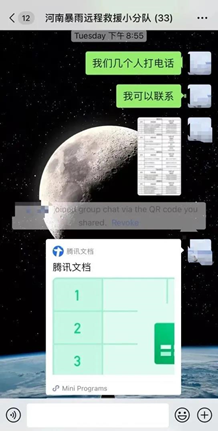 Manto and volunteers collaborated via Weixin chat groups.
The Tencent doc titled "People to be rescued" quickly went viral, with around 2.5 million people accessing the document in the first 24 hours. It was already updated more than 270 times by the following day as it successfully linked flood victims with first responders. It also grew from a spreadsheet to a multi-layered information hub for people affected by the flood. The response was so overwhelming that Manto reached out to professional rescue groups and other volunteers to manage and update the files together.
Even now, a week after the flood, the document is still playing a critical role in saving lives and providing other important information. New sub-tables and functions continue to pop up, such as a sheet about medical information for people who are unable to see a doctor right away. Users keep pitching in with advice on how to stay safe and be vigilant, including help for women who may need to give birth at home. Doctors have also joined in to provide remote medical services.
The entire hub is decentralized, with its crowd-sourced information provided by people who want to help. Manto may have laid the groundwork, but now thousands of others have proactively contributed on their own, without any request to do so. It has brought out the spirit of trust and goodwill that's critical to the rescue and recovery efforts.
More brilliant minds came when this online document went viral. "People from different industries, with various expertise and knowledge, made this document more powerful. This is something achieved by everyone's strength," Mento said.
Manto and her classmates stepped back to help more professional volunteers, government and civil rescue organizations make better use of the platform and help more people.
The form has been renamed the "Henan Rainstorm Online Comprehensive Information Service Platform". It even has an English version of the homepage, a clearer list of different material in the hub, psychological counseling and support modules, and a special section for Xinxiang, where heavy rains are still severe. Unfortunately, the work is not done, with many more people still needing help as poor weather continues to lash China's coast.
The online document has become a collaboration platform for rescue and help.
Manto has seen the power of the internet first hand, and wants to become a product manager after graduation. She's enthusiastic about the potential for using the internet to help people in need.
"The internet can really solve many problems in the most efficient way," she said. "I hope I can make products that are helpful to everyone and can really make the world a better place.'