TiMi Studio Group: the Next Chapter (Part I)
2021.12.10
Our global recruits tell us what it takes to create a AAA games studio
What do Montréal, Seattle, Los Angeles, Singapore, Chengdu, Shanghai and Shenzhen have in common? You're correct in guessing the cities are centers of game development and tech innovation. They are also where you'll find TiMi Studio Group's offices, plugging into the wealth of talent and synergy in those cities to create AAA, open-world video games.
TiMi, a subsidiary of Tencent Games and headquartered in Shenzhen, is the creator of blockbuster mobile games that include Call of Duty: Mobile, Pokémon UNITE, Arena of Valor and Honor of Kings. It's now set to create multi-platform AAA games that will capture the imagination of players worldwide.
In less than three years, TiMi has four development studios emerging outside China, which will co-develop with studios at the TiMi headquarters in China to create next generation games. Coming your way: titles that will push the boundaries of what's possible in terms of worlds, graphics, interactions and stories, thanks to access to cutting-edge technology and creativity contributed from different parts of the world.
Success starts with building the right team. People are vital when it comes to creating AAA games. A single brilliant mind can't go it alone, it takes the right mix of creative, motivated and diverse talent, and a culture that embraces difference and independent thoughts.
As TiMi Studio Group turns 13, we talked to seven members about the journey to transform the studio from a hit Chinese company to a major global game developer. They speak candidly about their experiences, highlights and challenges so far, what lies ahead, and how a commitment to international co-development will see TiMi join the ranks of AAA game makers. 
They're key members overseeing game creation and studio operations, with diverse backgrounds, experiences, inspirations and memorable moments that bring magic to a studio. Budding architects, lovers of painting, movie buffs, graphic designers from Europe, North America and Asia who share one thing in common – a passion to create, differently. Who knows, like them, you may end up meeting amazing people including someone who used a chicken on set to direct a cast of dogs.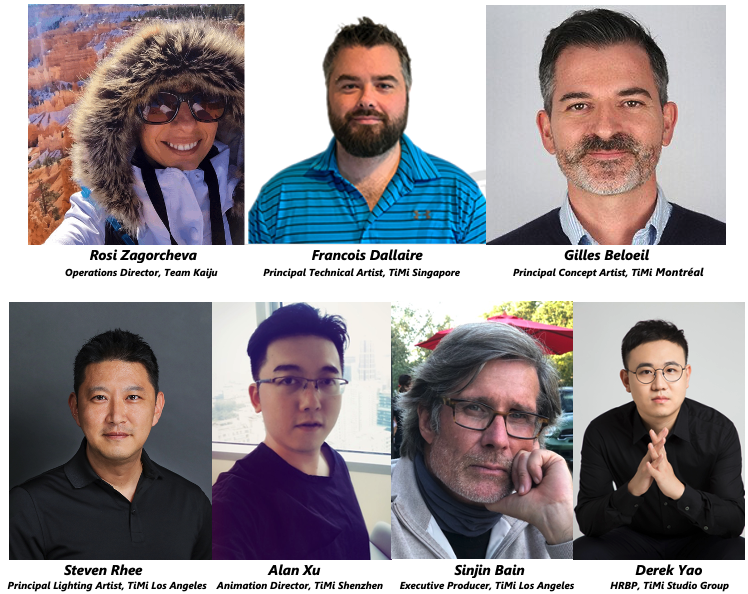 Rosi Zagorcheva, Operations Director, Team Kaiju
(Team Kaiju is the first independent studio incubated by TiMi in North America.)
I started working on the first-ever Bulgarian video game as I was finishing my Master's degree in architecture. I was asked to consult on the historical accuracy of the art in the game, but I quickly got into making the art myself. By the time I completed my degree, I was enthralled with the magic of being able to create entire worlds for players to experience in-game. It was much like architecture but accomplished in a different medium, and with a different degree of creative flexibility.
Francois Dallaire, Principal Technical Artist, TiMi Singapore
I started at Activision as a tester, and then joined Ubisoft as a character rigger on AC Brotherhood, helping out here and there until my role grew to include tech animation and art. Over 10 years, I worked in Quebec, Shanghai and Singapore in various roles, before moving to Riot Games, and now TiMi. 
Gilles Beloeil, Principal Concept Artist, TiMi Montréal
I became a concept artist because I love to paint. I love to create images from a thought or an idea. The first time I saw works of pioneering concept artists such as Craig Mullins and Sparth, I knew this is what I wanted to do.
After working as a graphic designer for websites, I studied 3D animation and worked as a lighting technical director. Thanks to my knowledge of Photoshop and 3D software, I was hired by Ubisoft as a matte painter to paint digital backgrounds. It was there that my concept art career began, when I was hired by the art department to work on Assassin's Creed 2.
Steven Rhee, Principal Lighting Artist, TiMi Los Angeles
I've always loved great movies and video games. Growing up, I loved watching behind-the-scenes footage and making videos. I studied visual arts at the Academy of Art University in San Francisco, with the intention of becoming a matte painter. While studying however, I discovered and fell in love with lighting, and knew that was the job for me. I realized that the main reason why games and movies look so good is because of lighting and cinematography.

Rosi Zagorcheva, Operations Director, Team Kaiju
I am the director of operations for Team Kaiju. Team Kaiju is the first independent studio incubated by TiMi in North America. My role could be described in many different ways, but my favorite is that I am the person who ensures that all developers are enabled to excel as a team in doing what are very complex and creative jobs. I create conditions for success in a highly functioning team and enable everyone to perform at their highest potential.
Francois Dallaire, Principal Technical Artist, TiMi Singapore
We started to see this new job title called Tech Artist around 2005. Today, it's one of the most in-demand jobs in the games industry. Tech art is a spectrum that blends artist and programmer. Each company defines the roles differently, though there are four approximate "families" that touch almost every aspect of game development: lighting and surfacing; rigging and animation; world tech art; and tools and pipeline.
Gilles Beloeil, Principal Concept Artist, TiMi Montréal
My job is to help the art director show his vision of the game. I produce many pieces of concept artwork to show what the finished game will look like. We are really at the beginning of the process, so it is very creative and challenging. Our goal is to make the game visually memorable for the player.
We judge quality through different facets of artwork, from composition to values (dark to bright), lighting, drawing (perspective, design, anatomy, scale), storytelling etc.
Steven Rhee, Principal Lighting Artist, TiMi Los Angeles
My job is to play a key role in visual development using cutting-edge technology to create the best visual and narrative experiences. Lighting artist needs to have both technical and artistic skills. With your trained eye, you'll enhance the tone, depth, mood, and atmosphere of a scene.
Lighting is not just about allowing the player to see the scene. Light can evoke emotions, tell a story, give direction to the player and set the mood for the game. It provides players with a valuable experience.
I've been working with the team via Look Dev to support photorealistic lighting creation and build and investigate lighting pipelines for the upcoming Unreal Engine 5.
Derek Yao, HRBP, TiMi Studio Group
My job is to find the right management approaches to achieving success in our businesses and help the team grow. For example, I will look for the most-effective structure and management mechanism that allows a team to unleash creative ideas or help a backbone team member to mentor newcomers. 
Alan Xu, Animation Director, TiMi Shenzhen
I am an animation director, and I help our animation team with AAA game development capabilities; build the animation technology pipeline required for AAA games; and help the team develop animation styles and quality standards.

Francois Dallaire, Principal Technical Artist, TiMi Singapore
When I worked on Far Cry 5, I was the animation technical director in charge of the animals. Since dogs were an important part of the game, we organized a dog motion-capture session. We had four different dogs with different temperaments, which were supervised by an animal trainer who had worked in Hollywood for 20 years. Unlike humans it's hard to ask a dog to showcase emotion, like telling it to be sad because its master got injured. The trainer was really resourceful in bringing out those emotions. He even brought a chicken on set to film herding motions.
I worked on several Assassin's Creed. During Assassin's Creed Syndicate production, I was the character technical director and we needed help on the character production. I flew to Shanghai to train the team and meet the people. I fell in love with the city, the people and the food. I went back home and told my wife we should move there, and I've been in Asia ever since!
Gilles Beloeil, Principal Concept Artist, TiMi Montréal
I have worked on Assassin's Creed, For Honor, and a few movies. Working with people I like is very important to me, and I got lucky during my career, meeting a lot of amazing people.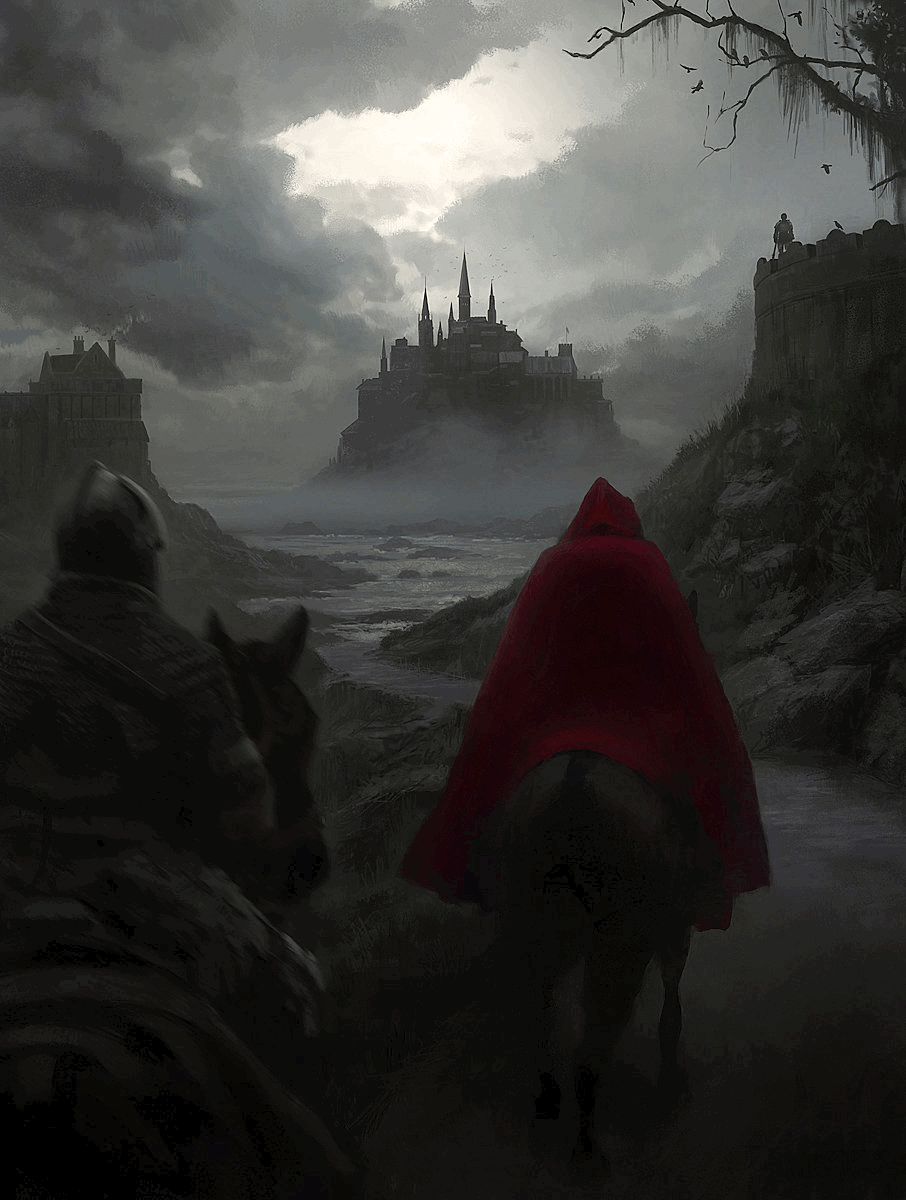 Gilles Beloeil's artwork.
Steven Rhee, Principal Lighting Artist, TiMi Los Angeles
My first job after graduating from college was in a small company where the artists had to do most of the work by themselves in a short time. It was the most challenging time of my life, yet I learned a lot about game making, and the art director helped me to see things that I would not usually notice. Without a mentor, I would not have been able to experience various fields.
I was on the NFL Madden Sport team for 13 years as the lead Madden core lighting artist. I visited some of the most famous stadiums in America to collect scan data for the sports game and was able to meet my favorite players and coaches.
A can-do attitude and determination to raise the bar. The pursuit of originality and artistic quality. Encouraging accelerated games innovation and the adoption of new and emerging technological tools, including AI. Some of the reasons why more international talent is joining TiMi Studio Group.

Francois Dallaire, Principal Technical Artist, TiMi Singapore
There is a clear trend of global companies seeking global talent. Creating AAA games is quite new for studios from China, whereas international developers have been doing it for years, so it's only normal that Chinese games companies are hiring global talent. We are seeing some really impressive next gen videos from these companies, which shows that they are out to raise the quality bar. It's enticing for global talents, as it was for me.
Gilles Beloeil, Principal Concept Artist, TiMi Montréal
We've seen in the past few years many studios from around the world coming to Montréal to develop games and Chinese studios are part of this trend. They are impressive in terms of size, with a lot of potential to build very good teams, which leads to very good games.
Steven Rhee, Principal Lighting Artist, TiMi Los Angeles 
I don't think it's unique to China. The gaming industry is one of the most critical and innovative sectors in tech today. Its importance to culture, social networking and entertainment cannot be understated. The entertainment industry is no longer just about Hollywood and movies, gaming is now providing one of the most immersive and awe-inspiring forms of entertainment to more than two billion people around the globe. So as trends change, I think it is natural for talented people to join the new development environment.
Alan Xu, Animation Director, TiMi Shenzhen
Chinese game companies have undergone great changes, with increasing emphasis on the promotion of originality, the pursuit of quality, and the creation of game products with relatable cultural characteristics.

Alan Xu, Animation Director, TiMi Shenzhen
I joined TiMi after working with a traditional AAA developer for 15 years, because I think this platform is ambitious and has enough strength to invest in top game technology pipeline and product development.
It is very open and positive here. For new technologies and pipelines, as long as you have real ideas and the drive to promote them, you'll get full support. Everyone moves fast. In the past six months, I have been involved in promoting the pipeline construction of Motion Matching animation technology, process construction of In Game Cinematic, standardization of motion capture process, construction of digi human technology, role actions based on AI learning, and facial expression generation.
It is hard to imagine in my previous jobs that so many tasks are done at the same time in just six months.
Francois Dallaire, Principal Technical Artist, TiMi Singapore
I think TiMi is really result-oriented. Where in the past, yes, the goal is important, but you can decide to sacrifice some of this goal to set up stronger foundations.
TiMi is really resourceful and the people are extremely resilient. Even if there's a problem with a tool that blocks them, they will find a way to make it happen.
Gilles Beloeil, Principal Concept Artist, TiMi Montréal
There were just a few of us to start at TiMi Montréal, so it is different from the big teams at my prior employers. I feel like I am part of the beginning of something important and it's very exciting.
My joining is a story of timing, friendship and a project that caught my attention. I didn't know of TiMi before, and initially, I wasn't interested. But I was impressed by the quality of the people there, having worked with some of them in the past. And the more interviews I had with the team, the more I felt I had to join them. The timing was right, and it was time for a new challenge!
Steven Rhee, Principal Lighting Artist, TiMi Los Angeles
The evolution of graphics has come a long way over the years. The recently released trailer for Black Myth: Wukong presents colorful graphics and spectacular scenes. I think TiMi could do even better. Its abilities are limitless in the AAA market.
(This story includes two parts. The next installment, focused on the co-development and the future of games development, will be published on Monday, December 13th, 2021.)