Weekend Westlife Concert Demonstrates Power of Weixin Channels
2021.12.21
People in China were buzzing this weekend after Westlife, the boy band from Ireland that produced hit songs in the late 1990s, live streamed a concert that drew nearly 28 million live viewers on Weixin Channels. The concert, physically held in London, generated more than 160 million likes. One comment, saying the show provoked warm feelings of nostalgia from his youth, was liked more than 67,000 times.
The event was a success for Weixin Channels, a video and livestreaming platform within Weixin that connects brands and creators with more than 1.2 billion Weixin users (the international version of Weixin is known as WeChat). It demonstrated the promise of live concerts held online, particularly during the pandemic when many artists are unable to play to live, in-person audiences.
"Weixin Channels can be a connector of cultures by leveraging on Weixin's open platform and the creators' ecosystem," said Juliet Zhu, Weixin's Head of Marketing. Her team has planned a series of activities in addition to Westlife's concert, which will see more global celebrities engage with Weixin Channels.
Legendary Irish band Westlife holds its first-ever online concert through Weixin Channels from 8,153km away in London.
The Weixin Ecosystem Drives Awareness
For many Chinese born in the 1980s and 1990s, Westlife's songs were often their first interaction with European and American music and became a soundtrack to unforgettable moments in their early lives.
Weixin Channels' connection to the Weixin app meant that news could spread quickly. After announcing the concert on December 12, news went viral on Weixin Moments, Weixin's newsfeed. People shared the trailer to the show and other videos, which contained direct links to Westlife's own Weixin Channel. It's one of the biggest benefits of Channels because it gives users a direct way to discover new accounts.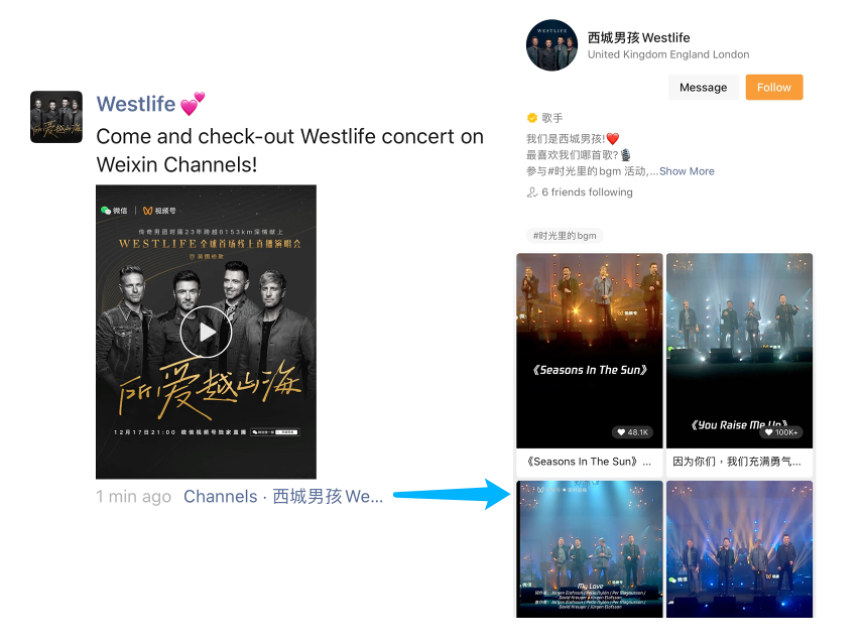 Clicking the post link in Weixin Moments directs users to Westlife's official account on Weixin Channels.
Weixin Channels Shows Potential of User Participation
Westlife's China-focused concert struck a chord in the country. The 100-minute show saw the band play all their popular songs like "My Love," "Uptown Girl," and "Seasons in the Sun", captivating the audience. The concert reached its climax when the band sang a popular Chinese song called "The Road to Ordinary".
But the concert wasn't just a one-way communication. Fans opened their location function within Weixin to show the band where they were, and many viewers sent digital gifts to the band through the platform to show their appreciation. They are just two of the features available during live streams, along with lucky draws, reservations, and a lot more.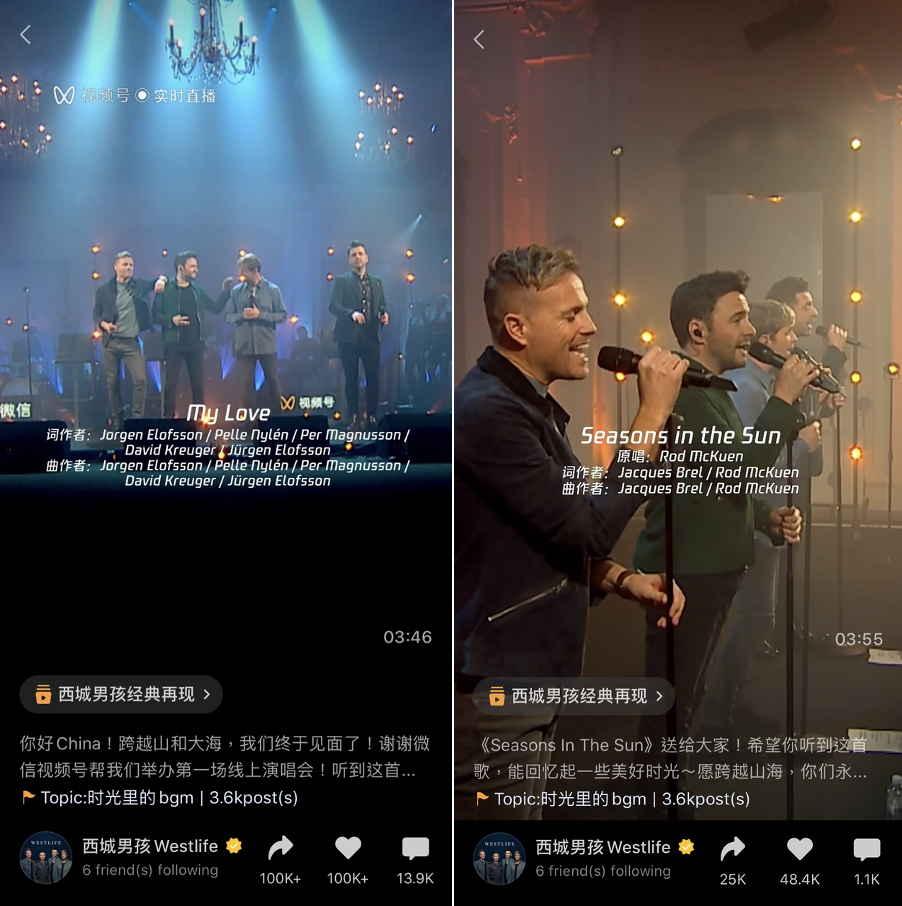 Westlife plays "My Love" and "Seasons in the Sun", taking viewers back in time.
Future of Concerts?
Being at a live concert with others is an unforgettable experience, and one that everyone hopes returns soon. But live streaming might provide artists with an alternative. There have been several experiments worldwide with live online concerts over the past couple of years, with many benefits including pandemic safety control and reduced travel, more exposure for lesser-known acts, and often a higher capacity for more people to watch live.
One thing is certain: video is here to stay. The Network Audiovisual Development Research Report 2021 in China showed 88.3 percent of internet users watched short videos. In terms of the market size in the pan-audiovisual sector, short-form video accounts for the largest and fastest growing share, with a year-on-year growth of 57.5 percent.
As Weixin evolves to grow its audiovisual capabilities and better serve its 1.2 billion users, Weixin Channels is expected to bring together content, cultures and emotions that connect people and provide unforgettable experiences.