How China's Post-90s Consumers are Reshaping the Luxury Market
2022.01.05
Mainland China's young, affluent consumers are emerging as an increasingly powerful force in the luxury industry, with consumers born after 1990 expected to contribute to 46 percent of China's luxury purchases in 2021, according to joint research by Tencent Marketing Insight (TMI) and Boston Consulting Group (BCG).
Published in October 2021, the report - titled "A New Generation of Chinese Consumers Reshaping the Luxury Market" - highlighted key luxury trends in the world's second-largest economy. 
This year's annual report conducted about 4,700 consumers and more than 1,000 case studies to provide insights into market dynamics affecting the sale of luxury products in mainland China.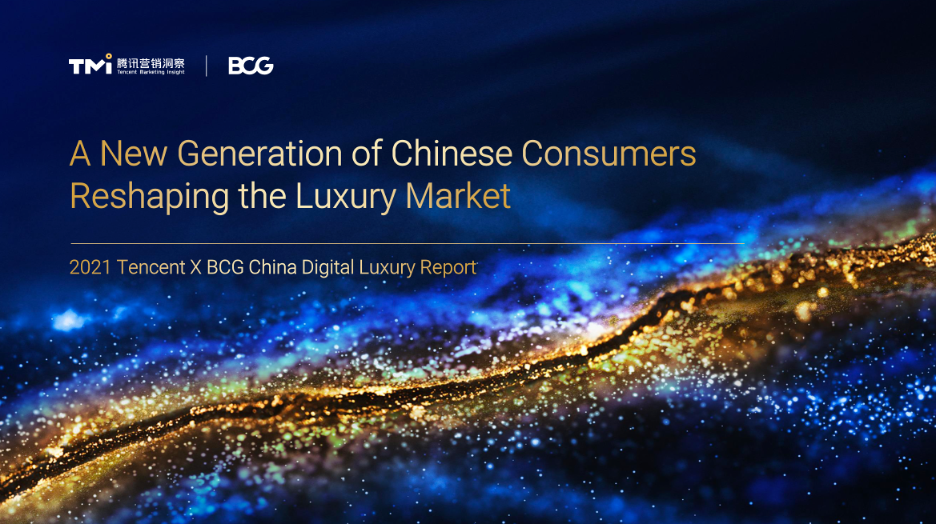 2021 is the fourth year that TMI and BCG have collaborated to explore trends in the luxury market of mainland China.
Heavy-spending Zoomers Boom
For brands, the shifting luxury landscape in China means dissecting the consumers into groups and planning new strategies to grow the consumer base.
By generation, consumers born after 1990 already make up 50 percent of the total number of luxury goods buyers in the country, with a fast growth rate of between 25-35 percent in the past year.
Younger consumers were likely to buy luxury items as a way to express or reward themselves, as well as to experience the brand.
They also valued new shopping experiences such as more interactive online shopping or newly launching brands' pop-up stores.
"Driven by the self-rewarding mindset and social influence, luxury consumption is shifting from transactions to personal experiences with an emotional touch; brands need to design more creative interactions to engage post-90s consumers," the report said.
In terms of purchasing power, heavy-spending consumers who spend more than 300,000 yuan (US$47,000) annually on luxury items represent 40 percent of the total luxury sales.
The analysts projected that the number of people in this category will grow at least 28 percent in the coming year, adding that brands should focus on driving repeat purchases and brand loyalty to continue the momentum.
"Consumers at large tend to switch between brands," the report said. Only 36 percent of the consumers surveyed demonstrated brand loyalty while 41 percent expressed no brand preference.
This view is echoed by consulting firm Bain & Company's October report on China's retail.
"Faced with this evolving dynamic, the most successful retailers will find ways to foster deep consumer loyalty that can outlast the benefits of undifferentiated discounting," Bain analysts said.
Opportunities with Light-to-medium-spending Consumers
Light-to-medium-spending consumers with an annual luxury spending below 300,000 yuan account for the remaining 60 percent, a volume that cannot be ignored.
"Brands should take an 'always-on' communication approach to continuously recruit new consumers and increase sales," the report said. "The key is to achieve more effective conversion as touchpoints and pathways become more diversified and complicated." 
The study concluded that brands will have to elevate their product offering and improve the shopping experience to attract and retain consumers instead of lowering the price tag.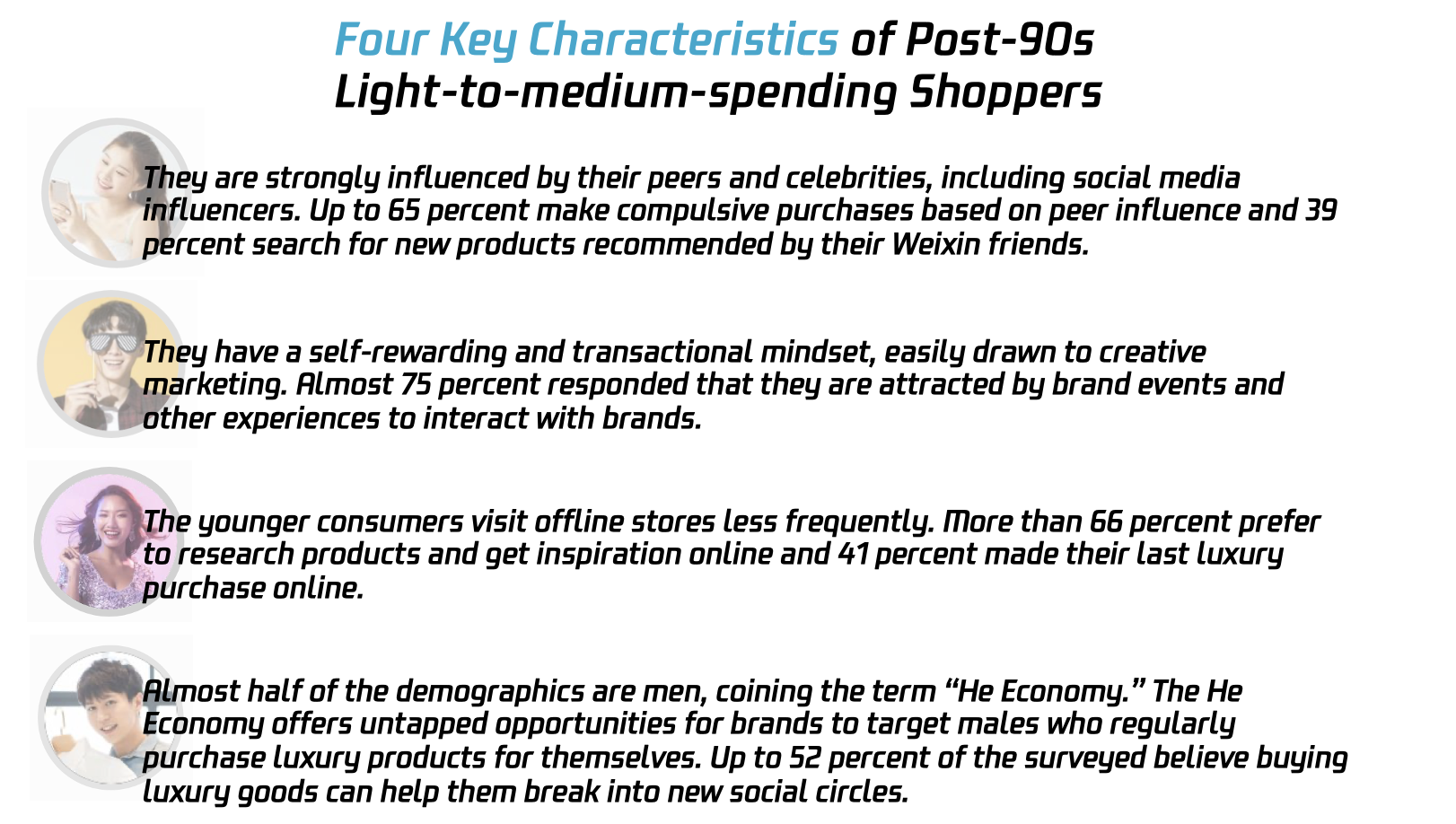 How to Sell to the Richie Rich
In Mainland China, shopping has gone so personal and digital that it goes beyond e-commerce.
Brands are tapping different platforms and features to build a relationship with the consumers, especially after the pandemic, as physical touchpoints have become sparse.
Social media messaging platforms like Weixin, China's most popular messaging and social media app, are where the dopamine-fueled shopping experiences happen. 
About one-fourth of Weixin users engage with brands by reading articles from their official accounts, using brands' Weixin Mini Programs or viewing Weixin Moments ads.
The report showed Weixin is the most used platform among post-90s heavy-spenders for finding, researching, and purchasing luxury items. Around 53 percent of respondents said they use Weixin to search for more information and make decisions.
The platform has evolved into a highly effective marketing strategy for luxury brands, with many of them launching mini programs that provide a unique brand experience year-round. For example, Louis Vuitton launched more than 10 brand-owned Weixin Mini Program stores uniquely designed to offer different product lines for different age groups. The report said these brand-owned mini programs are expected to post a nearly 30 percent sales growth next year.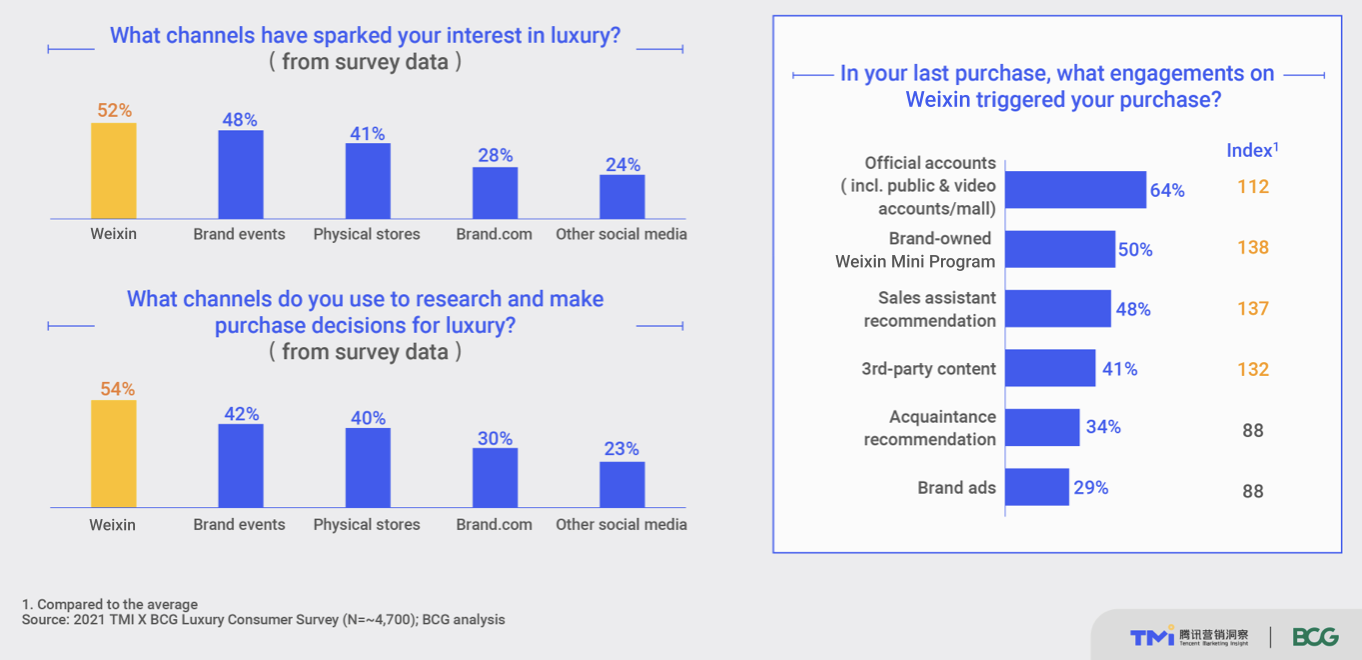 Weixin has become a go-to platform to discover new items and make purchasing decisions for consumers. 
Next Up: Shoppertainment & Super VIPs
Brands like Burberry, Prada and Chopard are using Weixin to integrate their brand identity into stickers to use when messaging with friends. 
Others like luxury watch brand IWC are issuing electronic red pocket designs for the Chinese New Year, when billions of people exchange New Year's greetings online. In 2021, more than 40 brands shared virtual red pocket designs on Weixin to maximize their brand exposure during the holiday season.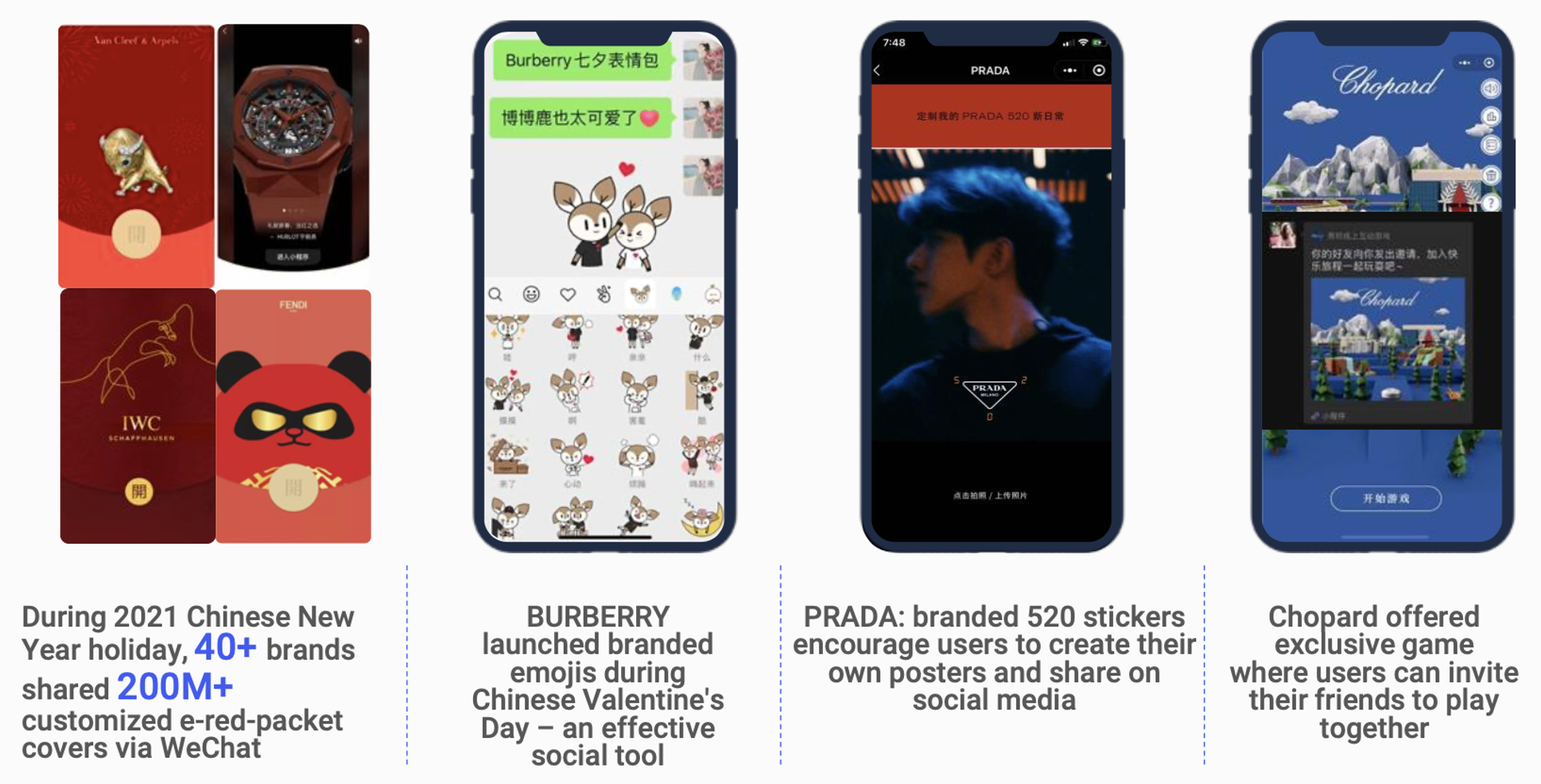 Brands leverage different features to integrate them into daily social interactions.
A 3D virtual shopping tour is also allowing consumers to browse and choose items or even visit fashion shows in the comfort of their homes. Early this year, DIOR launched a 3D shopping campaign with Weixin, along with a fashion show on Tencent Video.
Recreating the white-glove experience online is a noticeable trend. Recently, Louis Vuitton put together 1:1 livestreaming sessions with their VIP consumers. Luxury watchmaker Blancpain used Tencent's enterprise communications platform WeCom to offer an exclusive digital experience with more than 30,000 highly-valued clients looking to purchase a new model.
"We need to repeatedly reach high-spending consumers with a diversified choice of content including more extensive brand stories and brand events in order to imprint the brand image and style in their memory," a DIOR representative said in the report.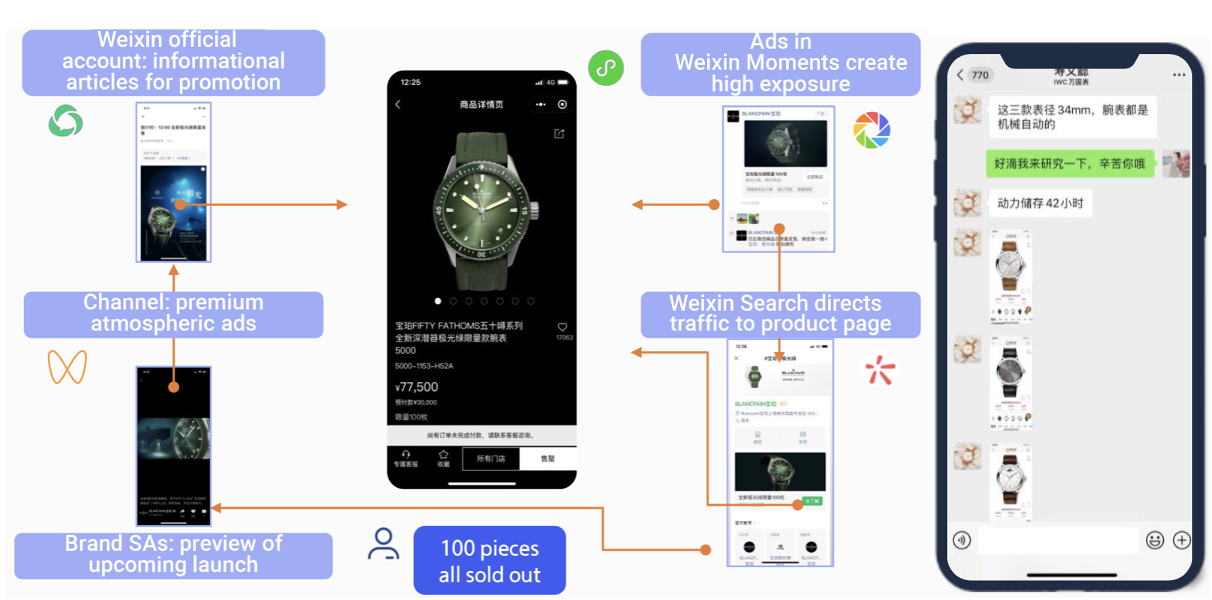 Blancpain integrated all touch-points across private and public domains and leveraged WeCom to offer an exclusive 1:1 service.