Weixin's Open Ecosystem Reports User and Engagement Growth
2022.01.07
Weixin releases social impacts that the platform made last year at the Weixin Open Class PRO 2022
Weixin, Tencent's popular social platform in China, saw steady growth in user activities across its in-app features last year, the company said at its annual flagship event for business partners and developers, Weixin Open Class PRO 2022, on Thursday.
The number of daily active users of Weixin Mini Programs, which give users instant access to enterprise services, exceeded 450 million as of the end of 2021 in the run-up to its 5th anniversary on January 9.
Meanwhile, the app's built-in search function Weixin Search swelled to more than 700 million monthly active users in the same period.
Weixin's milestone comes at a time when the company continues to lay the groundwork for its efforts to protect the rights and interests of users.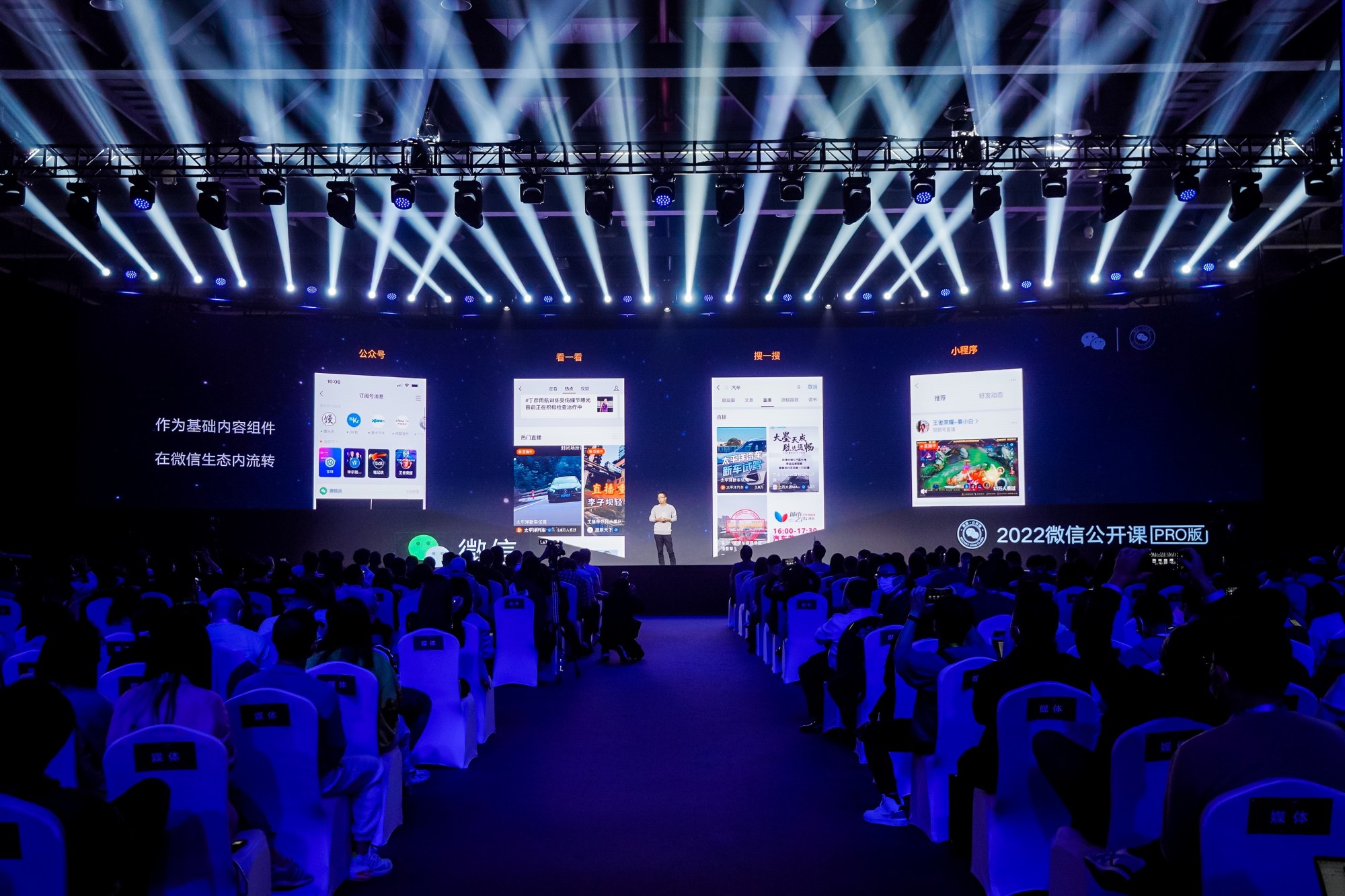 In One App, In One Go
The rapid expansion of Channels was one of the highlights of the flagship event. The number of quality content grew quickly in part due to the diverse incentives offered to content creators and special collaborations like the Irish pop band Westlife's first online concert on Dec.17. The virtual event brought in a total of 27 million viewers.
The average daily active users of Weixin Mini Programs topped 450 million last year and people used Mini Programs 32 percent more daily. The mini program has been the go-to feature for many small- and medium-sized enterprises (SMEs) to digitalize,especially during the pandemic when most consumer touchpoints were restricted. Last year, the number of active Mini Programs soared 41 percent compared to 2020, with 90 percent of them SMEs. Industries hit the hardest by the pandemic, including catering, tourism, and retail industries, moved online via Weixin Mini Programs. The transaction value from these industries doubled year-on-year.
Meanwhile, Weixin Pay played a vital role in empowering the business community to navigate the pandemic. In the past several years, Weixin rolled out a series of programs to boost sales and foster growth, including vouchers worth of 29 billion yuan (US$4.5 billion) to stimulate consumer spending that led to a total of 520 billion yuan in sales online.
Data showed that a half of Weixin users began to embrace Weixin Pay Score, the mobile payment service's consumer credit profiling feature. The feature is available in more than 3,000 application scenarios in our daily lives, including e-commerce, transportation, express delivery and electronic car charging. The "Use-now, Pay-later" model was used in over 100 million transactions. 
One of the fastest-growing features was WeCom, Weixin's dedicated product for business communication and office collaboration. The corporate platform has enabled more than 1 million company staffs to offer 140 million times of services to Weixin users in one hour.
Empowering the Vulnerable
Weixin rolled out new features for different age groups that aim to narrow the digital divide and improve the welfare of workers. Last year, Weixin announced "Easy Mode," which helps elderly users and upgraded the Parental Control Mode for under-aged users.  
Weixin initiated a program for more than 60,000 Shenzhen sanitation workers to offer a weekly meal for only 0.01 yuan at nearly 1,000 restaurants in the city. More than 20,000 restaurants in China joined the philanthropic initiative to help raise funds.
In another case, Weixin launched the "Star Knows" campaign and used its Mini Program to provide a wider choice of books for rural children and raise public awareness.
Weixin also used the Mini Program to help Chinese users go greener. To increase public awareness of climate change, Weixin introduced a mini program dedicated to carbon emission initiatives, the first of its kind in the country. 
Weixin said it will continue to improve its products and support developers, content creators and partners so they thrive in the dynamic ecosystem and work together to provide more innovative services that enhance people's quality of life.