Five Tech Innovations from Tencent to Watch Out For in 2022
2022.01.14
In 2021, we saw many tech trends accelerate around the world in response to the pandemic. The past two years have proven that digitalization is no longer a choice but a necessity.
As we say goodbye to 2021, we examine some major tech innovations from the Tencent ecosystem and what the new year holds in store to affect how we live, work, and shop. 
With that in mind, Tencent's editorial team picked the top five technologies to watch out for this year and beyond. 
Digital Assistant for the Elderly
The global population is ageing rapidly, with one in six people across the globe expected to be 60 and older by 2030. This reflects a global increase from one billion senior citizens in 2020 to 1.4 billion in less than 10 years.
Also growing at an unprecedented rate is technological advances in every corner of society, making it difficult for senior citizens to adjust and understand how to incorporate different technologies into their lives.
Last year, Tencent developed a digital assistant for elderly users on its popular messaging and social media app Weixin. It is a mini program that gives direct access to everyday services on one page, like paying utility bills, taking public transportation, reading news, and more. This helps senior users avoid downloading different applications.
In addition, the digital assistant has audio instructions that provide step-by-step manuals in using a wide range of applications, including social networking, news, entertainment, and shopping. Users can share the instructions directly in chat groups on Weixin.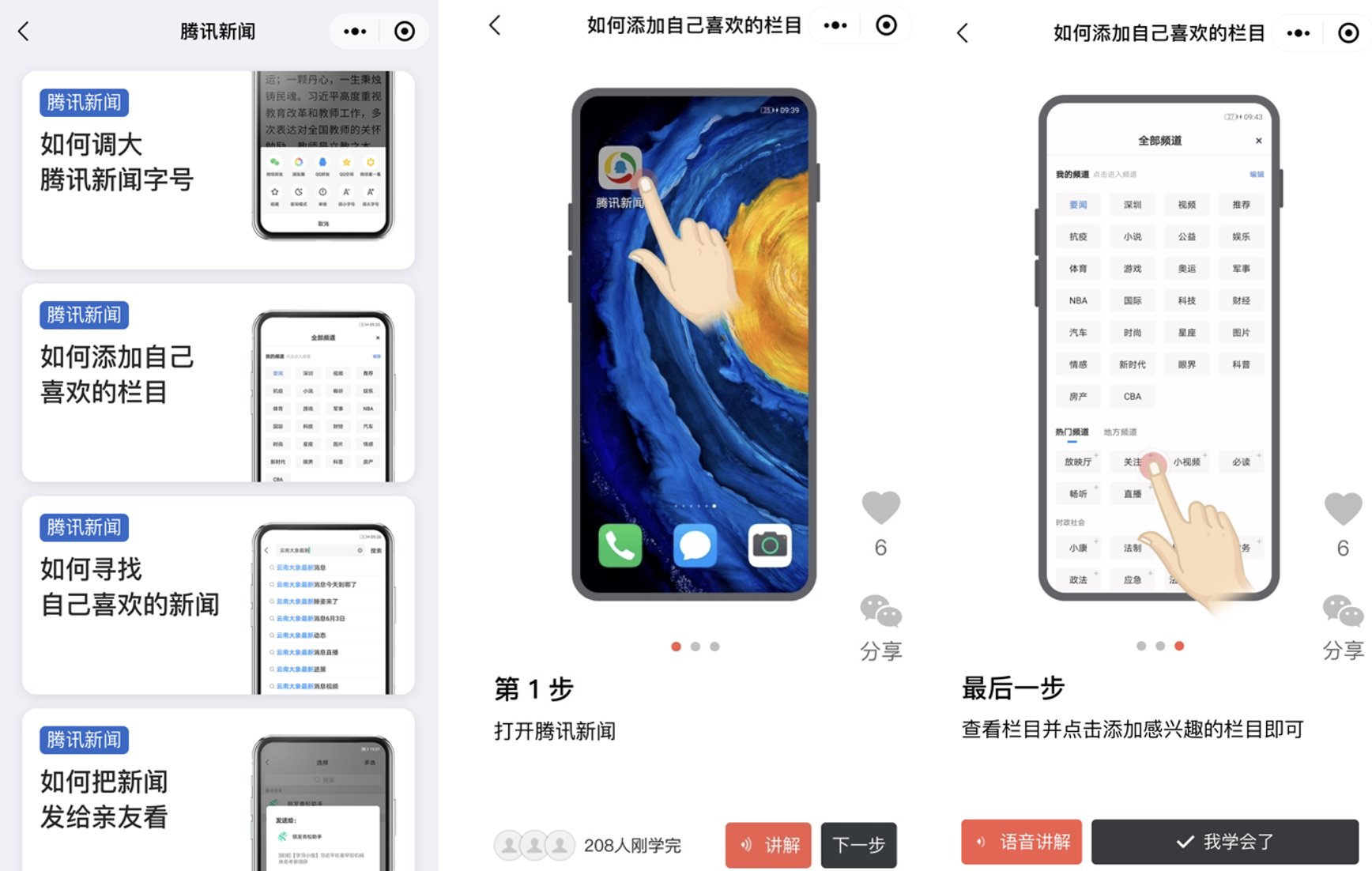 Weixin's digital assistant introduced animated instructions for seniors that show how to navigate and use different features.
User-friendly Analytics Tool
Big data is broadly used in the healthcare industry, including to monitor outpatients, workflows, medication and equipment.
However, the big data system involves very complex and abstract data that sometimes it makes it difficult for the management and medical professionals to understand without any help.
Tencent's analytics tool, XuanQue BI, is designed for the medical industry. It supports data visualization and helps people quickly understand the meaning behind data. It can efficiently gather data from multiple sources using intelligent data integration, creating cool 3D graphics and showing visual dashboards with real-time information. Managers can easily access the visualized data on any smart device.
A recent upgrade to the tool allows users to attach any screenshot or data they want to understand, and the system uses an image-recognition feature to generate a more user-friendly result.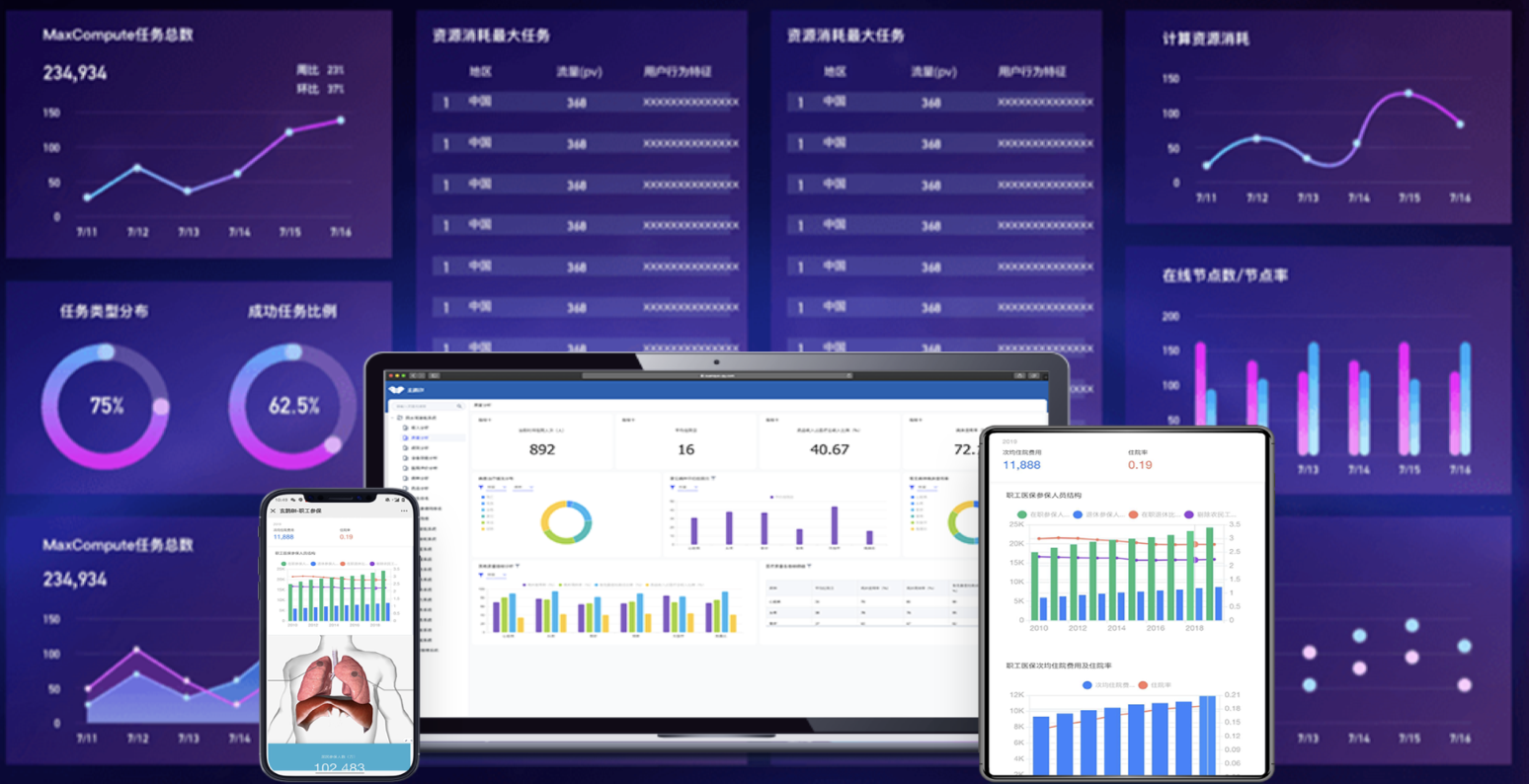 XuanQue BI consolidates data from hospitals and visualizes the information in real time.
Technology for the Hearing Impaired
Customized cochlear implants need to be examined and adjusted occasionally based on the patient's hearing ability. In the past, patients had to go into the hospital for fitting parameters, which is inconvenient during the pandemic period, especially for senior citizens with limited mobility.
In cooperation with MED-EL, one of the world's top cochlear implant manufacturers, Tencent Ethereal Audio in September roll out an assistive application that allows the hearing impaired to keep track of their hearing ability through the app. Users can be remotely connected to doctors for consultations and rehabilitation services.
Besides, the AI-powered assistive listening feature in the app allows users to hear more clearly in noisy environments. It connects the cochlear implant with a mobile phone to identify environmental noise and isolate sounds that are important for the wearer to hear, thus greatly enhancing the listening experience.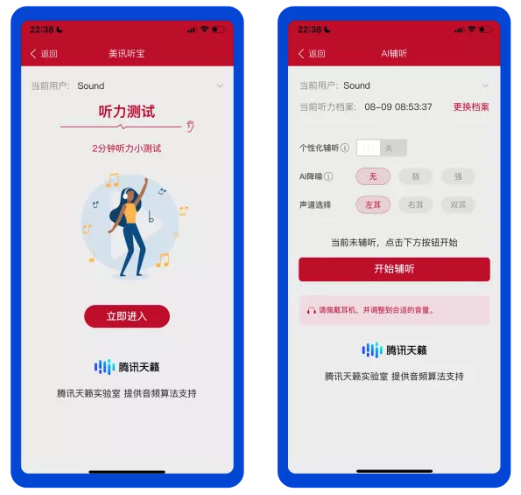 Users only need a pair of earphones to do the hearing test and the AI-powered assistive listening on the application.
AI-made Healthcare Videos
Tencent HealthCare, Tencent's healthcare arm committed to creating a smart healthcare system for society, uses artificial intelligence (AI), big data, and cloud computing to explore more health innovations.
In September, the platform developed a feature that allows medical professionals to automatically produce videos that offer healthcare tips and medication precautions, using news articles. The system will also generate graphics, voiceovers and subtitles to offer a full viewing experience.
The developers said watching videos can be easier to understand and follow versus reading a long piece of text, especially for older generations.
Smart Message Blocker
Think about how many times a day your phone buzzes or dings. If spam messages sidetrack you, a new feature on Tencent Mobile Manager can help you automatically screen junk and spam messages. 
In addition, a recent upgrade blocks fraudulent messages and calls from overseas.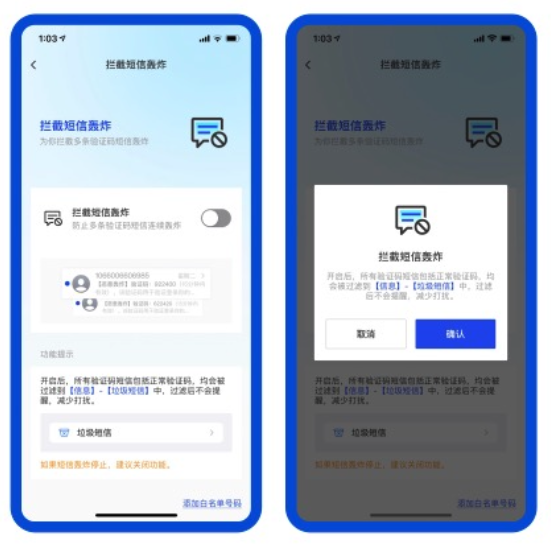 Turning on the message blocker on Tencent's Mobile Manager app can screen out fraudulent messages.