Tencent Employees and Their Next-Generation Innovators
2022.05.07
In celebration of Mother's Day this year, we speak to Tencent employees around the world who reflect on their lives as working parents in different cultures.
Sasa Ye, Visual Designer 
Location: Shenzhen, China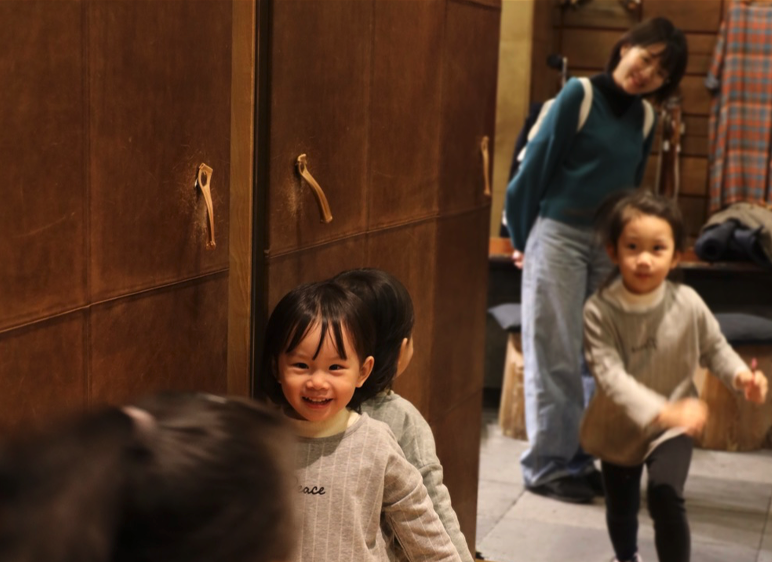 Sasa and her two daughters.
Sasa has two daughters, aged eight and five. In the eyes of her children, her job is to draw beautiful pictures and occasionally make cute, funny dolls.
Fostering her children's creativity is one of the priorities in her education and she says that the first step to doing so is by triggering their curiosity. "It is important to allow your children to explore the world through their own eyes. I love bringing them to spend time outdoors. They can choose how to interact with the nature around them, which encourages creativity and imagination," Sasa said.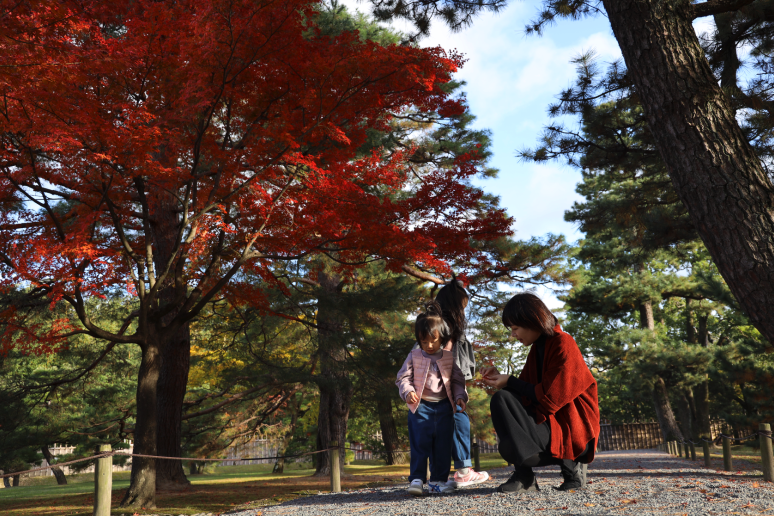 Sasa goes to see the fall foliage with her two daughters.
She suggests that creative people have more quality time and smooth communication with family and friends. They also appreciate being in nature, contributing to their creations being more soulful and valuable.
Rina Zhang, Senior Marketing Manager at Tencent Cloud
Location: Tokyo, Japan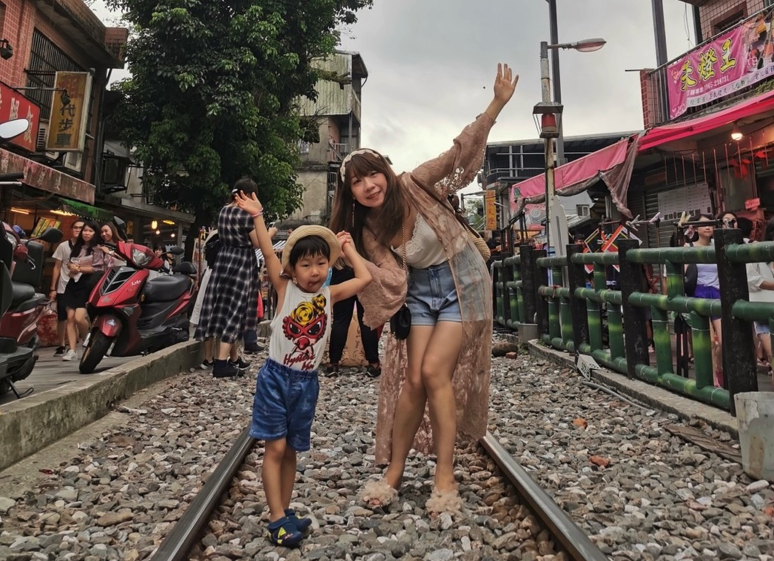 Rina and her 7-year-old son pose during their trip to Taiwan.
Rina is responsible for Tencent Cloud's business development in Japan and South Korea. As a mom of a 7-year-old boy, Rina thinks it is important to foster children's creativity in daily life.
Rina likes to play a little game with her son where she brings him something and asks him questions about it. When he names it wrong, Rina will listen to his reasons patiently and praise him for being imaginative. "Many questions do not have fixed answers. Kids always have unique ideas. It is important to encourage them to think creatively from different angles," said Rina.
Back in her time in college, Rina was a big fan of The Sims, a life simulation video game. She created a website to share props and clothes that she designed for the game. Today, she adopts her creativity in everyday work. She hopes that the next generation can stay curious and record their creativity through different means.
Kay Kim, Design Lead from Tencent's ISUX Seoul Design Studio
Location: Seoul, South Korea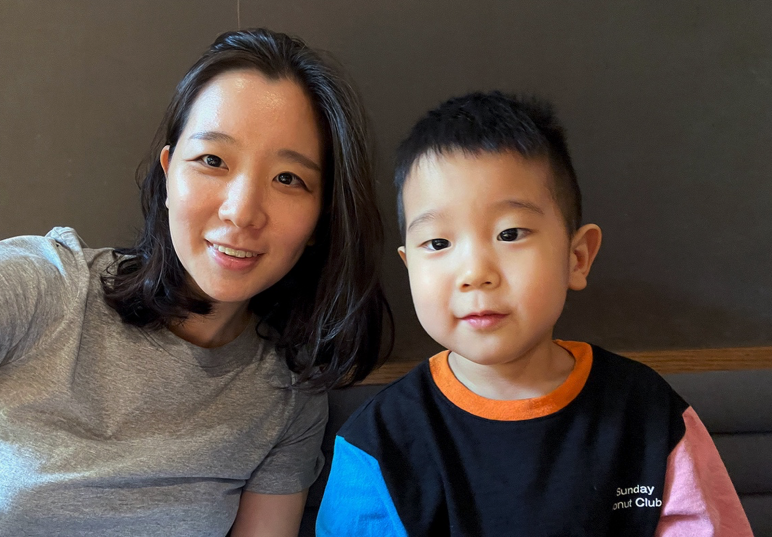 Kay and her 4-year-old son Son pose together in front of the camera.
Kay manages Tencent's social user experience design team in the Seoul office, mainly responsible for the QQ IP character designs and projects related to its branding. In the eyes of her son, her 4-year-old son, her job is to see images or animations filled with penguin characters.
While giving birth to characters is Kay's job, she says the greatest creation she's made is her child. It is not an easy task to raise a child while having a full-time job, but worth it to experience new life adventures with her kid, she said. She never forces her son to learn or do something but just listens to him carefully.
"I think giving your child chances to think on his own can broaden his mind. It's always amazing to listen to him explain how he sees the world. I think it is my kid who inspires me," said Kim.
She hopes the younger generations can treasure every opportunity and not be shy from expressing their thoughts.
Shinyi Saw, Business Development Director of Tencent Cloud 
Location: Kuala Lumpur, Malaysia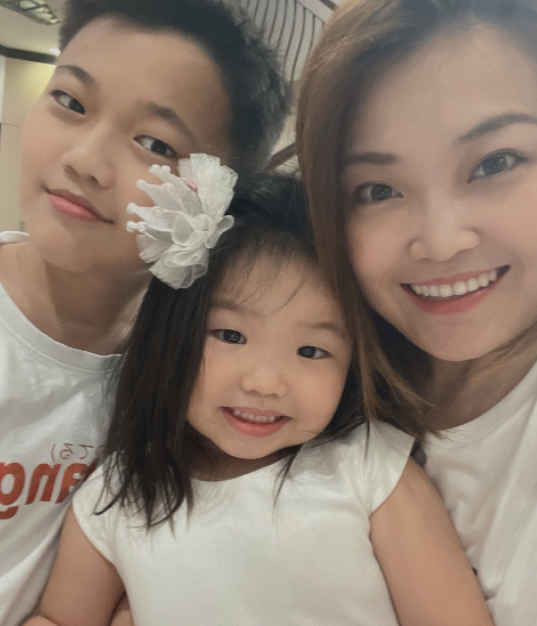 Shinyi and her son and daughter smile together at the camera.
Shinyi has a daughter who is 3, and a son who is 13. Being a key member of the team, Shinyi is always busy with meetings and networking events. In the eyes of her son, her mom's job is to meet different people every day.
Speaking of her approach to nurturing her children's creativity, she believes that it is important to let them explore on their own and never set a boundary to trying new things. She hopes the next generation of innovators can be fearless of mistakes and failure. 
Pimnaree Noithammaraj, Marketing Lead of Tencent Cloud in Southeast Asia 
Location: Bangkok, Thailand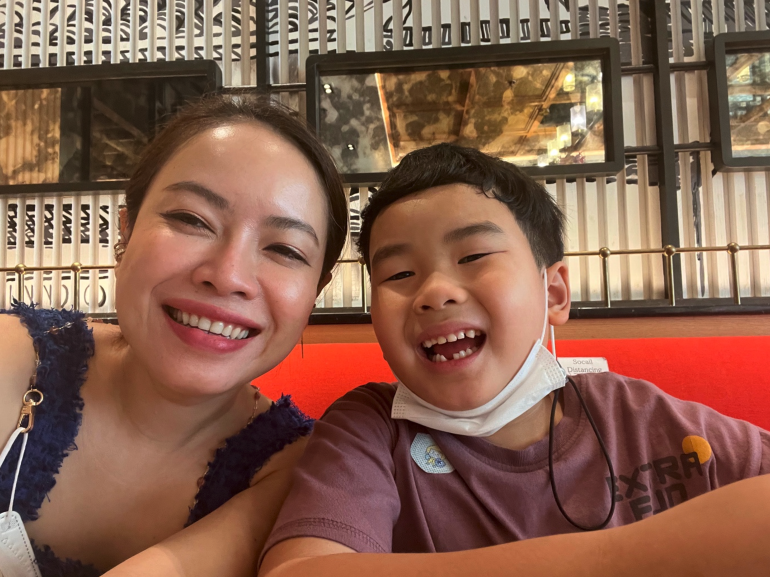 Pimnaree and her 7-year-old son pose together on their day out.
Pimnaree is the marketing lead of Tencent Cloud in Southeast Asia, covering businesses in Thailand, Singapore, Malaysia, Indonesia, and The Philippines. She believes that great inventors must have a sense of empathy so that they can identify social problems and solve them through innovations.
When her son was 2-year-old, they attended a charity sale and bought a piano to help raise funds for a child's cancer treatment. She wants her son to be reminded that it is important to help others as long as he can do so.
Her son's favorite subject at school is a Information and Communication Technology(ICT) course, with his passion for coding. To support his interest, Pimnaree gave her son a micro:bit, a pocket-sized computer for kids to learn basic coding skills. Using his first IoT device, her son did several interesting projects, such as showing heartbeat and emoji on the micro:bit.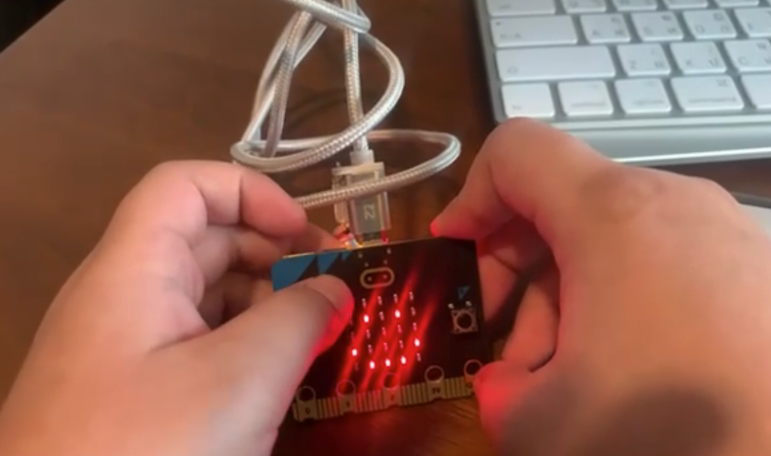 Her son uses the micro:bit to create a smiling face emoji.
Tanpitcha Chattrakoonphong, Lead Sales of Tencent Thailand 
Location: Bangkok, Thailand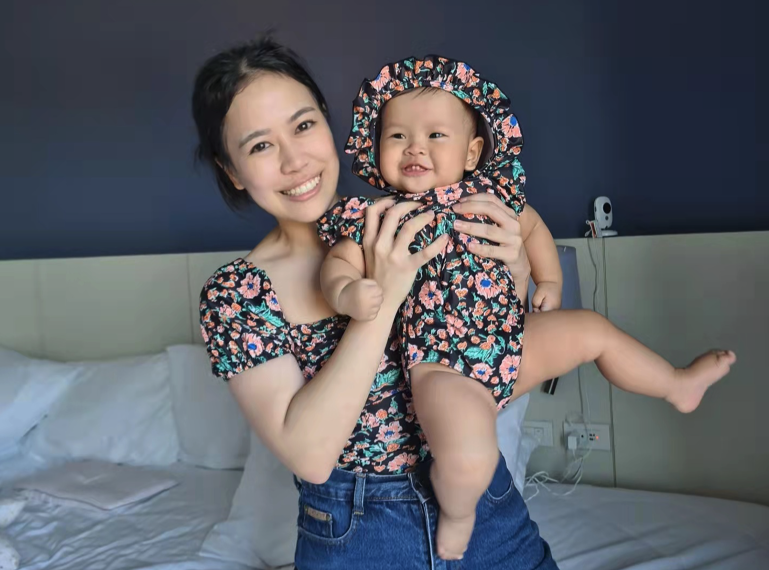 Tanpitcha and her baby daughter pose in matching outfits.
Tanpitcha is the team lead sales of Tencent Thailand. She has a nine-month-old daughter.
Her daughter loves role-playing with her mom. Every night before her bedtime, they act out the characters from their favorite fairytale, Little Red Riding Hood. It always makes her daughter giggle when her mom builds a pillow fort and hides her inside. Tanpitcha believes that when her daughter grows up, she will remember how easy it is to make the little things around her interesting through simple innovation and creativity.
Tanpitcha believes that innovators have the ability to turn obstacles into opportunities, which is the key to shaping a better world for the next generation. Watching her little daughter grow up and learn new skills like crawling and cruising, she hopes the world to have more innovative environment for the next generation.
Eric Cleaver, Senior Global Community Manager at Tencent America
Location: Palo Alto, U.S.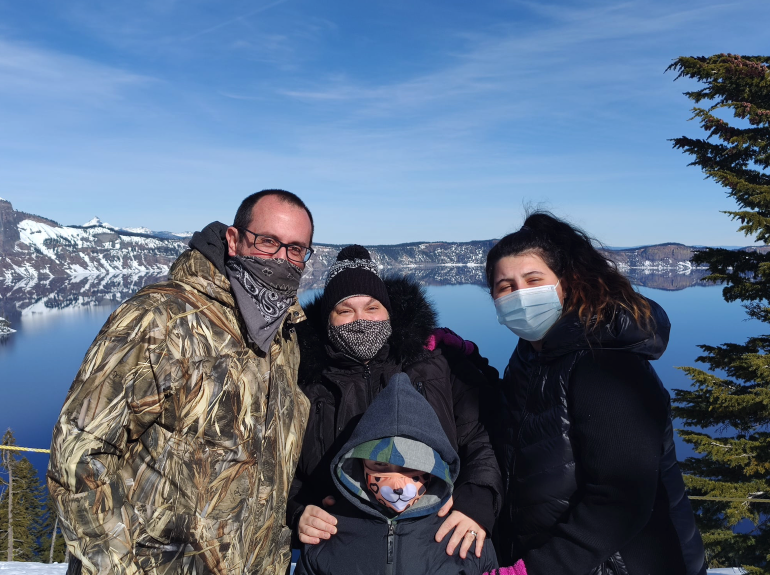 Eric and his family pose during their trip.
Eric has a 20-year-old daughter and a five-year-old son.
"On this year's Mother's Day, we'll go for a long walk. We'll also enjoy tide pools during the day and have dinner with my mother so we can have the whole family together," said Eric. He says it is also important to mark Mother's Day to remind his children of the contributions his wife makes to the family.
Starting the journey as a working mother is an incredibly difficult experience. Eric believes it is crucial that every team member recognizes how working mothers' life experiences contribute to the team and should make the workplace more accomodating for them.
Javonda Lewis, Employee Releations and Compliance Manager, Tencent America
Location: Palo Alto, U.S. 
Javonda has a 30-year-old daughter and a 27-year-old son.
Her son is very tech-savvy and knows a lot about developing softwares. He taught Javonda a lot of computer skills that she wasn't familiar with. He is also a great cook and will make everyone a dinner on Mother's Day every year.
Javonda recalled it was total chaos when raising her small kids while working full time. "My son loves soccer. When I was working, I had to leave work at lunchtime, pick up my son from school, take him to his soccer practice, then go pick him up again at soccer practice after work. There were times when I cannot make it so I desperately found other ways to make things work."
She thinks communication is a key when you walk into your life as a working mother. "I would say the first thing is to talk to your manager if you need any additional time off. Communication is key."
Lisa Liao, Senior Artist at Tencent America
Location: Seattle, U.S.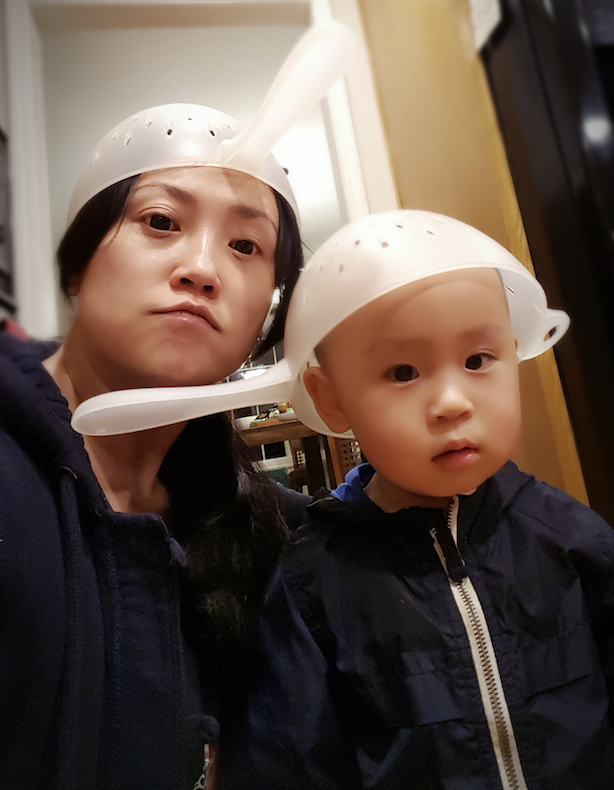 Lisa and her son.
Lisa has a seven-year-old and a five-year-old son. Lisa thinks people have multiple social identities, and being a mom is just one of them. She likes challenges and she gets a sense of strong accomplishment when she solves problems that arise from juggling between work and family matters.
"I can always complain about being busy, but if you look at it from the other way around, I can achieve a greater sense of accomplishment when everything's under control," she said.
Lisa does not think that being a working mom is stressful. "I love my kids, I love my job, and I love being in this industry. So I don't complain."