Southeast Asian Brands Tap Weixin Ecosystem to Appeal to Chinese Consumers
2022.05.24
International businesses eyeing the Chinese market are doubling down on Tencent's Weixin ecosystem to stay connected and engaged with local consumers, as international travel remains limited because of Covid restrictions.
Southeast Asia's leading merchants such as Big C, one of the largest supermarkets in Thailand and Mandai Wildlife, the biggest safari park and scenic spot operator in Singapore, have launched Weixin Mini Programs to heighten reach and engagement and drive conversions in China.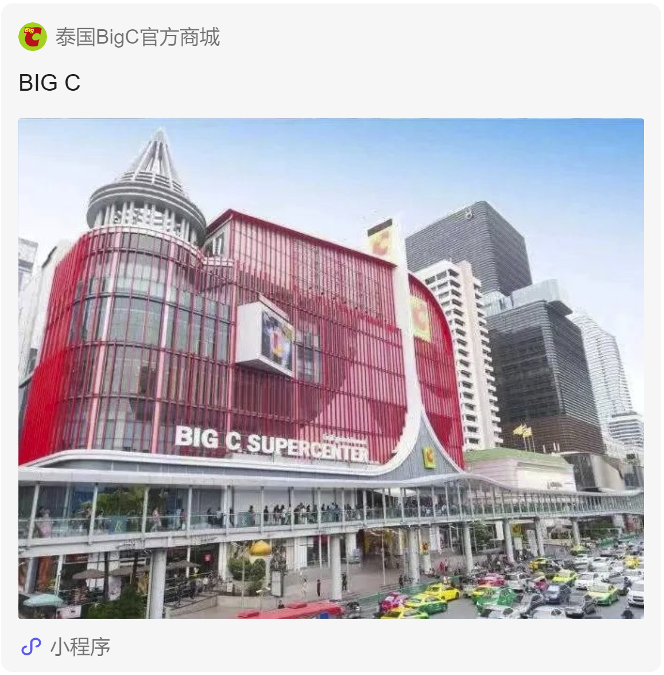 Big C launched its online store via Weixin Mini Program in January 2022.
With the increasing appeal of brand channels on the Weixin Mini Program, the number of active Southeast Asian merchants' Mini Programs grew 10 times over the past two years. The rapid growth is backed by the recent digital transformation and cross-border e-commerce growth that the retail industry experienced.
From a Local Supermarket Chain to Cross-border E-commerce Pioneer
At the height of Thailand's tourism boom in 2019, Big C's flagship store located near one of Bangkok's most popular sites, the Erawan Shrine, attracted tens of thousands of Chinese shoppers eager to buy a plethora of well-priced goods, including clothing, beauty and health products, food and souvenirs.
Then the pandemic struck, leading to a drastic drop in tourists. The company quickly explored solutions to overcome the uncertainty and multiple options to reach its biggest international market – visitors from China.
In January, Big C launched its cross-border e-commerce service via Weixin Mini Program, an in-app service in the Weixin ecosystem that offers a slew of lifestyle features such as e-commerce, booking appointments, issuing vouchers, and more.
Four Advantages of Weixin's Mini Programs
Jinhui Li, Big C's senior manager of Cross-border E-commerce, says the company "studied many other options and felt that Weixin Mini Programs were more in line with its long-term strategic needs."
He cited four key advantages of using Weixin Mini Programs:
1. The low cost of opening a store within Weixin – Weixin Mini Programs does not charge commissions or subscription fees, which can be an entry barrier for many businesses.
2. The mature Weixin ecosystem. Customers can have direct communication with merchants, make transactions and receive support all within the app, allowing a seamless user experience.
3. Ease of use for merchants to integrate functions. Weixin is a one-stop platform for brands' Official Accounts, Mini Programs, and community engagement, allowing Big C to effectively retain customers and enhance users' brand loyalty.
4. Versatility in product display. Many platforms have restrictions on the number of categories retailers can include, while the Mini Programs allow for a wide range of items to be listed.
Building a Customer Base From Zero
Big C is one of Thailand's largest supermarket chains, but when it was starting from scratch in the world of cross-border e-commerce, the company didn't have the luxury of taking time to slowly build its customer base. Chinese tourists already familiar with its products were targeted, so they could continue to shop at Big C online and have goods shipped to China.
"Weixin Pay's international business team gave us a lot of advice, case studies and other support to help with the launch," Li said. One of the strategies they worked on was promoting the Big C Mini Program on well-known Weixin Official Accounts related to Thailand's tourism and lifestyle, targeting audiences with similar interests.
Boosting accessibility was another point of strategy for Big C. QR codes that lead to the company's Weixin Pay and Weixin Official Account were made and displayed on online and offline channels including in the stores. This encouraged Chinese ex-pats and visitors already in Thailand to share information about Big C with their friends in China.


The QR codes of Big C's Weixin Pay and Weixin Official Account are displayed at the cashiers.
Understanding the Market by Trial and Error
The Mini Program's interface is evolving based on data and customer feedback. Initially, Big C's Mini Program focused on highlighting its corporate branding. The operation team discovered, however, that a design that emphasizes the selling point of the product performed better. This enabled consumers unfamiliar with Thai products to understand their benefits at a glance, leading to a higher conversion rate.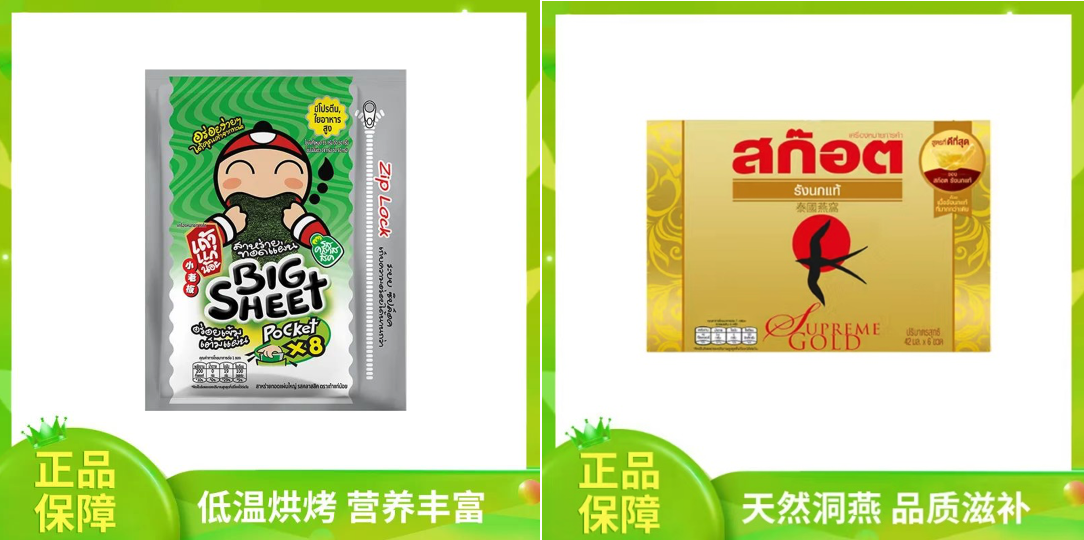 The product design has been optimized based on the consumers' feedback received via Weixin Official Account, Mini Program, and the group chat.
They also learned that a flexible back-end system is crucial to regularly update displayed products based on demand. Learning from its offline store experience, the company initially promoted beauty products mainly on its Mini Program. However, the team soon learned that there were higher demands online for local snacks and delicacies, such as bird's nest, making them quickly change the main product display based on the numbers.
The biggest challenge encountered so far is logistics. Big C plans to overcome the logistical issues by entering China's bonded warehouse market to shorten the processing and delivery time and improve the shopping experience.
The Power of Word of Mouth Online
Businesses can easily communicate with customers and receive their feedback through Weixin Mini Programs, which helps with their customer relationship. Big C checks their shoppers' feedback in real time through Weixin Official Account and the Mini Program's customer service feature. The most popular means is through the brand's community on Weixin, which is also known as a private domain in China's social commerce market.
Big C customer support and operation team use WeCom, Tencent's enterprise communications tool interoperable with Weixin, offering personalized services. Consumers can enter Big C's WeCom groups by scanning a QR code, where community operations teams interact with members for product and after-sales consultations, as well as the distribution of coupons, goods and even practical visitor information.
More than a dozen of such groups have been formed. Users share memorable stories about their experiences in Thailand, including food, shopping and sightseeing. They also share their shopping wish lists, which customer service staff will take note of for future sales.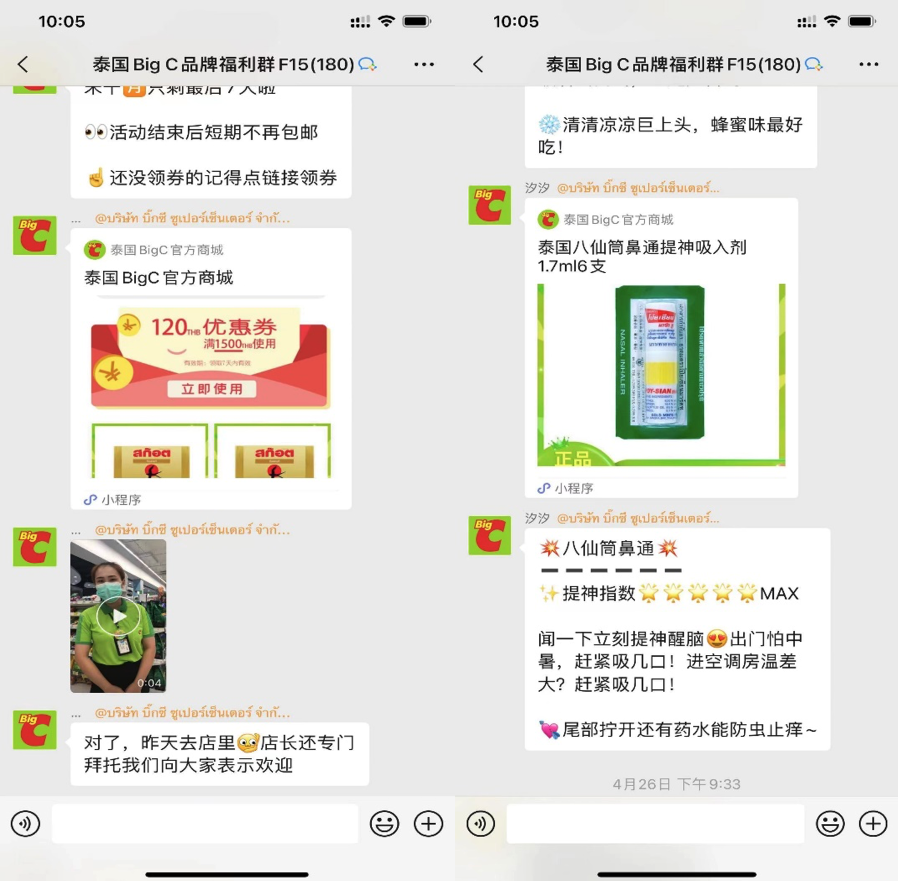 Big C distributes coupons and promotes best sellers in the group chat.
When desired products become available, customers will be notified individually through the company's customer service account, with a shared link. Users can click to place an order and pay entirely within the app via Weixin Pay, forming a closed loop and a seamless user experience.
Big C's Weixin Mini Program still needs to be improved in many aspects as it was just launched not long ago. But as an early adopter, the company is an important pioneer in cross-border e-commerce in Thailand and beyond. Its simple yet effective global business model has encouraged other Southeast Asian merchants to follow suit to survive and thrive during this difficult period.