Tencent Weixin's Payment Feature Drives Carbon Neutrality Goals: Report
2022.07.27
Weixin
Pay
users have helped reduce carbon emissions by 188,200 tons in the past five years by choosing the digital payment platform instead of generating paper receipts, according to a recent report published by Tencent and the Central University of Finance and Economics of China.
The report - titled, "Green Payment Contributes to China's Carbon Neutrality," showed that an increasing number of users have been using Weixin's popular payment feature to pay their utility bills, buy transportation tickets and medicines online.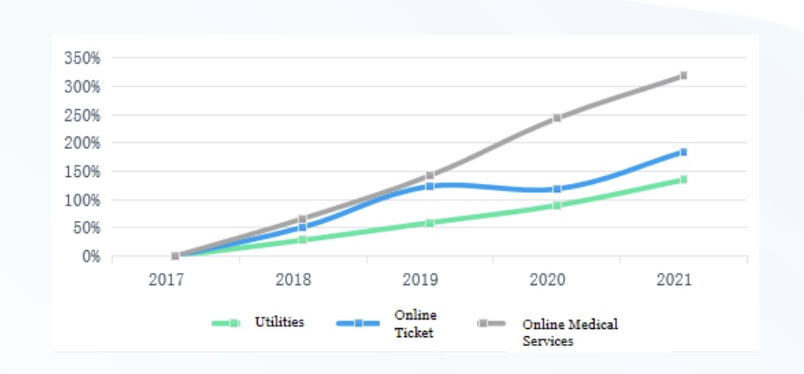 Weixin Pay services are becoming increasingly popular. The graph above shows the growth rate of Weixin Pay usage from 2017 to 2021.
In particular, Weixin Pay helped cut around 3.34 million tons of travel-related carbon footprint in the same period, by helping people travel less via bus and metro to purchase goods or settling payments at banks.
"Green payment promotes markets moving into green transformation," the report said, adding that it effectively leads to behavioral change at institute, companies, household and individual levels.
More than a Fad
Online payment services are riding high on the e-commerce boom for their obvious benefits, such as buying goods and services online with just a few clicks.
What is often forgotten is that it is also a sustainable model for the green future of finance.
More than 82 percent of some 5,000 surveyed respondents, aged between 20 and 49, said they plan to use green payments more in the future to support reducing carbon emissions.
These steps toward sustainability align with Tencent's pledge to achieve carbon neutrality by 2030, as it reins in emissions across its operations and supply chain to create a more sustainable future.
The Ecosystem
Compared to traditional payment systems, green payment shares the characteristics of financial swaps and bond transfers to act as an infrastructure in the economic and financial system. Shortly put, it guides and allocates resources.
Relying on the high penetration rate of electronic payment, green payment drives green consumption and acts as a promising impetus for the further expansion of the carbon inclusion system.
At the industry level, green payment not only drives the digitalization of the payment industry, but also acts as a bridge between merchants and other industries. For example, big data and AI used in green payment systems can help enterprises optimize their need and supply chain, improving their efficiency. At the consumer level, green payment influences consumer behavior and habits, educating them on green consumption concepts and shaping low-carbon lifestyles.
Weixin Pay, for example, carries out public awareness campaigns on how consumers can engage in various green payment scenarios. In June, Weixin Pay launched a low-carbon quiz challenge for users to answer questions related to carbon neutrality. Nearly 600,000 people participated in the activity, and the number of answers exceeded five million within three days.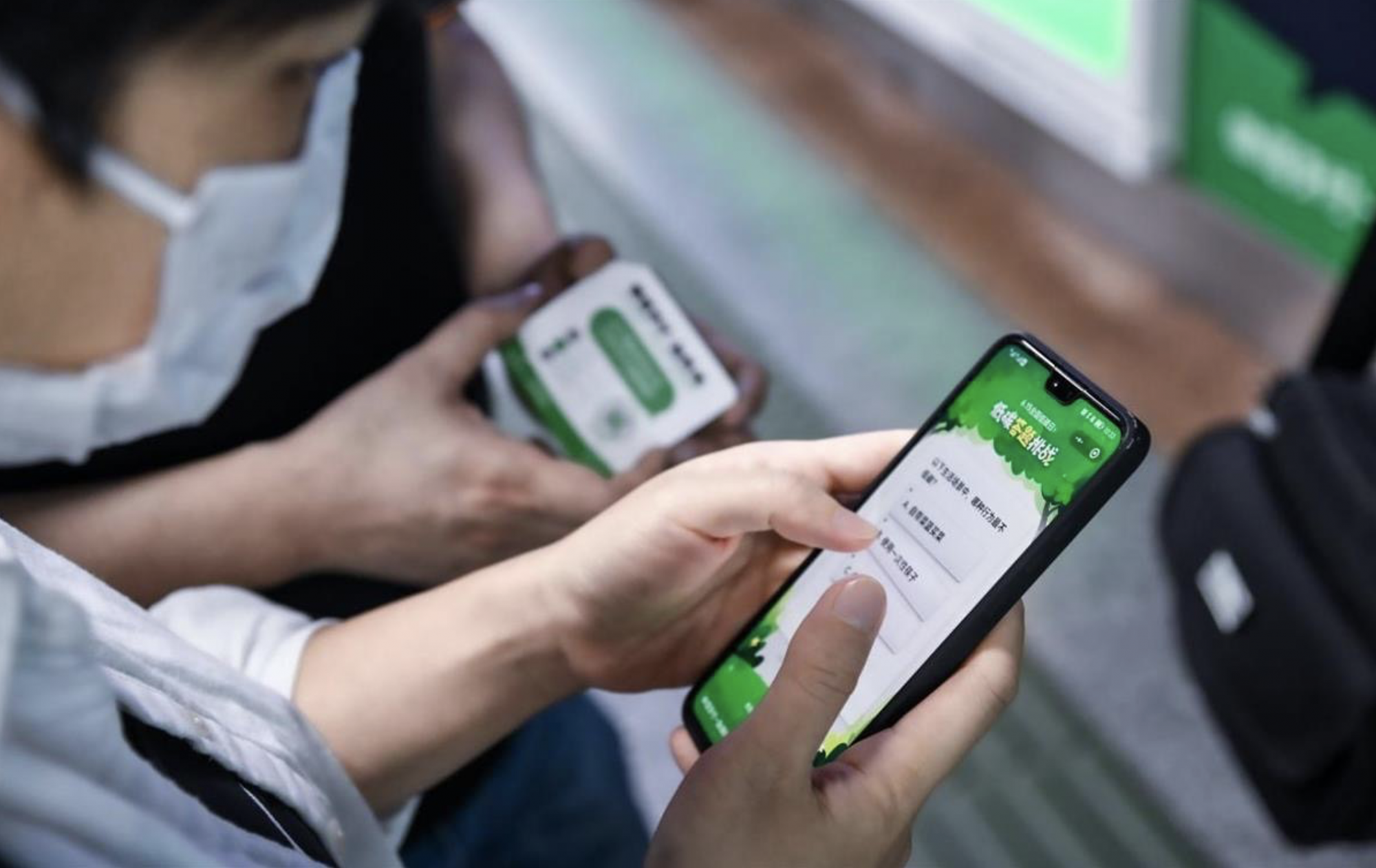 In the "Low-Carbon Quiz Challenge" activity, users compete to get a higher ranking nationwide by answering 100 questions related to carbon neutrality.
In another campaign, the platform worked with different merchants and brand partners to encourage consumers' low-carbon lifestyles. Users can exchange low-carbon benefits offered by merchants by accumulating low-carbon consumption behaviors, such as bringing their own coffee cups. As of now, hundreds of thousands of users have signed up and completed at least one low-carbon behavior.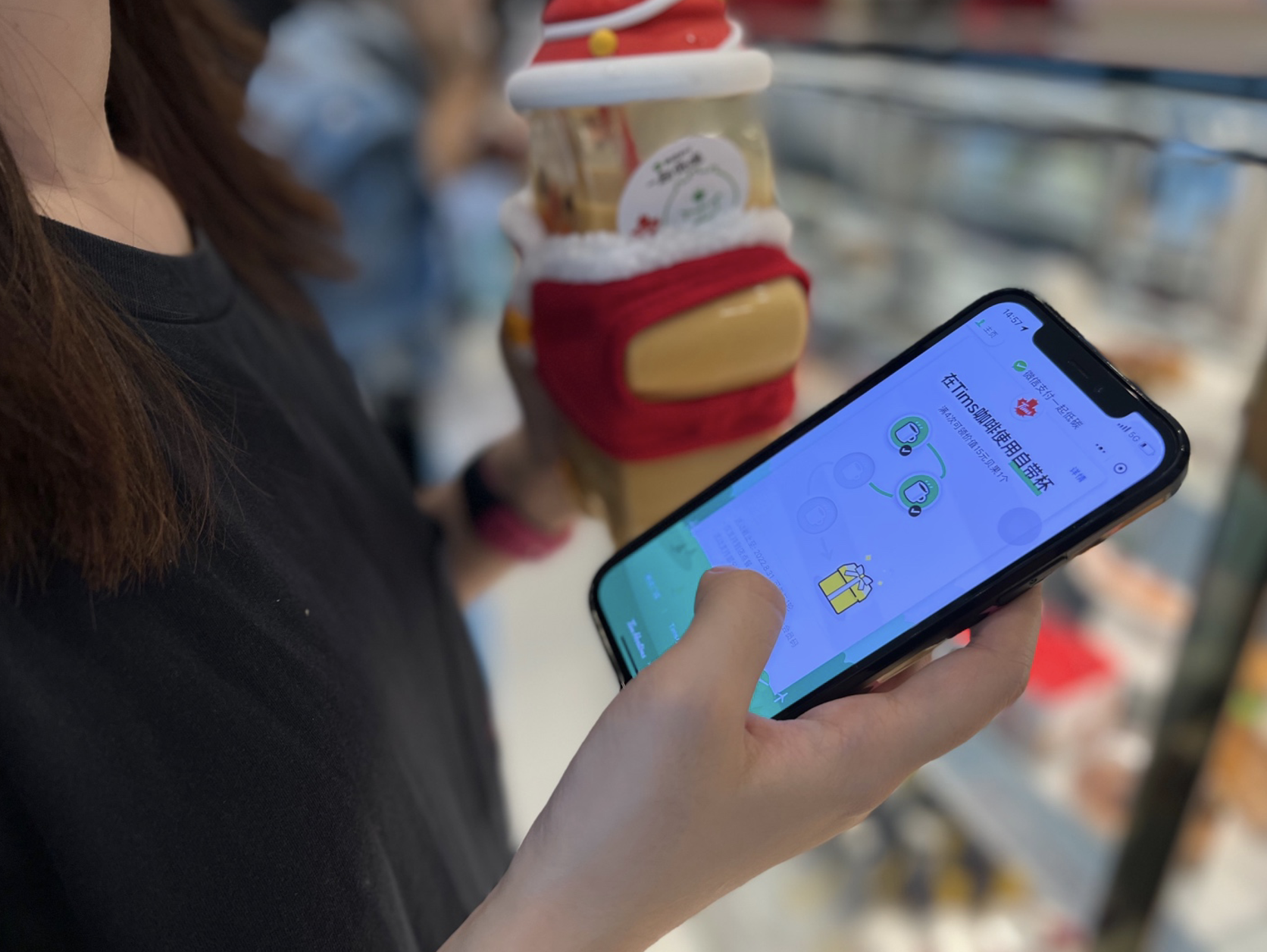 A consumer earns points at the Tims Coffee by bringing her own coffee cup.
Planet-wide Project
Despite the increasing green payment options for consumers, the report showed that only about 35 percent of users identified scenarios involving the environmental effects of green payment.
However, due to the limited carbon related knowledge, the public awareness on the specific environmental effects behind digital payment options still has a large room to improve through public education, the report showed.
"The promotion of green payment is particularly important. When people embrace the concept, sustainable lifestyle becomes a habit and it helps move society toward green transformation," the report noted.