Tencent Americas Partners with Starlight Children's Foundation to Help Deliver Happiness to Hospitalized Kids for 99 Giving Day
2022.09.09
Started in September 2015, 99 Giving Day is an annual philanthropic campaign hosted by
the
Tencent Charity Foundation in collaboration with thousands of other charity organizations, enterprises, celebrities, and media companies. Since its establishment, 99 Giving Day has become a renowned charity event.
This year, Tencent is continuing this initiative across Europe, Asia, and North America.
In the U.S., Tencent Americas has partnered with Los Angeles-based NGO Starlight Children's Foundation to provide hospital gowns, games, and special deliveries to hospitalized children. Founded in 1982, Starlight's mission is to deliver happiness to seriously ill kids and their families. Programs are provided directly to children through Starlight's network of more than 800 children's hospitals and other community health partners throughout the world.
From 99 Giving Day through to the end of the year, colleagues across all the Tencent Americas offices will participate in this year's event. The full list of activities for this year includes:
1. 99 Giving Day – Auction for Good: Tencent employees donated services or skills, which were listed on the silent auction page and open for all North American employees to bid on during the fundraiser period from September 6th - 9th. The proceeds were all donated to Starlight Children's Foundation.
2. Backpacks Volunteer Event: Tencent Americas also partnered with Starlight to provide school supplies for ill kids in hospitals located in California through donations from Tencent America Giving (TAG). On September 9th, Tencent employees delivered 350 Starlight backpacks filled with essential school supplies and hand-written cards for ill children. Starting in the Playa Vista and Irvine offices as a pilot program, this initiative will expand to other offices later this year.
3. Installation of Gaming Units: In partnership with Starlight, Tencent will also help install three gaming stations to seriously ill children at hospitals in November. Each gaming station came pre-loaded with Nintendo video games and several streaming platforms for entertainment in the hospital environment.
4. Donation of Starlight Hospital Gowns: Tencent Americas donated 1,000 hospital gowns featuring Starlight's colorful and playful icons. The "Search & Find" patterned gowns feature a QR code that leads to a series of boredom-busting mini-games.
Yumi Liang, an executive assistant working at the LightSpeed Studio in Irvine, participated in the activity. She said Tencent's contributions to the local community are one of the reasons she decided to join the company. "Projects like this inspire me to do more good deeds on a daily basis in all areas of my life."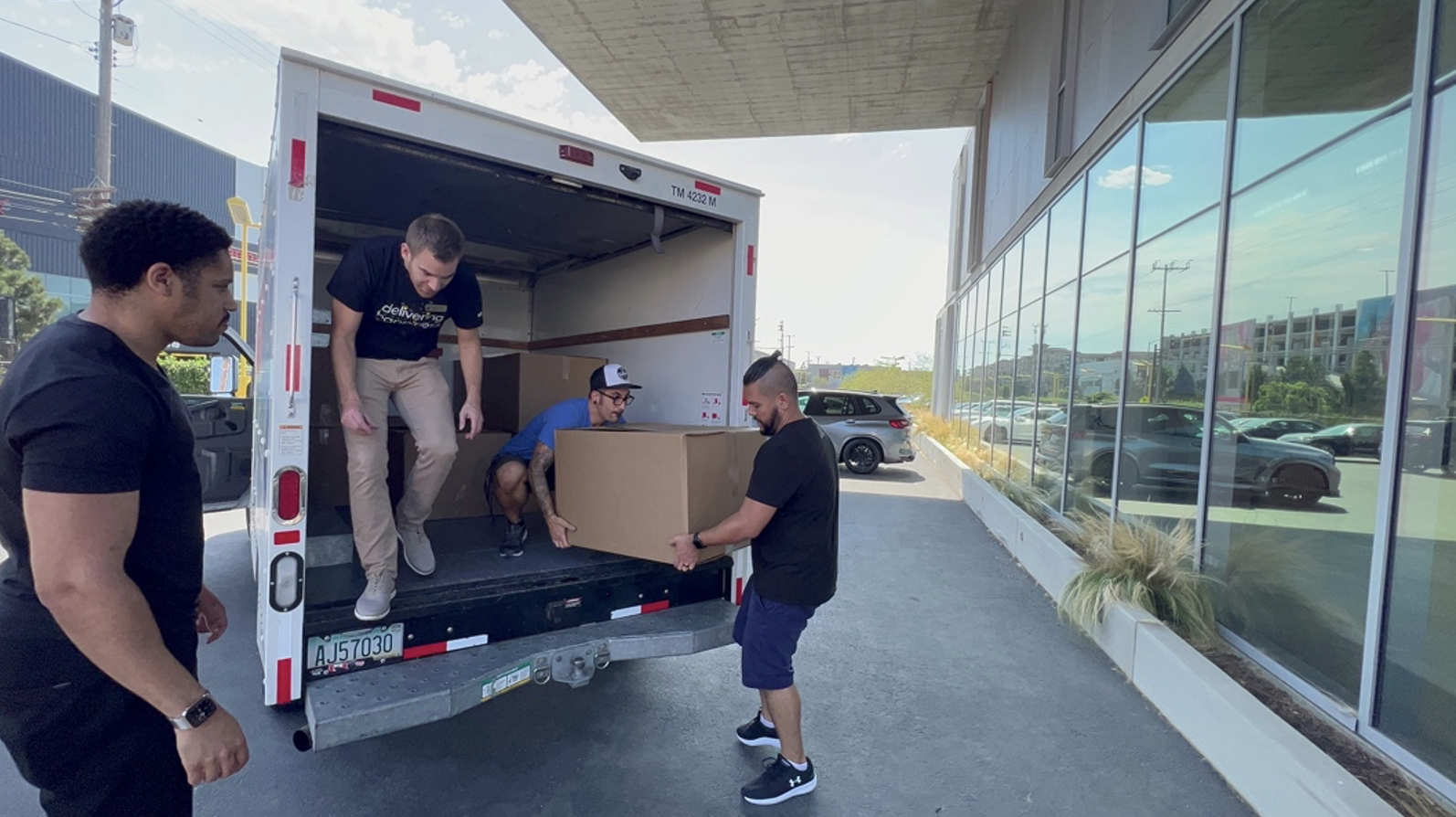 We spoke to Gina Liu, HR Program Specialist at Tencent Americas, who walked us through her journey as one of the core organizers of the philanthropic event at Tencent Americas, and what 99 Giving Day means to her.
Q: What was your role in planning for this year's 99 Giving Day?
A: My official role in HR program team in 99 Giving Day is to support the localization and execution of corporate initiatives here in North America. Besides my official role, I also joined Tencent America Giving as the Program Lead responsible for the partnership with Starlight Children's Foundation. My main task was to come up with local initiatives that echo Tencent headquarters' focus on supporting children and volunteering, while staying relevant to the operations and priorities of our North America business.
Q: What motivates you to be part of the project team?
A: I was very happy to be a part of this initiative as a core member of the project team. I enjoyed working with Starlight and very much identified with their mission of delivering happiness to seriously ill kids. For this year, Tencent Americas helped pack school supplies and will deliver 1,200 backpacks in total to children in hospitals. It melts my heart to see how our action brought smiles to these children's faces and it feels good to be doing something with such a positive impact.
Q: How did the decision to partner with Starlight come about?
A: When I joined Tencent about a year ago and first learned about the TAG (Tencent America Giving) initiatives, we were still in the process researching all the local NGOs that we could potentially work with. We assessed them based on a few criteria – whether they are locally relevant, and whether their mission is aligned with what Tencent represents. Starlight was shortlisted as part of that process and came up as a top choice for us. They were a great fit due to the relevance of their work. Specifically, one of Starlight's initiatives is to bring the healing power of play to hospitalized kids by providing easy access to their favorite video games, movies, TV shows, and even streaming content. This really resonated with what we do here at Tencent Americas, where over half of our employees work in gaming.
Q: What were some of the most memorable moments when planning this event?
A: The partnership with Starlight really opened my eyes to the lives of these children. It was more than just making donations to ill kids, but about understanding what it means to be children confined to staying in a hospital, and the boredom and anxiety they experience. That was something I never thought of before. One of the most memorable moments was seeing how much joy it brought the children when we delivered a specially designed gaming station, complete with wheels so that it could be moved around different rooms.
Q: What does 99 Giving Day mean to you?
A: I think it comes down to two layers. It is very important for a global company like Tencent to have initiatives like this as it provides a great way for a global team like us to connect with the headquarters, while celebrating our local attributes. For instance, the concept of silent auctions is quite unique to the U.S., and it was a wonderful opportunity for local employees to connect and socialize. I don't believe we have something similar in other regions.
From a personal perspective, I think it is an important initiative that gives employees the opportunity to give back to the society. It was a great experience for me to get connected with the local community through the partnership with Starlight, and it gave me a real sense of the positive impact I can make on society.