The Transformative Power of 99 Giving Day: How 99 Giving Day Is Making Philanthropy a Part of People's Lifestyle
2022.09.14
Online philanthropy movement in China began gaining steam in 2008 when an 8.0 magnitude earthquake rocked Wenchuan County in the country's southwest province of Sichuan. Known as the Great Sichuan Earthquake, it claimed 87,000 lives and left millions more homeless.
As the scale of the natural disaster unfolded, people across China mobilized like never before to help through volunteering, fundraising, networking and disseminating information. Central to the public response was the internet. Not only was it essential for reporting news, but messaging services such as QQ were used to communicate and organize help and relief.
Today, we look at why making an impact in our communities is important for Tencent and how it has been giving back through 99 Giving Day.
From Tragedy Comes a New Era of Internet-based Philanthropy
Meanwhile, China's major payment platforms, including Tenpay and Alipay, launched fast donation channels, which raised about RMB 65 million (USD 9.36 million). A new spirit of cooperation was born, one that Dr. Charles Chen, Founder and Honorary Chairman of the Tencent Charity Foundation, calls "Public Welfare 2.0", where philanthropy and technology converge.
The success of the civic response to the earthquake paved the way for more non-government organizations (NGOs) and members of the public to become involved in charitable work. Corporations have been the biggest source of philanthropy in China, contributing nearly two-thirds (64 percent) of donations, compared to just five percent in the United States.
Less than a year before the quake, we established the Tencent Foundation as part of our commitment to philanthropy, helping boost online charity activity. Our flagship initiative, 99 Giving Day, was launched in 2015 and has grown into one of the largest annual charity campaigns in the world. Its primary mission is to empower ordinary people to do good things together, supporting projects around poverty alleviation, healthcare, education assistance, environmental and wildlife protection, cultural conservation, and more.
Challenges for a Growing Charity Sector
Along the way, the Tencent Foundation and 99 Giving Day have helped transform the nature of philanthropy in China, addressing many challenges charities face in attracting funding. As more grassroots charity organizations emerge, it has become difficult for many to be seen and heard.
Low awareness and visibility make it harder for these organizations to connect with potential donors, leading to a vicious cycle in which a lack of resources makes it hard to recruit staff and volunteers, engage with the wider community, build trust, develop governance frameworks, apply for funding, and so on.
Creating Better Ways for Charities to Raise Awareness and Funds
Every September, 99 Giving Day puts philanthropy at the forefront of the public's consciousness. Now in its eighth year, the event seeks to transform the act of giving by building a diverse, healthy and sustainable digital philanthropy ecosystem through various means.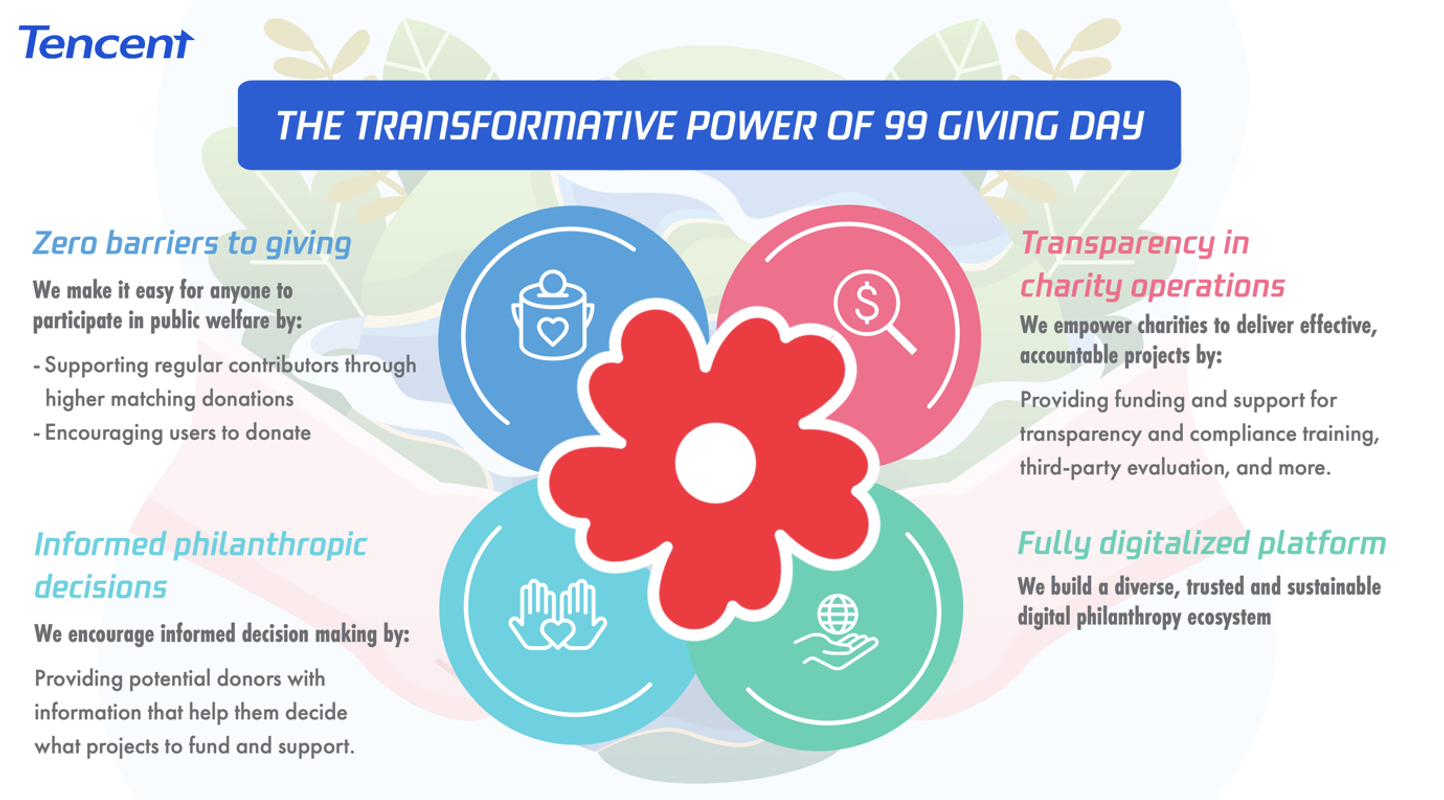 Creating a memorable yearly event that mobilizes people

. 99 Giving Day is a high-profile annual fundraising event. It creates buzz around the act of giving, one that is celebrated and supported, not unlike highly anticipated online shopping days, but for charity.

Building a diverse, healthy and connected community and ecosystem

. Technology underpins the entire platform for 99 Giving Day. It allows a dynamic network to form of charities, online donors, business donors, media, advocates and experts in a collaborative and interactive manner. This is happening at a time when smartphones and mobile payments have penetrated our lives, making "fingertip philanthropy" and the opportunity to "do good things" easier than ever.

Removing barriers to giving

. Our goal is to make giving so easy that anyone who chooses to can participate. This year, we are supporting people who contribute regularly through higher matching donations. What's more, we are making it possible for people to have an impact without making a monetary donation --

us

ers can donate their little safflower to vote for their favorite project. When the number of little safflowers raised for a certain project reaches the target, the foundation will cooperate with industry partners to select suitable non-profit organizations for the implementation.

Developing a trusted, secure and compliant fundraising platform

. Tencent's philanthropy platform set participation criteria for institutions and projects. This threshold covers institutional qualifications, information disclosure, cooperation norms, and project viability to support the healthy and sustainable development of the industry.

Better use of resources and skills

. The Tencent Foundation recognizes that its expertise is in providing the technology that efficiently connects donors to charities, not the act of charity itself, though it has a matched funding component. It supports charitable organizations that are on the frontlines solving problems, while encouraging potential donors to think carefully about which organizations to support.
Empowering Charitable Organizations to Deliver Effective Projects with Transparency
Qualifying and applying for funding can be challenging for organizations that are already stretched for resources or unfamiliar with requirements. Each year, the 99 Giving Day framework is fine-tuned based on learnings and feedback to maximize effectiveness while encouraging a diverse mix of innovative projects and charities.
We provide funding for and support charitable organizations for offline mobilization, transparency and compliance training, sustainable cooperation with enterprises, project management capabilities, third-party evaluation, compliance, management training, and organizational capacity building.
Areas of Focus
The Tencent Foundation actively supports select charities that are in line with vital issues that the foundation prioritizes. These include public health for the elderly, education equality for rural youth, economic opportunities for people with disabilities, wildlife conservation, preservation of cultural relics, and more. Among the more than 8,000 philanthropy proposals submitted for support this year, 16 were selected for launch on 99 Giving Day. These initiatives include giving 1,000 children from rural areas access to museums, supporting the mental health of 10,000 children in areas with limited services, and providing free hearing tests for 10,000 senior citizens in remote regions.
The Power of a Little Safflower
The theme for this year's event is One Flower, One Dream. The red safflower has become the endearing symbol for 99 Giving Day, collected and donated by millions of people during the campaign as a signifier of good deeds. Donors can vote for their favorite philanthropy projects by awarding them safflowers within the app, giving the public more say in the projects Tencent supports.
Milestones of 99 Giving Day
Now in its eighth year, 99 Giving Day has grown into one of the largest public charity festivals in the world. The number of people donating and the amount raised has increased significantly each year. In 2015, its first year, 2.05 million people made a donation, with RMB 130 million (USD 18.6 million) raised. Last year, that grew to a record 68.7 million people who donated RMB 3.57 billion (USD 520 million) to more than 13,000 charitable projects in 7,700 charitable organizations. Since 2015, hundreds of millions of netizens, nearly 7,000 enterprises, and more than 30,000 institutions have participated in the annual campaign.
The event has now grown into a 10-day campaign featuring more than 10,000 philanthropy projects from 2,500 charitable organizations that will receive funding from public donations, all through Tencent's digital philanthropy platform. In addition, this year Tencent is offering a special incentive fund of RMB 100 million (USD 14.5 million), on top of the core RMB 300 million (USD 43.5 million) pledge in matched donations, will support new and innovative philanthropy projects.
Internet Philanthropy 3.0 – When Charity Becomes a Part of Daily Life
Philanthropic success can't be achieved in one day through a single event. That's why we have broadened the scope of 99 Giving Day, not just by holding it over 10 days, but by allowing people to contribute as they undertake daily activities. Simple actions such as walking, learning, reading, playing games or even drinking a cup of coffee can be converted into acts of charity.
When almost anything in life can be effortlessly linked to an act of giving without having to deliberately open a specific platform, and people are given a sense of ownership of the impact they can have, then we can truly say that philanthropy has once again been transformed.
Read three transformative stories made possible by the kindness and dedication of the growing philanthropic community supported by 99 Giving Day
Transformation story 1: Childhood education and development
Bazaar · One Hour After Class

Like many children in rural China, Chengcheng's parents had to travel far away for work, leaving him in the care of his grandparents. At school, he was mischievous and distracted. Then a new poetry course was introduced and Chengcheng was the first to volunteer to read a poem in front of his fellow students. It was the first time he had presented publicly, and he did it with such confidence that his classmates and teacher applauded his efforts.

Discovering poetry changed his attitude to school, something that happened thanks to the Bazaar · One Hour After Class initiative. It's an art, culture and aesthetic education project targeted at rural children who may not otherwise have access to such classes.

As of October 2021, the project has raised more than RMB 50 million (USD 7.18 million). It has enabled art education classes in 403 rural primary schools, reaching more than 200,000 teachers and students covering 16 provinces, autonomous regions and cities across China.
Transformation story 2: Environmental protection
100 Million Shuttles

Desertification threatens the survival and development of more than 900 million people in over 100 countries. Fertile soil becomes desert due to climate change, deforestation, agriculture, and the like, ranking among the greatest environmental challenges of our time.

On the edges of the Tengger Desert in northern China, Zhang Lianxiang has dedicated herself to the 100 Million Shuttles project to combat desertification, giving up stable employment in Beijing to save the lands of her birth. In blistering heat, biting winds and occasional sandstorms, the single mother digs, plants and waters seedlings that can survive the harsh conditions and stabilize the soil.

By the end of 2021, an area of 106 sq km had been planted in key ecological areas, of which Lianxiang had planted 40 sq km over a 10-year period with the help of workers, water trucks, water sources and seedlings she sourced herself. Her commitment stems from the love of her children and a wish to give them a better, greener future.
Transformation story 3: Poverty alleviation among rural elderly
Watch Dashan

Zhang Xinbin, the initiator of Watch Dashan, and his colleagues visited a small town in Shaanxi Province in northwest China in 2016. What he saw made him want to help. The town is colloquially known as Grandma Village because most young people have moved away, leaving only the elderly with little or no income and employment.

Under the Watch Dashan, – also called Grandma's Gift -- project, crowdfunded start-up finance is given to elderly empty-nesters in remote areas to raise animals or crops. In Grandma Village, they are sent chicks, feed, and help to build coops. When the chickens lay eggs, volunteers collect them to be sold online, with proceeds returned to the farmer.

The egg sales provide a modest sum that nonetheless has improved lives. As of June 2022, the project has subsidized 1,366 elderly families, distributed 64,184 chicks, 826 piglets, and 280 tons of corn. More than 1,000 elderly women have started their own businesses and increased their income, packing fresh eggs to be enjoyed by caring people far away.