How Weixin Creates New Jobs and Extra Income Opportunities
2022.09.23
Time spent using connected tech continues to rise, as the world goes through a rapid digitalization process. Work, entertainment, socializing, education and shopping are just a start. The changes have led to the rise of vast digital ecosystems, coupled with the creation of new jobs and extra income opportunities.
In a recent report dubbed "Digital Ecosystem Employment and Startup Report," researchers studied the Weixin ecosystem and found that the number of new jobs created within the highly versatile app reached 46.18 million last year. This includes employees, entrepreneurs, and the self-employed, as well as part-time or short-term contract positions.
Weixin Mini Programs and Channels Drive Growth
Weixin Official Accounts, Mini Programs, Channels or Video Accounts, Weixin Pay, and Wecom all significantly contributed to the increase of 25.4 percent year-on-year in the number of full-time jobs and extra income opportunities. The numbers have increased each year since 2014, with the figure exceeding 20 percent YoY since 2018.
Mini Programs, which launched in 2017, has been a particularly useful tool for small and medium-sized enterprises (SMEs) to directly connect with consumers. It currently drives more than eight million employment income opportunities. And since the launch of video platform Channels in 2020, the new jobs and extra income opportunities related to creating and livestreaming videos are now hitting more than 10 million in a year.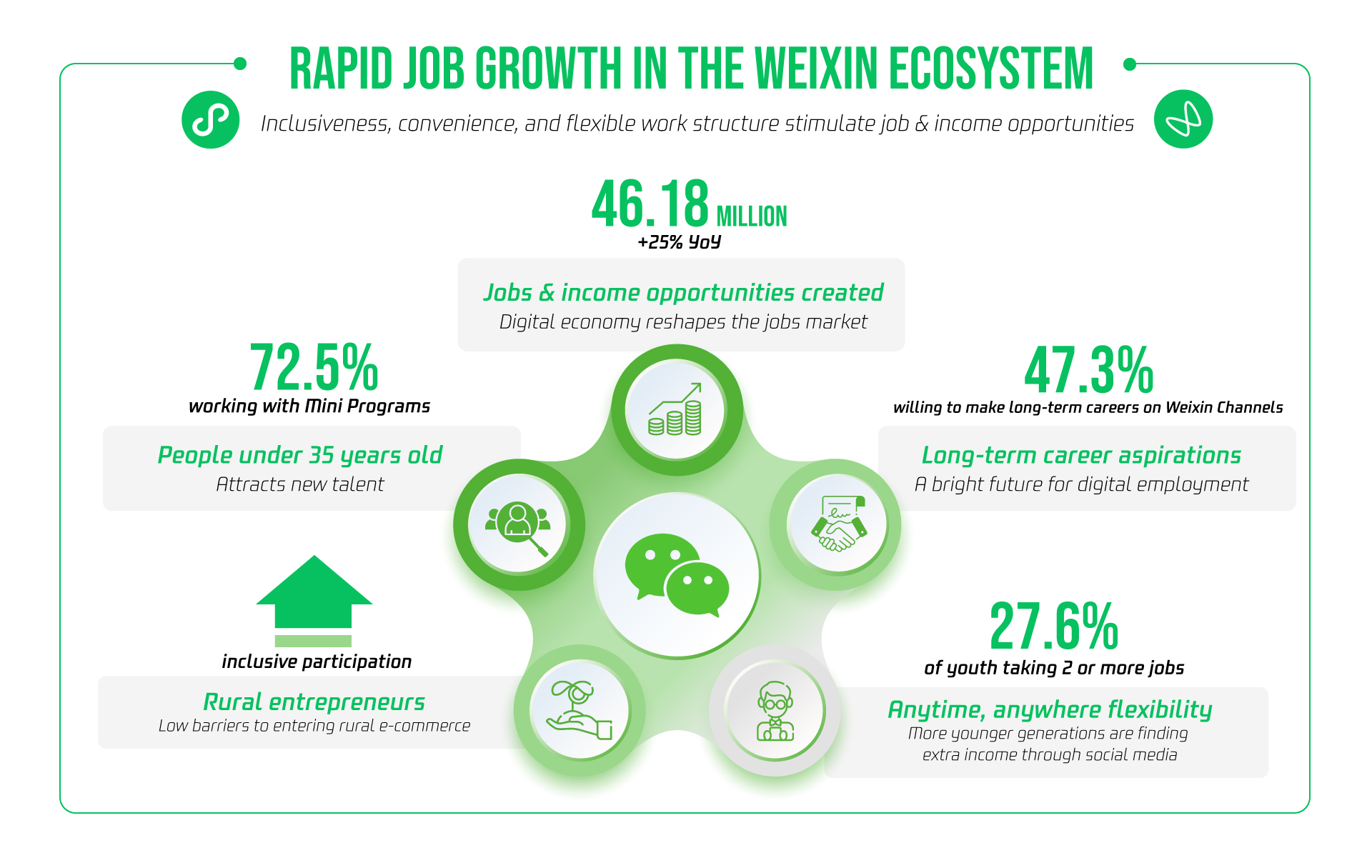 Digital Ecosystem Attracts Young and Rural Entrepreneurs and Workers
The digital ecology has been a magnet for young people, who have created and found jobs and roles in new media, mini program e-commerce, and video creation. Nearly three-quarters of mini program practitioners are aged 35 years or below, and they make up 57.8 percent of public and 48.3 percent of video account practitioners.
People in rural areas are increasingly benefiting from the digital ecology as well. For example, video accounts have become a powerful tool to promote the development of rural e-commerce, expand the rural industrial market, and help people in the traditional industry find other ways to generate more income.
In addition, we are seeing young people skilled and experienced in digital technology return to their hometowns and help develop digital villages.
Flexibility, Low Barriers to Entry, and Increasing Job Satisfaction
Weixin's digital ecosystem has become a go-to platform for many that seek for entrepreneurial and job opportunities for several reasons. Among them are low barriers to entry, low operating costs, and the potential to earn extra income.
Its inclusiveness, convenience, flexible work structure and breakdown of geographical obstacles stimulate labor creativity, and facilitate a more efficient match between supply and demand.
The study also found that job satisfaction and professional recognition of digital practitioners are improving. In a survey of practitioners in the Weixin ecosystem, 47.3 percent in video accounts, 31.7 percent in public accounts, and 28.9 percent in mini programs see themselves doing it in long term.
Weixin Helps SMEs Accelerate Digital Transformation and Upskills Workers Into Digital Craftsmen
As consumers move online, SMEs in retail, catering, tourism and logistics in particular have had to urgently pivot to e-commerce. Weixin's rich ecosystem makes it easier by providing numerous digital tools and continuously upgrading its capabilities for SMEs to pivot their business online and find new markets.
We are also seeing a phenomenon of workers, especially in manual laborers and trades, evolving into digital craftsmen. They are equipping themselves to take on new roles learning new skills on computer, smartphone, internet and digital platforms.
The study recommends that digital ecologies should be expanded given their clear potential to provide stable and fulfilling employment and income opportunities. This should be done while developing mechanisms to protect workers in the growing digital economy.