TiMi Montréal's Bonnie Jean Mah on Reflecting the World Around Us: Creating Diverse Characters in Video Games
2022.11.15
At the recent Women Impact Tech conference, Bonnie Jean Mah, Narrative Director at TiMi Montréal, shared her thoughts on the importance of diversity in video game characters, along with best practices for how to create diverse games. TiMi Studio Group, a subsidiary of Tencent Games, was this year's participant at the WIT conference, which is aimed at attracting and advancing women in technology-related industries and workplaces. Below is an edited version of her talk.
By Bonnie Jean Mah
As Narrative Director at TiMi Montréal, I'm helping our team create the vision for a new fictional world that we're building for our game. TiMi Studio Group has opened three North American studios, including our growing team. We're passionate about improving diversity among our team and improving representation within the games we make.
Character creation is top of mind for our team right now because we are in the early stages of developing a completely original, AAA , open-world role-playing game (RPG). When we think about creating an immersive experience, having believable characters helps ground our players in the world and the story.
Let's start with the question of why it's important to increase diversity in our games. The media site DiamondLobby analyzed 100 top games released over the past five years that had pre-set or authored characters. They found that more than 79 percent of the main protagonists in those games were male, while more than 54 percent were Caucasian. Females accounted for less than 21 percent of main characters and just 8.3 percent were females of other ethnicities.
Here are some other numbers to consider: Women make up 48 percent of the gaming population, but only 24 percent of game developers. We're talking about an industry that exerts growing financial and cultural clout. In 2020 there were 3 billion people playing video games worldwide, and industry revenue was estimated at $180 billion.
Gender is just one factor in considering diversity. But these figures show a disconnect between the composition of players and the people making games for those players. Our players come from all walks of life and backgrounds. While it's impossible to reflect everyone in our games, our industry needs to reflect more of the world around us.
That's easier said than done. The pitfall is that we fall into stereotypes and create token characters – checking off a box for diversity rather than truly representing the people who are in the real world. Players are smart, they can tell when it's just lip service.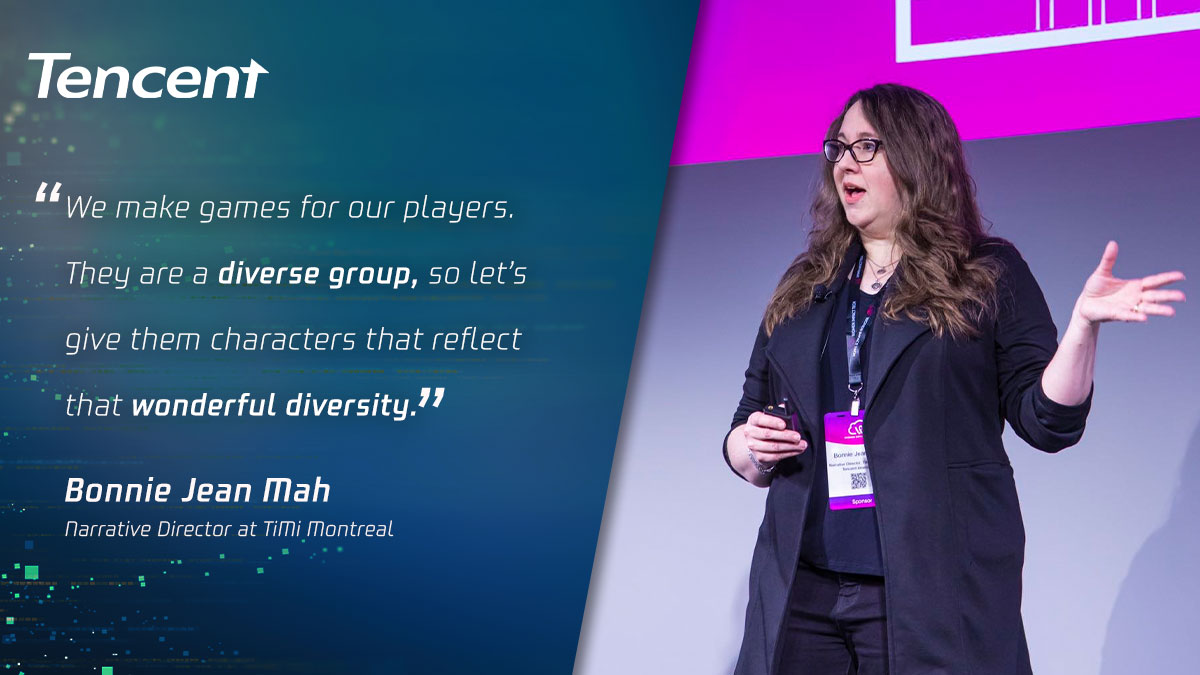 Games that are Getting it Right
There are plenty of games to take inspiration from. For example, the last installment in Microsoft's Gears of Warseries, which I worked on in my previous job as Franchise Narrative Director, had a female lead because her point of view was the right one for the story, not because she was a woman. Players appreciated this and got caught up in her story.
The game Hades won kudos for presenting the Greek gods as a diverse pantheon spanning different ethnicities and sexual orientations. The developers at Supergiant Games noted that while the gods were worshipped by the Greeks, it was never established that the gods themselves were of Greek descent. With this perspective, the developers created a wide range of characters that feel fresh, fun and true to themselves.
Perhaps the most diverse game so far is Apex Legends, according to the DiamondLobby study. Fully half of the playable characters are female, and more than one-third of the 17 characters are openly gay, bisexual or otherwise non-straight. In addition, 50 percent of the playable characters are non-Caucasian. And this week saw the release of Catalyst, a transgender woman character.
How to Create Diverse Characters
So, what does it take to create diverse game characters? There are some foundational qualities for the development team to adopt that are essential to success. It takes creative will and leadership, a commitment to research, and an attitude of respect. It's a commitment that takes time, adds steps to the character development process, and can potentially require additional resources.
Let's get into some best practices. Keep in mind that the ideal time to experiment and learn is early in concept or preproduction when iteration is relatively cheap, rather than later on when game assets are being made.
Concept stage:

This is the time to ask important questions about what characters you want in the game and why. Who is this person? When thinking about opportunities for diversity, what is their ethnicity, cultural background, identity, sexual orientation? Do they have a disability? And most importantly, asking why these are important aspects of this character? Look at the entire cast. What's the makeup of the ensemble? Are the NPCs – the non-player characters who are the "extras" of the world – also diverse?

Research:

When your team is creating characters that are beyond their lived experience, it's important to look for expertise on those types of experiences. That's where research and consultation comes into play: reaching out to different resources from cultural sensitivity experts to advocacy organizations to review your story and character materials and provide feedback. You can also tap your corporate DE&I team and employee resource groups for potential feedback opportunities within the diverse populations in your own organization. When building an entirely new IP, turn to subject matter experts to avoid problematic societal or historical models, such as colonialism, that might unintentionally arise as part of developing new societies in science fiction or fantasy worlds.

Writing:

The writer's job is to create a character's personality, motivations, voice, and point of view. While there are universal truths about how people behave, if a character is of a different background than the writers', it's a good idea to run the storyline and dialogue past someone with that lived experience. This will help you catch issues, ask more questions, and expand on ideas in different ways than you may have thought of on your own.

Casting and performance:

Some game performances might be voice only, while other times they can include motion capture. But even if you don't actually see the actor who is performing, representation in the cast still matters because it's part of that commitment to creating an authentic character. Get the casting agency on the same page with you from the start by specifying authentic casting and push them to go deeper in sourcing talent. Encourage actors to call out lines or behaviors that don't feel right to them – they will become invested in the character they are creating with you.
Creating diverse characters in games is an investment – it takes time, research, and budget. But it means so much to players when they can see themselves in your game. It shows that you care about reflecting more than just one view of the world and who is in it. It allows for richer stories, richer worlds, and a more inclusive and rewarding player experience. At the end of the day, we don't make games for ourselves – we make them for our players. They are a wonderfully diverse group, so let's give them characters that reflect that wonderful diversity.