Tencent's Female Leaders on How to Navigate Challenges in the Tech Industry
2023.03.10
The gender divide in the digital world is a great threat to economic and social inequalities. According to a report by UNICEF, gender inequality in the digital world has contributed to women being generally under-represented in the technology industry.
To bring awareness to the issue of the digital gender gap, Tencent organized an online panel discussion on Wednesday, in line with this year's International Women's Day (IWD) theme "DigitALL: Innovation and technology for gender equality."
Three talented female leaders from the company shared their career experience in technology and described how they navigated challenges in a largely male-dominated industry. They also used the opportunity to address the issue and advocate for greater inclusion of women in the field.
The event was latest efforts by the company, as one of the major employers in the global technology sector. The company has made continued progress in embracing diversity, equity and inclusion (DEI) as central to its value of upholding openness and fairness. The company has been working to create a more diverse and inclusive workplace for its employees, but recognizes there is still room for improvement.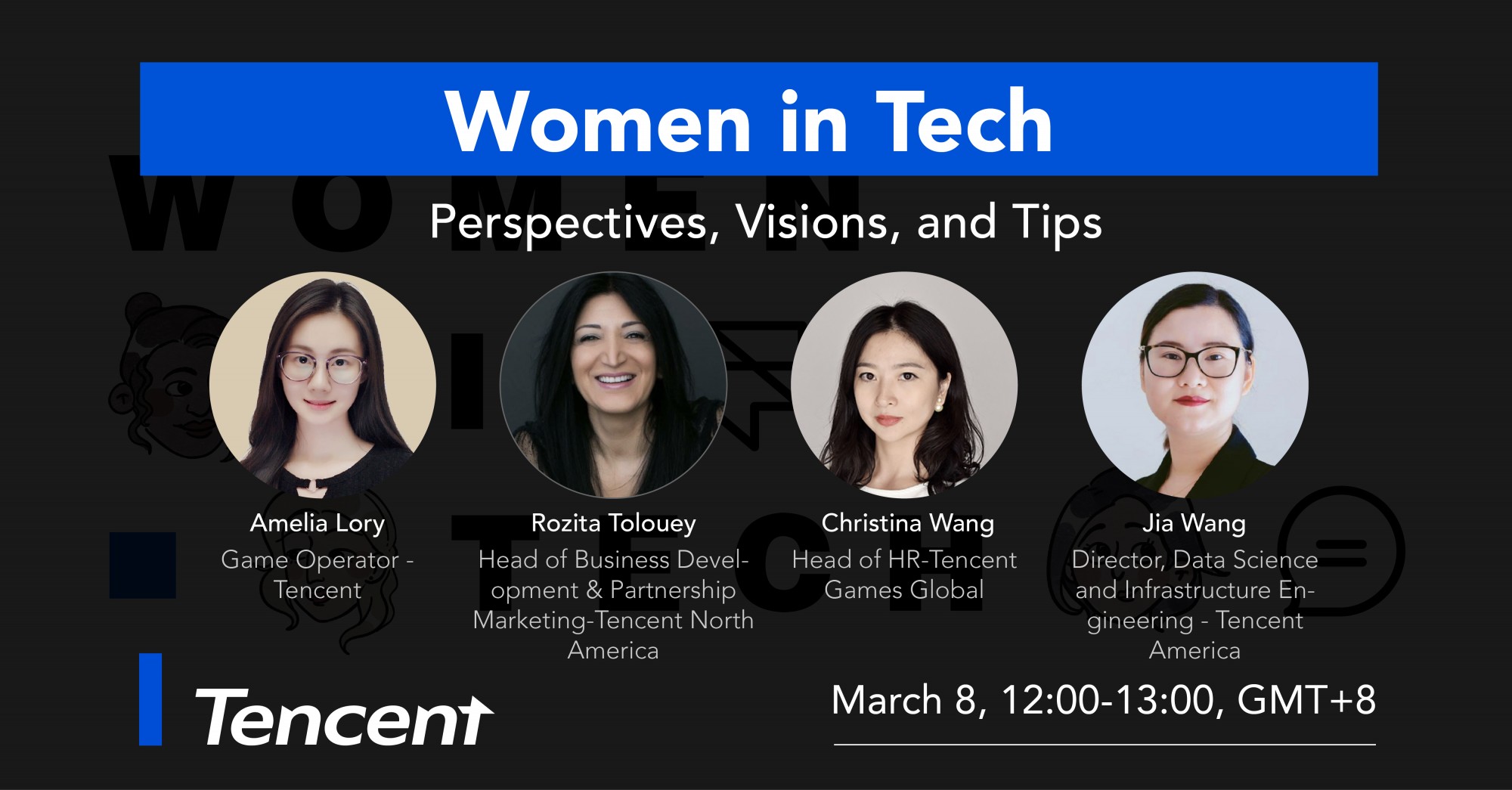 Webinar Link: Women in Tech: Perspectives, Visions, and Tips
Jia Wong, director of Data Science and Infrastructure Engineering at Tencent Americas, is a pioneer of digital transformation in the gaming industry.
She devoted her entire career in gaming and is now using the experience to drive innovation in games for a better player experience.
"It's hard to say if I am in computer science because I was already talented, or I became good at it after all those years. What I know is that I never gave up. If I didn't understand something complicated, like algorithms, I would keep studying it until I got it. I carry this same attitude at work."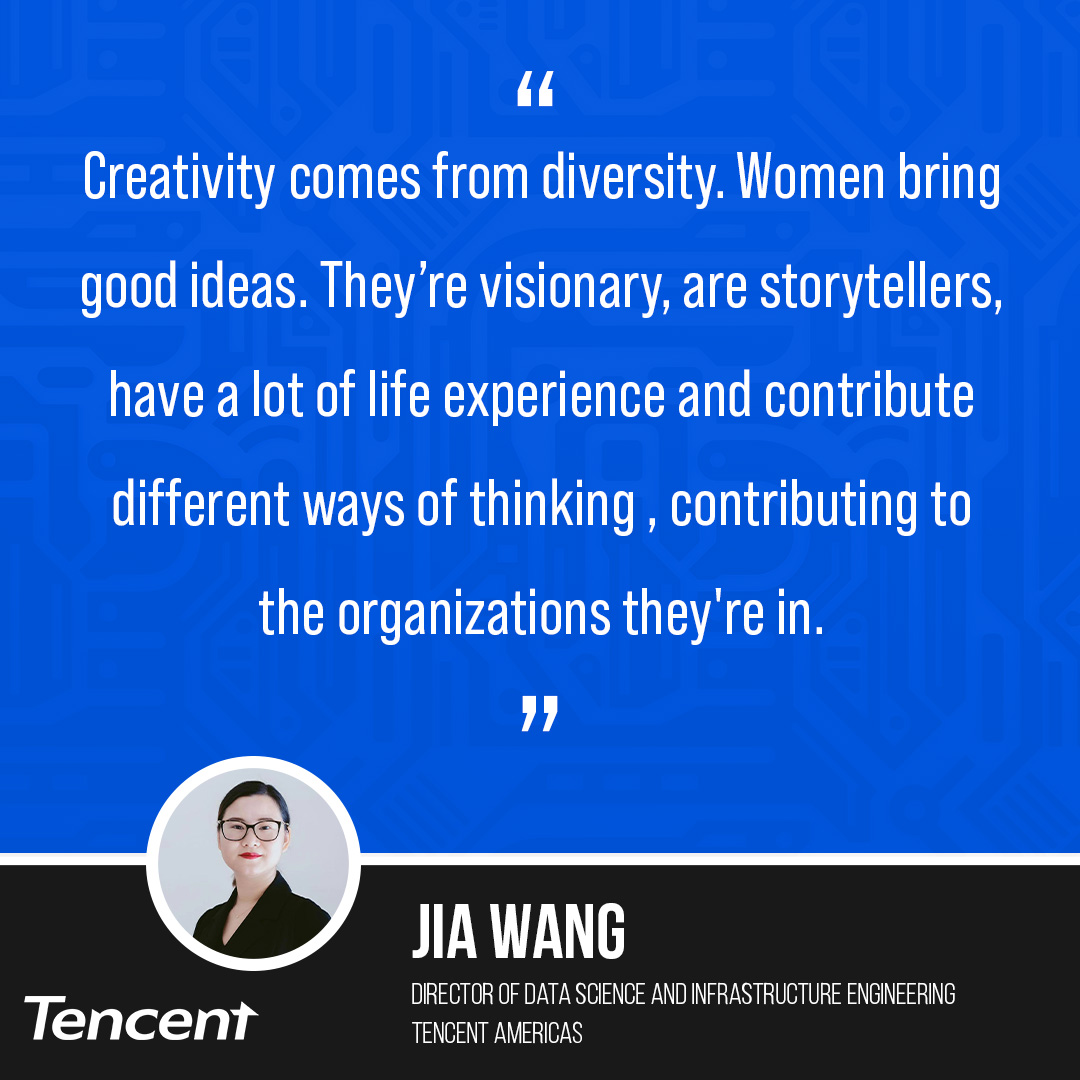 Jia is no stranger to the experience of being part of the minority as one of the female students studying software engineering at university. She has learned how to cope with it by focusing on herself and persevering through challenges with determination and resilience.
"What I realized is we (women) should not compare ourselves with other people. Evaluate your own progress by looking at the improvements you have made. Focus on your own progress. Everyone is unique and gifted – we just need to find our own strengths."
Her colleague Rozita Tolouey could not agree more. "A lot of the time I was the only woman in the room. I leverage my strength as a collaborator by actively listening and reading the room to facilitate the discussion," the head of business development and partnership marketing said.
"Young women coming into the workforce should learn to develop grit at work. Build confidence in yourself when facing challenges and use that as an opportunity to learn about yourself and identify your strength."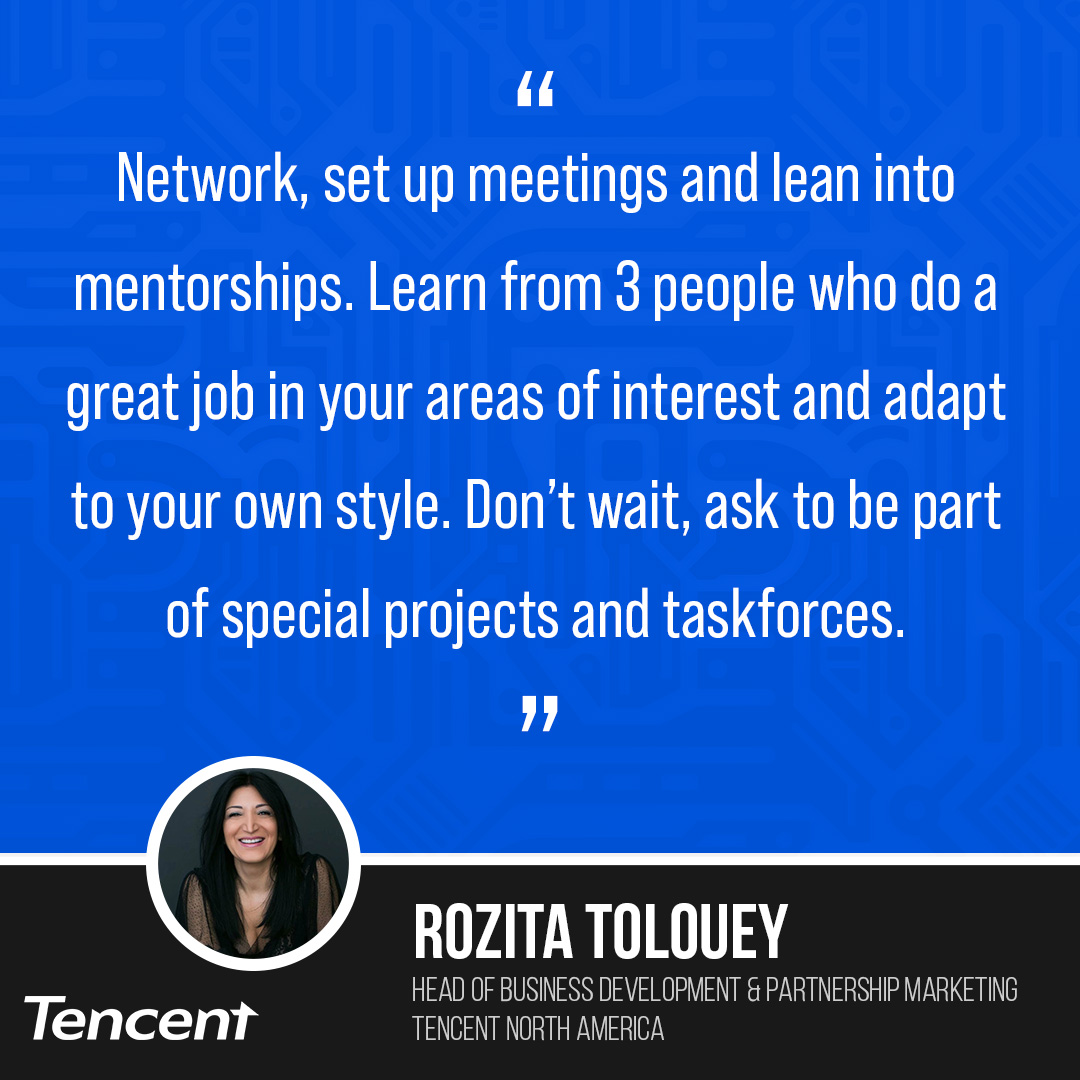 For Tencent, the company recognizes the importance of bringing in more women into the talent pool. Doing so broadens perspectives, helping the company expand its products and services and tap into a wider user base.
Christina Wang, HR Director of Tencent Games Global, considers bridging the gender gap as her personal mission. "Promoting diversity, equity and inclusion is something I am very committed to personally. As one of the leaders in the industry, we need to work collectively with our peers to bridge the gender gap. Both men and women play equally important roles in driving innovation."
Throughout the years, Tencent has implemented a range of activities to promote workplace equality. The company has provided diversity and inclusion trainings to educate employees about the importance and benefits of an inclusive workplace.
The company has also created platforms to enable more female employees to speak up, such as organizing public forums and live discussion events that bring greater awareness about workplace equality. Nevertheless, women in general are still under-represented in the industry where only 26% of tech-related roles are filled by women. Clearly, there is work that remains to be done.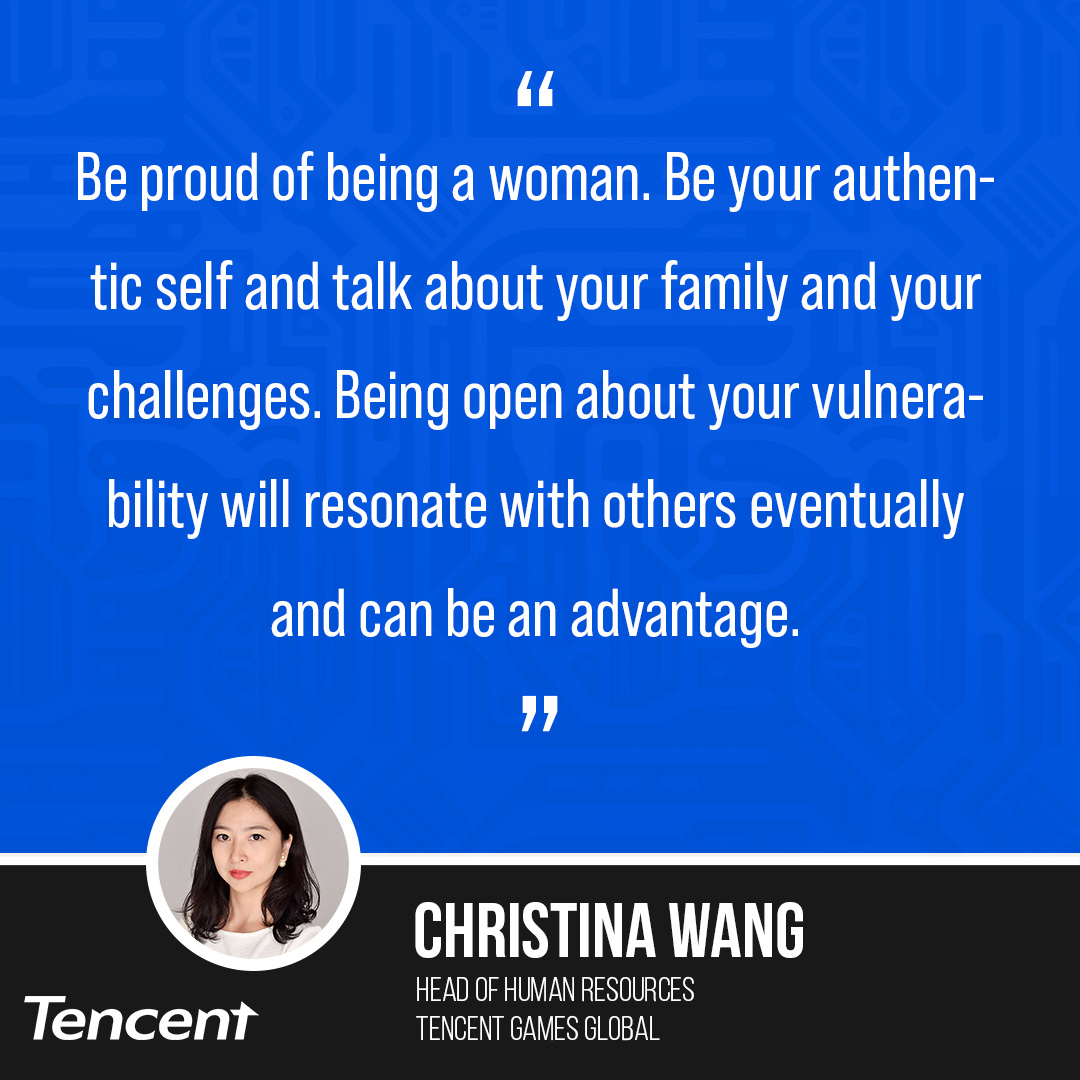 "Discrimination is still a barrier for women to progress and we need to address that to empower more women to build their career in this industry. Women can offer a unique perspective in this fast-growing industry and we need to educate people to value that," Rozita said.
"While Tencent has taken steps to promote workplace equality, I recognize that it is critical for the senior leadership in all companies to prioritize this in their corporate strategy as well. By using a combination of top-down and bottom-up approaches, we can achieve more," said Christina.
"To make meaningful changes, we need an action plan and a mechanism to monitor and track the progress we have made in achieving workplace equality," Jia added.
The three panelists also agreed that there is also much that women have in their control to help themselves grow and achieve greater results professionally.
Proactively building their own professional network is a start, for those who are early in their careers, according to the panelists.
Setting a vision and learning their own tools to persevere in times of difficulties are also important to remain unwavering in their values and goals among naysayers.
"Set aside time to slow down and reflect on personal progress. With passion, a growth mindset, and the ability to look after your own mental and physical wellbeing, women will be well-equipped to progress in whatever career they choose," Christina said.
Creating workplace equality requires a concerted effort by all stakeholders. It is a long-term goal that requires ongoing commitments. Companies that promote equality in the workplace stand to benefit not only themselves, but also contribute to a better future for all.