Tenpay Global named "FinTech of the Year" at Asia FinTech Awards 2023
2023.08.29
Tenpay Global, a cross-border payment business under Tencent's Financial Technology division, has been recognised as the FinTech of the Year at the Asia FinTech Awards 2023, a highly competitive and sought-after award that celebrates the best innovators, leaders, and visionaries throughout the APAC region.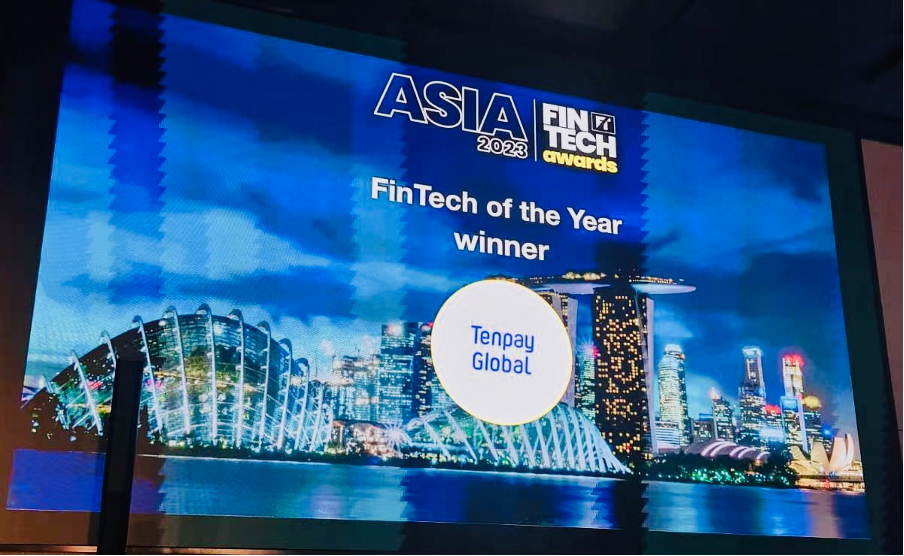 This year's awards attracted a record number of entries, with hundreds of nominations across each category and across the full spectrum of fintech. The biggest award of the night, FinTech of the Year, went to Tenpay Global because it makes "cross-border payment and remittance easier, safer and more inclusive, helping more than a billion users in the process," the judges said.
"We are excited and proud to be recognised as FinTech of the Year by the Asia fintech industry community. It is a testament to the innovation and commitment of the team, which is working hard to build a new, open, diverse and inclusive global payment network through an innovative '1+1+1' model by connecting payment networks throughout the world with our ecosystem in China to better serve users and enterprises worldwide," said Royal Chen, Vice President of Tencent Financial Technology.
"We will continue our innovative efforts to make sending money overseas as easy as sending a text message while ensuring that transactions are safe, secure and compliant. We'll also continue to empower micro and small businesses in step with the growing demand for cross-border transactions and support Chinese cross-border e-commerce sellers to reach a global audience," said Wenhui Yang, General Manager of Tencent Financial Technology APAC and Deputy Managing Director of Business Development at Tenpay Global.
Tenpay Global was unveiled by Tencent Financial Technology, Tencent's fintech arm, in last November at Singapore FinTech Festival 2022. Tenpay Global unifies an array of business and consumer cross-border payment solutions to serve customer segments encompassing e-commerce platforms, global corporate and individual customers, as well as customers seeking personal remittance services.