99 Giving Day: Donation Matching Extends Outside Tencent Platform
2023.09.01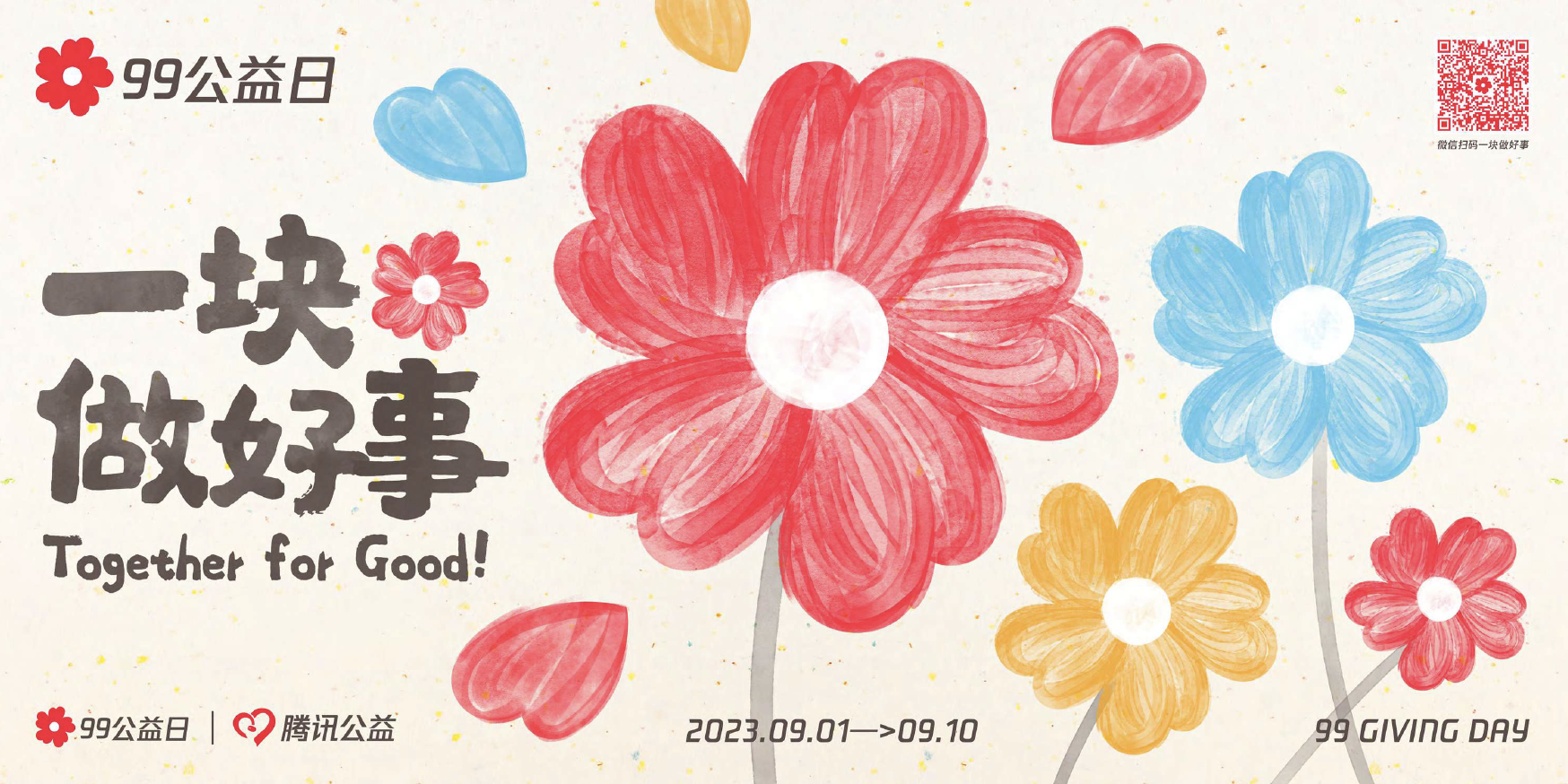 The arrival of September marks the start of Tencent's annual 99 Giving Day campaign, which will run to September 10. Everyone everywhere is being invited to participate "Together for Good."
Now in its ninth year, the large-scale public philanthropy effort raises awareness on pressing social issues while inspiring people to give back to society. This year, the company is, for the first time, extending its donation-matching system beyond the Tencent Charity Platform to achieve true cross-platform donation matching and user-centric impact. The Tencent Charity Foundation has set up a special incentive fund of RMB 100 million (US$14.5 million), supplementing the core RMB 300 million of matched donation funding, to support new and innovative philanthropy projects.
The uniqueness of 99 Giving Day lies in its effective integration of technology with public good. It has accelerated and transformed technology into an indispensable part of philanthropy while fostering digital evolution of the public good sector.
"We are delighted to witness the power of technology driving enthusiasm for public good. By digitally connecting our users to compelling charitable causes, making it easy for them to help while offering incentives to spur them into action, we have unleashed an astounding level of support. Our aspirations of public good for everyone, digital public good, and transparent public good are steadily becoming a reality," said Pony Ma, Chairman of the Board and CEO of Tencent.
The company's philanthropic practices have been guided by the belief that technology is a capability and doing good is a choice.
Doing the Right Thing
Over the past nine years, Tencent has stayed the course in deploying digital technology to promote and modernize philanthropy. Much of its businesses and products have been devoted to supporting public good. This year, more than 80 of its initiatives and products are taking part.
Members of the Tencent family also exemplify the company's Tech for Good DNA. About 60 percent of employees participate in public good activities. Some have walked and donated over 50 million steps for charity, while Tencent volunteers work tirelessly throughout the year to support a variety of causes.
Harnessing the Power of Technology
The fusion of technology and public good has opened up exciting possibilities and creative potential for the sector. In critical situations, Tencent has consistently demonstrated how the power of technology can be harnessed for solutions. Tencent Docs' life-saving documents during the Henan floods, the e-hailing first-aid system for AED cardiac assistance, and the COVID-19 Protection Drugs Public Healthcare and Mutual Aid Platform are just a few examples.
In addition, pioneering technology such as AI recognition systems helps to protect snow leopards; blockchain technology can be applied to regulate philanthropic fundraising; Tencent's Ethereal Audio AI noise-reduction technology reduces difficulties for the hearing impaired, and Weixin facilitates the donation of "love meals" to sanitation workers.
Public Good Is Common Good
In the nine years of 99 Giving Day, Tencent has joined hands with a growing pool of partners. Through the collective efforts of philanthropic platforms, compassionate enterprises, public welfare organizations, and caring users, the public good ecosystem has flourished.
To share the power of digital technology, Tencent has opened up its platform capabilities and made the Digital Toolbox available to nonprofit organizations. The company advocates for transparency and sustainability in social-good projects. It has made innovative efforts, such as the steps-donation and quiz projects, available to partners, and facilitated involvement by lowering the barriers to engagement. Other than the donation-matching system, it has also expanded the safflower system to outside the Tencent Charity platform.
Last year, nearly 60 million people participated in the 99 Giving Day campaign, raising over RMB 3.3 billion. Since the program began in 2015, donations now total more than RMB 13 billion and participation exceeds 280 million, supporting more than 130,000 philanthropic projects.