Tencent Unveils Hunyuan, its Proprietary Large Foundation Model on Tencent Cloud
2023.09.07
Domestic enterprise users can now connect to Hunyuan via APIs on Tencent Cloud. Tencent's Annual flagship summit also showcases Tencent's fast-growing global partner ecosystem, helping businesses grow and digitally transform.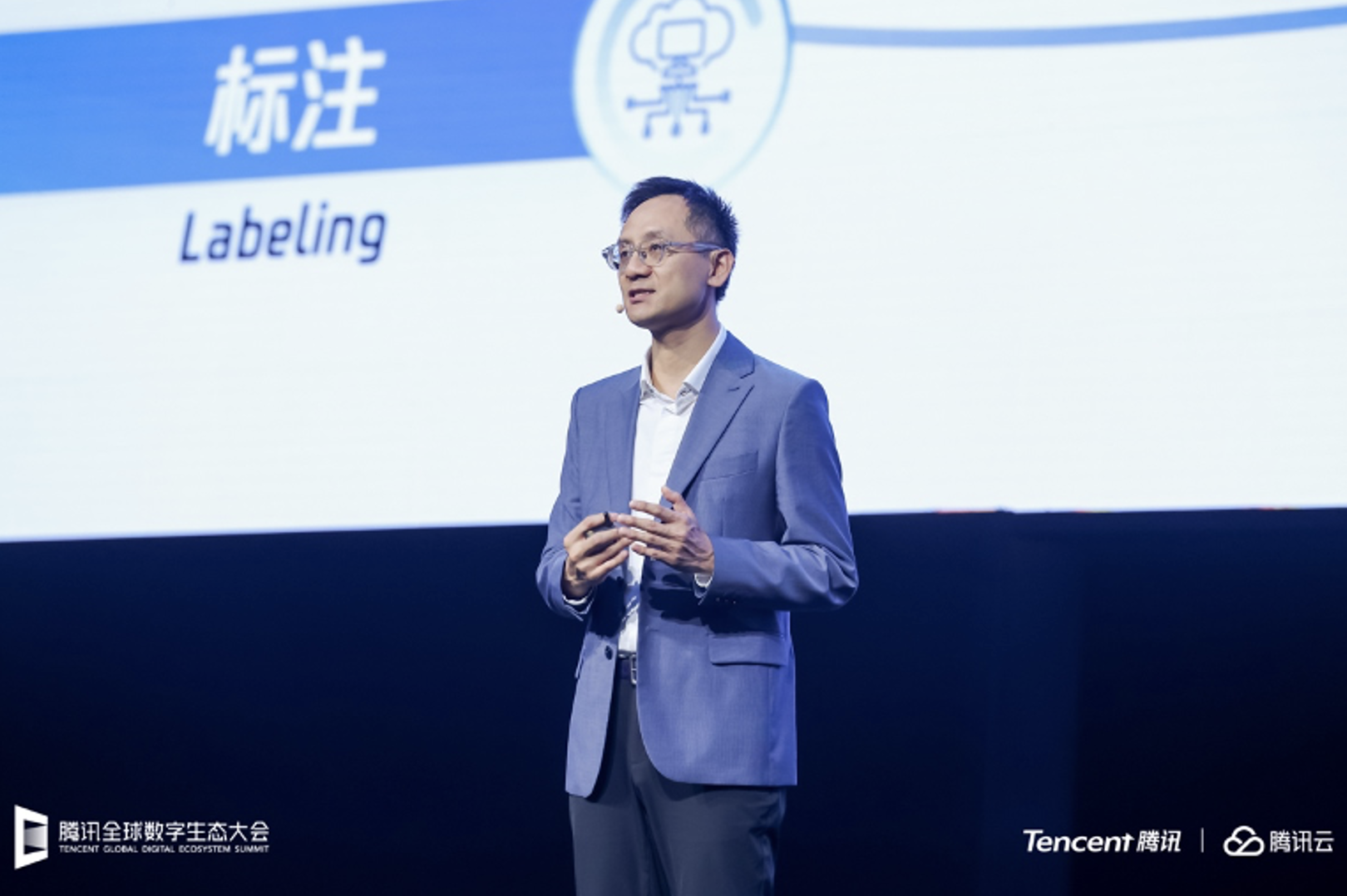 Dowson Tong, Senior Executive Vice President of Tencent and CEO of Tencent Cloud and Smart Industries Group (CSIG)
Tencent debuted its proprietary foundation model, Hunyuan, at its flagship Global Digital Ecosystem Summit in Shenzhen today. It is now open to enterprises in China for testing and building apps via APIs on Tencent Cloud.
Hunyuan Unlocks New Abilities for Enterprises
Enterprises in China may now access Hunyuan via Tencent's public cloud platform and finetune it to their specific needs. The platform features strong Chinese language processing abilities, advanced logical reasoning, and comes with reliable task execution abilities.
Tencent's foundation model supports a wide array of functions spanning the creation of images, copywriting, text recognition, and customer service, to name a few. These will be instrumental in key industries like finance, public services, social media, e-commerce, transportation, games, and many more.
This empowers enterprises to build powerful tools, in addition to training their own unique large models derived from Tencent's Model-as-a-Service (MaaS) offering, which was first introduced in June this year. The MaaS provides enterprises with economically viable, industry-specific large models, featuring more than 50 solutions spanning 20 major industries. This creates a virtuous cycle in which enterprises refine their large models with Hunyuan to create uniquely intelligent services across their operations.
Hunyuan has also been connected to 50 of Tencent's own products, including Tencent Cloud, Tencent Marketing Solutions, Tencent Games, Tencent fintech services, Tencent Meeting, Tencent Docs, Weixin Search, QQ Browser, and other core offerings. To give several examples:

Tencent Meeting now features a Hunyuan-powered AI assistant and can perform complex tasks such as generating relevant meeting minutes, by processing natural language instructions and prompts from users.

Tencent Docs, now integrated with Hunyuan, can support dozens of text creation scenarios, and generate standard format text with just one click.

In advertising, Hunyuan supports the creation of advertising content. It helps create interesting shopping guides that merchants can use to advertise with.
"In launching Hunyuan and making it available to domestic enterprises, Tencent has opted for an approach that balances the exciting performance of consumer-facing, large-model AI powered chatbots, with the pragmatic need for the business community to increase operational efficiencies, reduce costs, protect privacy as well as proprietary data," said Dowson Tong, Senior Executive Vice President of Tencent and CEO of Tencent Cloud and Smart Industries Group (CSIG) at the flagship annual Summit.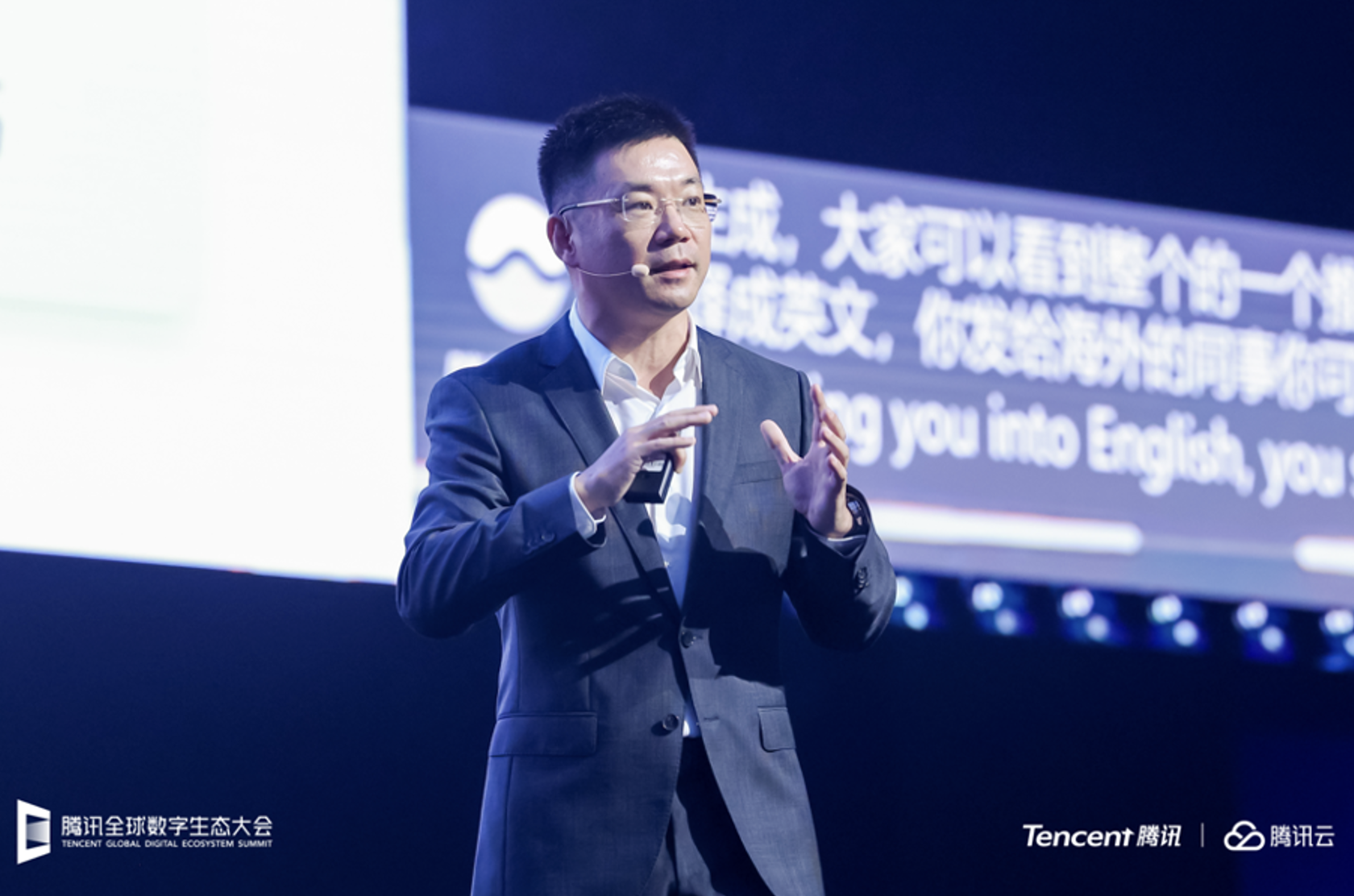 Jie Jiang, Vice President of Tencent
According to Vice President of Tencent, Jie Jiang, the company has entered the era of the "comprehensive embrace of large models", with Tencent having evolved over the years from model algorithms to machine learning frameworks and now, to AI infrastructure. Presently, the Hunyuan model has over 100 billion parameters, with more than two trillion tokens in pre-training data.
Hunyuan will be extended to even more businesses and applications over time.
International Business Posts Strong Growth
The global cloud computing market continues to be a bright spot for Tencent Cloud, where its international business presently covers Japan, South Korea, Southeast Asia, Latin America, Europe, the Middle East, Africa, and other major regions. To date, Tencent Cloud has data center facilities in 26 geographic areas on five continents with 70 availability zones, as well as an exabyte-level storage capacity.
In the first half of 2023, international business posted double digit revenue growth, with particularly strong performances in Japan, Singapore, Malaysia, Indonesia, Europe, and the Middle East. Tencent Cloud's Global Partner Ecosystem – a key driving force for its international business – is now 11,000 partners strong, with partner-driven revenue growing 66 percent year-over-year as at mid-2023.
"As we enter our seventh successful year of operating in international markets, our expansion strategy is to support Chinese enterprises going overseas, while concurrently facilitating the entry of foreign businesses into China," Tong said at the Summit. "This year, we also added more development teams in global markets spanning Latin America and the Middle East, to name just a few."
Tencent Cloud's International business expansion strategy revolves around the three pillars: Capability Enhancement and Product Internationalization, Enhancing Partners and Ecosystem, and Driving Innovation in Immersive Convergence. It provides solutions spanning industries such as internet, gaming, finance, tourism and hospitality, automotive, as well as retail.
With the launch of Hunyuan and a thriving international business, Tencent is committed to open collaboration in the ecosystem, with domestic businesses ultimately benefitting from the company's high-quality model services, while international businesses leverage Tencent to access the Chinese market, in addition to undertaking their own digital transformations using Tencent products and services.
For further information, please visit: www.tencentcloud.com.