Tencent teams up with charity partners to build Shenzhen into a capital of charity
2012.09.15
On September 15 2012 the Shenzhen AiYou HeKang Children Rehabilitation Center Opening Ceremony was held in Shenzhen. With a donation of RMB10 million from the Tencent Foundation the project was an endeavor to build China's first high-level institution to rehabilitate children with autism and brain paralysis. Shenzhen Mayor Xu Qin on invitation attended and addressed the event.
In his address Mayor Xu Qin said that Shenzhen has always striven to build itself into a capital of charity with tremendous enthusiasm and gave full recognition of Tencent's deeds and contribution as a corporate citizen. Mayor Xu Qin said: "Greatly developing the charity cause is an important embodiment of social civilizations and progress and is of great significance for strengthening society building and promoting social harmony. Tencent is a representative of outstanding companies that have grown up in Shenzhen and one of the largest Integrated Internet service providers worldwide. While speeding up corporate development the company has also actively shouldered social responsibility especially launched a charity foundation actively promoted education for young people and development in poor regions cared about special groups supported disaster relief poverty alleviation and other public welfare undertakings showcasing an image of responsible corporate citizen for Shenzhen enterprises."
Tencent Chairman & CEO Pony Ma said the Tencent Foundation will work with the AiYou Charity Foundation to explore new fields and new models of charity and actively provide medical care and rehabilitation for sick orphaned and poor children in China. Statistics show that by August 2012 Tencent had donated a cumulative total of RMB346 million to the Tencent Foundation. Meanwhile 2.92 million netizens had made more than RMB92 million in donates via Tencent's charity platform. In January 2010 the Tencent Foundation made a matching donaton of RMB10 million to the "Tencent Netizen Foundation". The "Net Save Childishness" Project a joint effort with AiYou has become one of the most popular Tencent monthly donation programs among netizens. By August 2012 "Net Save Childishness" had received donations of more than RMB7.73 million with over 195000 netizens participating and 1045 orphaned poor and sick children receiving help.
Attending the activities were Shenzhen Vice-Mayor Chen Biao Shenzhen Health and Family Planning Commission Director Jiang Hanping Shenzhen Civil Affairs Bureau Director Du Peng Shenzhen Disabled Person Federation Director-General Zhu Yuqin Shenzhen NGO Administrative Bureau Director Ma Hong Shenzhen Health Supervision Bureau Deputy Director Zhang Hong as well as Tencent Foundation Secretary-General Zhai Honxin and AiYou Charity Foundation Director-General Wang Bing.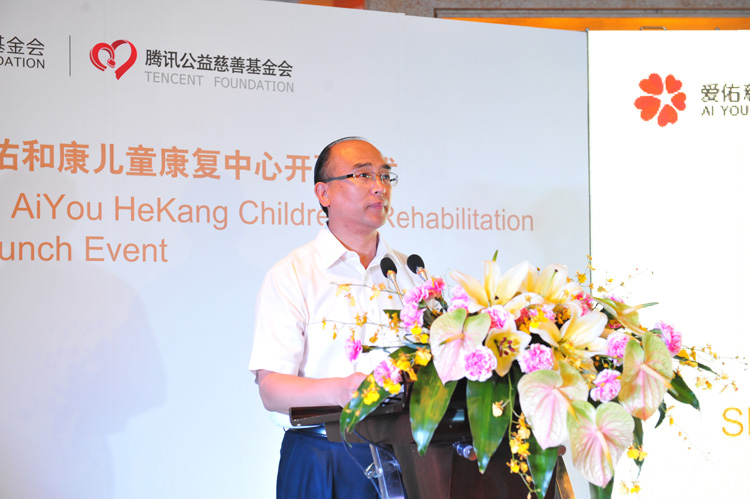 Shenzhen Mayor Xu Qin is delivering an address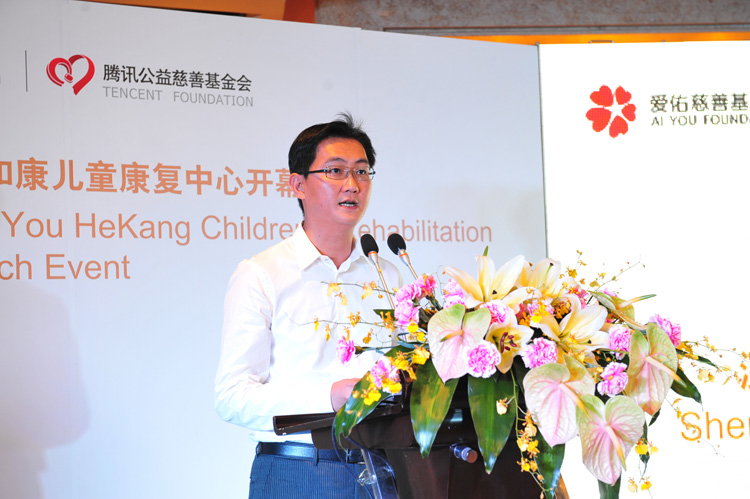 Tencent Chairman & CEO Pony Ma is delivering an address