Opening, Win-Win and Making Dream Come True - Tencent Takes Part in the 13th China Hi-Tech Fair
2011.11.21
November 16-21 2011 the 13th China Hi-Tech Fair ("CHTF") was held at the Shenzhen Convention and Exhibition Center. Tencent was an active participant in the National Development and Reform Commission (NDRC) Hall at the Fair and comprehensively showcased its nationwide Cloud Computing center and open platform strategy. Meanwhile it promoted its corporate theme of "Opening Win-Win and Making Dream Come True" to government departments and all walks of life.
Centering on the Internet of Things Cloud Computing and other key fields the NDRC Hall where Tencent is put on display the progress and achievements which the National Development and Reform Commission had accomplished in promoting the development of new-generation information technology speeding up industrial innovation and applications and pushing forward informatization construction in various social and economic fields. By showcasing its key Cloud Computing achievements and technologies Tencent as one of the first China's model enterprises for cloud computing had demonstrated its determination to actively take part in China's key Cloud Computing projects and make its due contributions to the development of Cloud Computing in the country during the 12th Five-Year Plan Period.
At the Exhibition Tencent put up a meticulously designed large-scale exhibition booth. Through methods such as sand table model multi-media interactive experience and exhibition board the company gave a comprehensive display of its technological strength and strategic operations in the Cloud Computing open platform and other fields winning wide attention and high praises from all walks of life. Wang Yang the CPC Central Committee Politburo member and secretary of Guangdong Provincial Party Committee and Jiang Shusheng NPC Vice-Chairman and chairman of the Central Democratic Union visited the NDRC Hall and the Tencent Exhibition Booth. Yang Xueshan MIIT Vice-Minister Zhao Houlin ITU deputy secretary - general Qi Chengyuan NDRC Hi-Tech Industry Department Director and other officials especially visited the Tencent Exhibition Booth and offered their valuable instructions during the Exhibition. All officials gave full recognition of Tencent's technological strength and industrial layout. Meanwhile CCTV CNR Shenzhen TV and other leading media in China all provided comprehensive coverage of Tencent.
By building cloud platforms Tencent directly serves more than 700 million users and supports the development of its over 200 businesses as well as cooperates with its open strategy to develop an open platform to fulfill the goal of "Opening Win-Win and Making Dream Come True". In the past 6 months since its open platform was open more than 1000 applications have been connected with it. Access application has also been submitted for over 40000 applications and more than 170000 developers have registered with it. In recognition of the achievements of its Cloud Computing center and open platform Tencent won awards including the Outstanding Exhibition Award from NDRC and the Outstanding Product Award from the CHTF Organizing Committee during the China Hi-tech Fair.
During the 13th China Hi-Tech Fair a grand foundation laying ceremony was held for Tencent Binhai Building. 13 years ago Tencent grew out of CHTF. Today it becomes one of the largest integrated Internet service providers and one of the Internet enterprises serving the largest number of users in China. In the opening year of China's 12th Five-Year Plan Period Tencent has now started a new leap forward from CHTF. The Tencent people are also keen to achieve a new great stride by developing more splendid more convenient "one-stop" online life to users!
The Tencent Exhibition Booth at the 13th China Hi-Tech Fair
A Sand Table Model of Tencent's Cloud Computing Centers Across China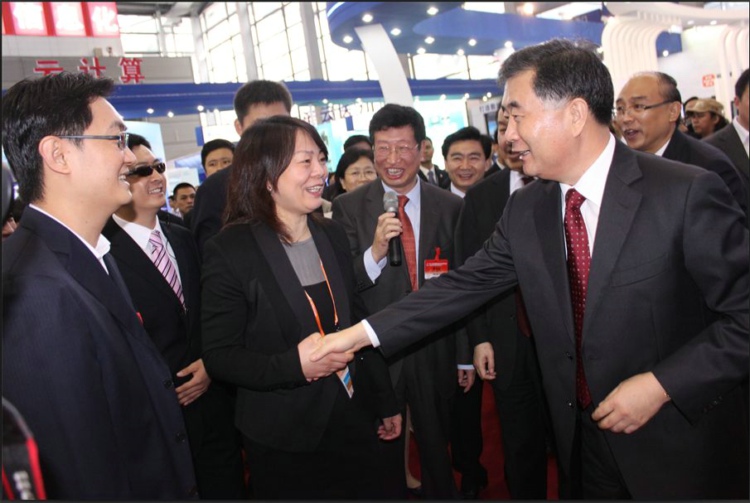 Wang Yang the CPC Central Committee Politburo member and secretary of Guangdong Provincial Party Committee and Jiang Shusheng NPC Vice-Chairman and chairman of the Central Democratic Union visit Tencent Exhibition Booth
Tencent Co-Founder & CEO Pony Ma (first from right) introduces latest Cloud Computing technology to visiting Vice-Minister for Industry and Information Technology Yang Xueshan (first from left) at Tencent Exhibition Booth