Tencent sets up a collaboration fund - to further advance its open development strategy in the Internet industry
2011.08.03
On August 3 2011 Tencent and the Shanghai Municipal Government jointly announced the signing of an investment cooperation framework agreement on the Tencent East China Cloud Computing Center and E-Commerce base in Shanghai's Qingpu Industrial Park. Charles Chen Co-Founder and CAO of Tencent held talks with Han Zheng Deputy Secretary of CPC Shanghai Committee and Mayor of Shanghai and Ai Haojun Vice-Mayor and attended the signing ceremony.
Investing in the Shanghai Qingpu Industrial Park is an important part of Tencent's development strategy. With the latest technologies such as modular data center (MDC) the planned Cloud Computing Center will be one of the most advanced Cloud Computing and cloud storage infrastructure service platforms in the Asia/Pacific. Meanwhile the Cloud Computing Center will leverage Tencent's best practices in data center development. The new E-commerce base will also become one of the most advanced comprehensive E-commerce bases in the Asia/Pacific Region. Encompassing an E-commerce platform an E-trading center an E-distribution center and an E-test center it provides users in East China with an online B2C trading platform and an off-line service support platform.
Tencent has chosen to cooperate with the Shanghai Qingpu Industrial Park because of the latter's favorable location convenient transport comprehensive supporting facilities unique ecosystem solid industry foundation and rich cultural deposits all of which distinguish itself from other development zones. Its production and service functional areas and CBD also attract attention from investors. Tencent's investment also leads the development of upstream and downstream related industries in Shanghai and its surrounding cities such as server network devices chip packaging and transportation and drives Tencent open platform-based third party developers.
Before the signing ceremony Han Zheng Deputy Secretary of CPC Shanghai Committee and Mayor of Shanghai friendly met with the delegation led by Charles Chen Co-Founder and CAO of Tencent and congratulated the signing of the project on behalf of CPC Shanghai Committee and Municipal Government. Mayor Han Zheng said that China's Internet industry is growing fast and as an industry leader Tencent's investment and development in Shanghai will be a great significance for the development of the local Internet industry. He vowed that Shanghai will support the project and hope that it can achieve substantive results as soon as possible. Charles Chen said that the Tencent East China Cloud Computing Center and E-Commerce base will improve Tencent's ability to serve massive users and become an important technical guarantee for Tencent's "open platform" strategy. Meanwhile he hoped that the Center can make active contributions to the development of the Internet and hi-tech industries in Shanghai.
At this year's IT Leaders Summit Pony Ma Chairman and CEO of Tencent pointed out that cloud organizations and cloud services can help Tencent to become open and make a platform open through powerful cloud. In the E-commerce field since 2010 Tencent has successively invested in E-commerce enterprises including GaoPeng Ftuan and ELONG as well as ICSON one of the largest 3C shopping websites in China. Recently it also announced that it will put in hundreds of millions of marketing resources into its E-commerce platform to fully support superior merchants there and brings a fast development of the platform.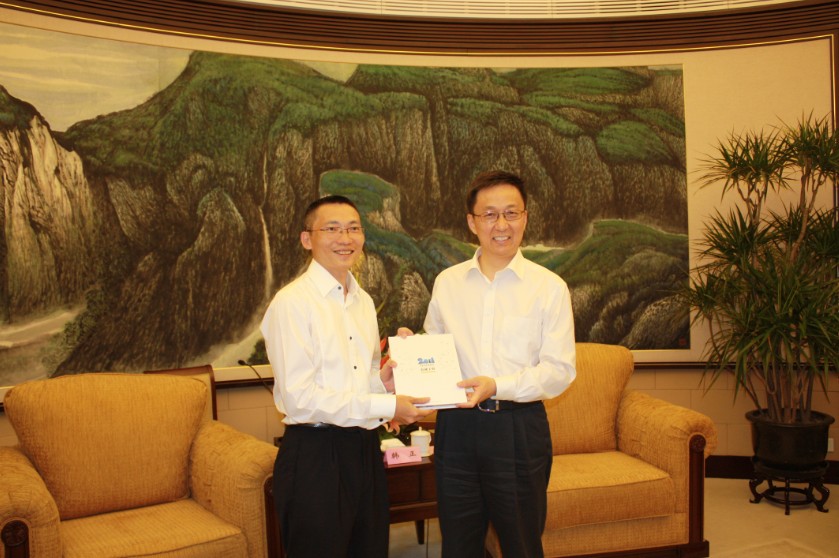 Han Zheng (right) Mayor of Shanghai and Charles Chen (left) Co-Founder and CAO of Tencent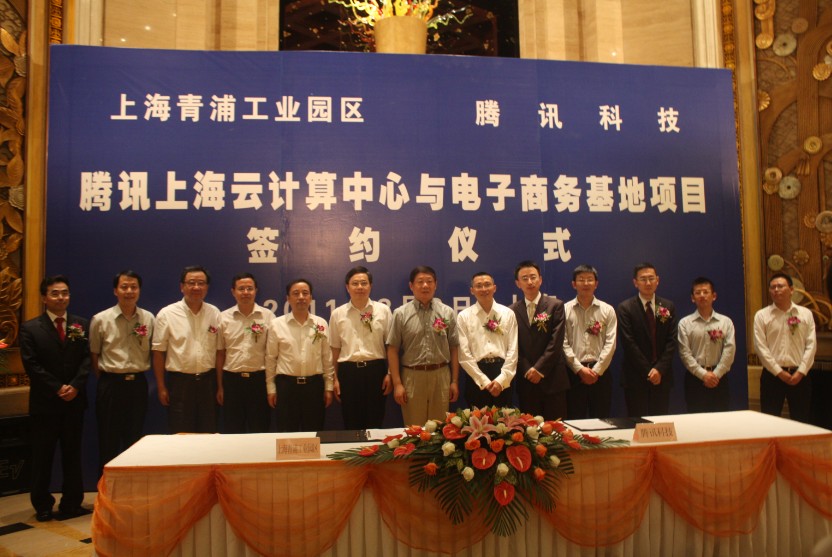 Signing Ceremony for Tencent Shanghai Cloud Computing Center and E-Commerce base Projects