Tencent to Invest RMB1 Billion to Set up a Wireless Internet Technology R&D Center in Wuhan
2011.06.15
On June 15 Tencent and the Wuhan Municipal Government jointly announced that Tecent will build its Wireless Internet Technology R&D Center in Wuhan Jiangxia Economic Development Area which enables a layout of Tencent's wireless Internet development strategy and involves an investment of at least RMB1 billion in the first phase. Meanwhile Tencent's Central China Network Media Center will also be built in Wuhan.
"We greatly value Wuhan's growth potentials and will leverage Wuhan's high-quality resources such as talent policy and geographical resources especially rich university resources" said Charles Chen Cofounder and CAO at Tencent. "We believe that when completed the Wuhan Wireless Internet Technology R&D Center will become another major innovation engine and growth booster for Tencent. Through the investment Tencent hopes that it can integrate into the wider hi-tech industry in Wuhan and explore a road of development combining industries universities and research institutions together."
Wuhan Mayor Tang Liangzhi expressed a warm welcome to Tencent's investment: "It is very wise for Tencent to choose to invest in Wuhan a city with rich natural resources outstanding human talent and first-class development environment. We promise to pay attention and give support to the Tencent Proejct and hope that Tencent can achieve integrated development in Wuhan."
Tencent's latest investment in Wuhan constitutes one of the most important development moves which the Internet company has in the wireless Internet industry. Currently the project site has been selected for Yangzishan on the bank of Tangxun Lake in the Jiangxia Economic Development Area and it will be implemented in two phases. Tencent's wireless business team has arrived in Wuhan and started to recruit local talent.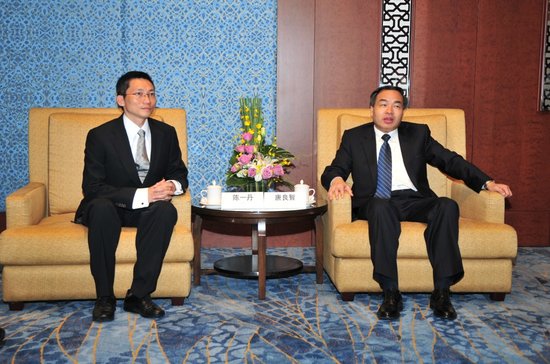 Wuhan Mayor Tang Liangzhi (right) holds friendly talk with Charles Chen (left) Cofounder and CAO at Tencent