Tencent Builds the Asia Largest Data Storage and Processing Center in Tianjin
2011.04.01
(April 1 2011) Following the completion of it's First Project of Data Storage Center in Tianjin Tencent signed an investment cooperation framework agreement with Tianjin Economic & Technical Development Area in Tianjin. The two sides will establish a long-term strategic partnership. According to the agreement Tencent will continue its investment and Tianjin Economic & Technical Development Area will support Tencent to launch an expansion projects for its data and R&D centers in Tianjin. Building the Asia largest data storage and processing center the two sides will in line with the principles of continuation cooperation win-win and common development jointly speed the development and opening of Tianjin Economic & Technical Development Area and contribute to the development of emerging service industries such as Cloud Computing.
On the agreement signing day Zhang Gaoli Politburo Member and Tianjin Party Secretary held a cordial meeting with the Tencent delegation led by Charles Chen Co-Founder and CAO and congratulated on the project signing on behalf of Tianjin Party Committee and Municipal Government. Secretary Zhang Gaoli said that the investment in Tianjin by Tencent the leader in China's Internet and network cultural industries provides great significance for advancing the electronic information industry. Tianjin supports the project and hopes that it can accomplish great achievements in the near future.
Charles Chen introduced to Secretary Zhang Gaoli the Tencent's growth and strategic operations in 2010 and its project history and status in Tianjin and expressed sincere thanks to Tianjin Party Committee and Municipal Government for their persistent support to the Tencent project. Meanwhile he said that Tencent will expand its investments in Tianjin and projects based on expected capacity to reach a total capacity of 200000 servers there.
Currently the development and opening of Tianjin Binhai New Area is included in China's overall development strategy for the Eleventh Five-Year Plan bringing about historical opportunities for the Area. As the leading internet company in China Tencent has hundreds of millions of users advanced technologies and rich Internet applications. It will seize the opportunity of its project expansion in Tianjin to offer better services for its massive users and Cloud Computing Center for network services across Tencent.
Duan Chunhua Tianjin Party Committee Standing Member and Secretary-General took part in the meeting while Tianjin Vice-Mayor Wang zhiping attended the agreement signing ceremony.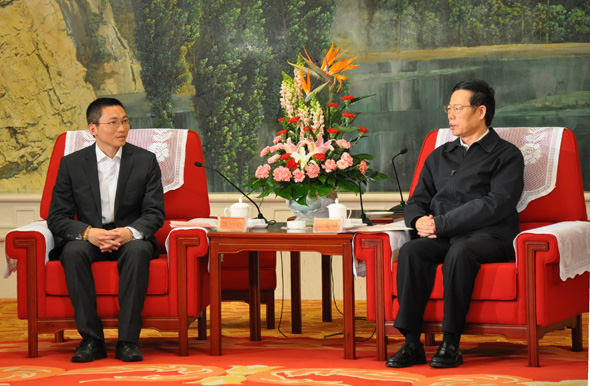 Zhang Gaoli (right) Politburo Member and Tianjin Party Secretary holds friendly talk with Charles Chen (left) Tencent Co-Founder and CAO
Agreement Signing Site