QQ won WIPO Creativity Award, WIPO Director General visited Tencent
2010.11.18
Organized by World Intellectual Property Organization (WIPO) in cooperation with the National Copyright Administration of China (NCAC) the 4th International Copyright Forum was opened in Beijing on November 18 2010 when QQ instant messaging (IM) software from Tencent was granted WIPO Creativity Award. WIPO Director General Francis Gurry visited Tencent on November 19 2010.
Tencent QQ won WIPO Creativity Award
The award granted to Tencent QQ suggests that the creativity of China's Internet industry has been highly acknowledged by WIPO. QQ has outstanding performance compared with competing products in terms of technical sophistication and practicality according to a WIPO judge.
Technically QQ features the abilities to support a massive amount of users transmit a massive amount of information secure a massive amount of user information integrate complex functions and quickly update versions. Meanwhile QQ satisfies requirements of its users through powerful practical functions. QQ Version 2010 for example takes the lead in providing full-screen video along with an entirely new skin engine contacts list personalized chat windows notepad added to the space editor flexible authentication options user-defined alerts when friends get online independent password for the QQ lock doodle editor optimization paintbrush that creates more interesting expressions and twinkling characters. Compared with similar products worldwide QQ pioneers offline storage of chat records that are readable after remote sign-in the combination of IM software with users' virtual images chat among multiple users in the same group high file transfer rates and the combination of IM software with the short messaging service (SMS).
Tencent was granted Chinese Patent Gold Award at the 12th Chinese Patent Award Conference co-organized by the State Intellectual Property Office (SIPO) of the People's Republic of China and WIPO on November 13 2010. That was the first ever national golden award for patents granted to China's Internet industry. Known as "the pioneer in low-carbon industry growth" the patented technology is primarily used to remove bottlenecks in Internet development such as bandwidth resources and online security.
WIPO Director General visited Tencent
Francvis Gurry WIPO Director General and Wang Binying WIPO Deputy Director General came to visit the Beijing-based headquarters of Tencent with Yan Xiaohong NCAC Deputy Director on November 19 2010 the day after QQ was granted WIPO Creativity Award. They were received by Chen Yidan a Tencent co-founder and CAO Gordon Sun Tencent Chief Scientist and Ai Wenbo Tencent Chief Legal Officer (CLO). Mr. Chen presented the corporate history to the visitors by focusing his presentation on the company's major businesses such as IM Internet media interactive entertainment and e-commerce. He explained how Tencent provides innovative serves to its users and how it became one of the largest full internet service providers in China. He made a special introduction to the company's innovation culture. Innovation has been running through the growth of Tencent. The innovation culture unique to Tencent is the root cause for its flow of innovation projects said Mr. Chen.
Innovation is essential for both the company and its employees according to Tencent. As an advocate of innovation culture Tencent endeavors to provide its employees with opportunities and atmosphere for innovation enabling them to maintain active thinking and enthusiasm for innovation even when they are busy with their jobs. It has an internal innovation center which it hopes can become a source of things ranging from innovative concepts to innovative products. Tencent encourages its employees to "do things that create value for users and that interest you." It also encourages them to innovate as they want in those areas. Additionally Tencent encourages its employees to keep learning at work by providing them with various learning resources. With a series of institutional arrangements it combines learning with corporate businesses and activities at various levels achieving innovation-based corporate growth.
Both Francis Gurry and Wang Binying appreciated and marveled at Tencent's innovation culture. They recognized the achievements that the company has made over the past twelve years while believing that an innovation-based QQ has brought a shake-up to the mode of human communication. China has a different innovation culture from those in the other countries and Tencent is representative of its innovation mode said Mr. Gurry. Tencent's adherence to innovation has been acknowledged by the above-mentioned WIPO Creativity Award and Chinese Patent Gold Award granted to QQ. Tencent QQ has affected and changed the communication modes and lifestyles of hundreds of millions of Internet users in a profound way. It has not only opened up wider application scenarios for China's Internet industry but also is one of the most important innovations that the industry has contributed to its global counterpart. Tencent strongly hopes to have more chances to communicate and collaborate with WIPO so as to contribute to innovation industry growth and intellectual property protection in China and even around the world said Chen Yidan.
At last Francis Gurry talked about WIPO's new conceptions and trends in pushing intellectual property protection and applications worldwide. He happily accepted a special QQ gift from Chen Yidan.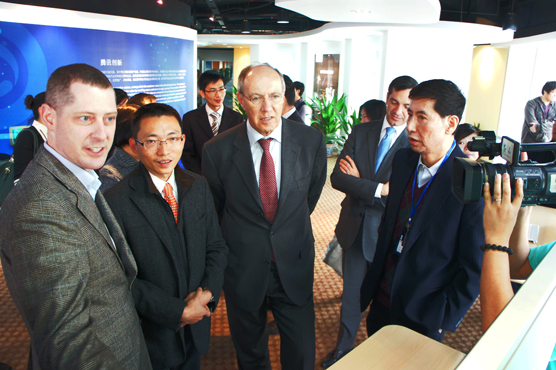 Chen Yidan (2nd on the left) Tencent CAO was showing creative Tencent products to Francis Gurry (3rd on the left) WIPO Director General.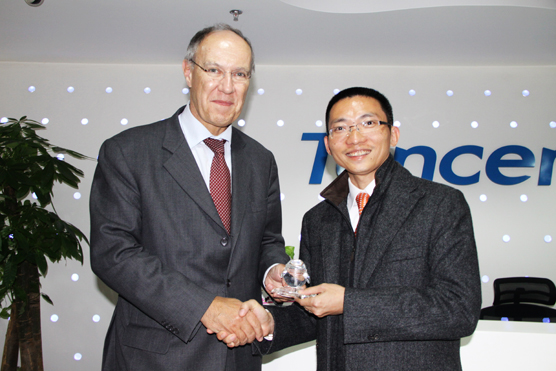 Chen Yidan (right) Tencent CAO was presenting a QQ gift to Francis Gurry WIPO Director General.