Tencent CEO Ma Huateng Attends China 7th International Internet Culture Expo
2009.12.04
On December 4 2009 China 7th International Internet Culture Expo opened in Beijing Exhibition Center. With a theme of "Sunshine Internet A New Life" it aimed to showcase the Internet culture development achievements both at home and abroad and help the public understand the meaning of Internet culture experience the power of the new Internet culture and establish a philosophy of healthy Internet culture life.
The opening ceremony was attended by Minister Cai Wu Vice-minister Ouyang Jian Assistant Minister Ding Wei from the Ministry of Culture Dong Yunhu Deputy Director of State Council Information Office Sun Shoushan Deputy Director of the General Administration of Press and Publication and officials of the State Administration of Radio Film and Television the Central Committee of the Communist Youth League of China and other government departments.
In his address to China 7th International Internet Culture Expo Vice-mister Ouyang Jian said that new Internet-related cultural business platforms are developing well and leading enterprises are gaining growing core competencies and international influence. Internet culture has already become an important part of the cultural industry and the cultural life. Vice-minister Ouyang Jian expressed the hope that Internet culture enterprises at large should further strengthen their legal awareness and sense of social responsibility greatly undertake cultural and technological innovations continue to create a large number of healthy and beneficial Internet products and make greater contributions to the great development and prosperity of socialist culture.
Chairman of the Board & CEO of Tencent Ma Huateng attended the opening ceremony and delivered a speech on behalf of online game firms.
Ma Huateng pointed out that long-term prosperity of the Internet culture industry as the representative of creative industries still hinges upon the whole industry to continue to innovate in technologies business models and talent training. This is the only way for the industry to play its important role in national prosperity and progress. This is not only the obligatory social responsibility of Chinese Internet culture enterprises but also the obligation which every corporate citizen should fulfill. It essentially guarantees for the harmonious and sustainable development of the whole Internet culture industry.
In the end Ma Huateng on behalf of online game firms called upon enterprises in the industry to join hands work hard and strengthen self-discipline to nurture a good competitive culture and the right view of social responsibility and make contributions to the prosperity of Internet culture in China.
After the opening ceremony concluded Ouyang Jian Vice-minister of the Ministry of Culture and other officials visited Tencent games exhibition booth. Ma Huateng introduced Vice-minister Ouyang Jian Tencent games and the cultural official acknowledged Tencent's achievements.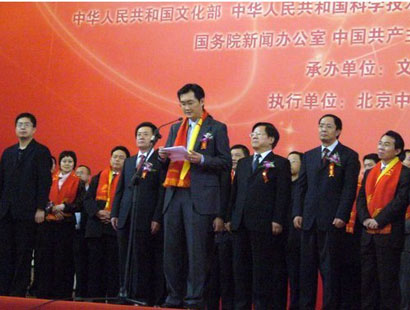 (Tencent CEO Ma Huateng attended the opening ceremony and gave a speech on behalf of firms)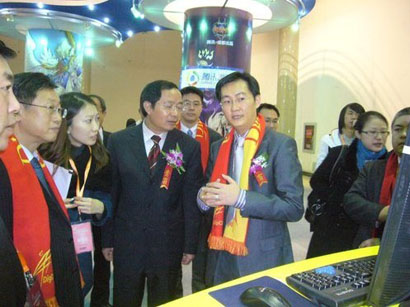 (Tencent CEO Ma Huateng accompanied Ouyang Jian Vice-minister of the Ministry of Culture in his visit to Tencent's exhibition booth)