Jet Li Joined Forces with Tencent in Public Charity Projects
2008.12.10
On December 10th One Foundation founder and film star Jet Li visited the Shenzhen headquarters of Tencent a leading provider of Internet and mobile & telecommunications value-added services in China Inc. After touring the Tencent gallery Jet Li together with Tencent Founder Chairman and CEO Ma Huateng and Vice President and Tencent Public Charity Foundation Director Guo Kaitian discussed in depth plans for sustainable development of public charity works. The two sides will develop a deeper and broader strategic partnership on the Tencent-led Public Charity 2.0 platform.
Tencent has been working with the One Foundation since its inception a fact to which Jet Li is grateful to. "Ten-year old Tencent is the big brother; the one-and-a-half-year old One Foundation is the little brother. With regard to One Foundation's earliest partner working with them has been a great experience. The One Foundation has always been thankful toward the continuous support we have received from Tencent. When the One Foundation was first established and before most people understood what we were up to Tencent was already giving us tremendous support. Their help I will forever remember in my heart." Jet Li continued "Not only is Tencent a leading enterprise in China's Internet industry while it pushes for progress in the industry the company is also a leading enterprise on public charity works in China. When many enterprises are still at the stage of exploring or treating public charity as a "hobby" Tencent was already making the conscious effort to devote human and material resources to charity and treating public charity as the company's responsibility. The results of Tencent's efforts have been remarkable. In China's recent disasters the One Foundation and Tencent Public Charity Foundation were the first to come up with emergency relief plans and had the greatest number and cross section of participants. Our efforts have created a force that was strong beyond our expectations." During the Sichuan Earthquake this year the One Foundation raised over 45 million RMB via the Internet. Over 50% of the funds was raised through the Tencent platform. The close to 24 million RMB raised by the One Foundation through the Tencent platform even broke the world record for the largest amount of charity donation raised through the Internet.
Ma Huateng said "There exists much room for future cooperation between Tencent and the One Foundation. What we would like to consider more is not solely natural disaster relief but how to creatively push for sustained growth of public charity works under normal conditions. China's Internet users and Tencent subscribers could build a bridge or platform for improving the ways in which people participate in charity works realizing their compassion in a constructive way and assisting public charity workers and projects. Especially in the current financial crisis pushing for the sustained development of public charity works has attained a new level of importance. I believe Tencent will play an important role in all of this."
In fact since the One Foundation's inception the organization has enjoyed a special relationship with Tencent. Recently Tencent and the One Foundation both won awards (Tencent won the "Most Compassionate Enterprise Award;" Jet Li's One Foundation was named the "Most Influential Charity Project") at the 2008 China Philanthropy Conference. Guo Kaitian pointed out that as China's largest Internet service enterprise Tencent sees its focus on and realization of public charity works as essential ingredients in the company's vision of becoming the "Most Respected Internet Enterprise." As the first enterprise in the Internet industry to establish a public charity foundation the Tencent Public Charity Foundation has already established strategic partnerships with such nationally renowned public charity foundations as Jet Li's One Foundation China Children and Teenagers' Fund China Youth Development Foundation China Foundation for Poverty Alleviation and the Amity Foundation to broadcast public charity information. Through such contents and services as online donations online auctions and online communities the public will have easier and more convenient means to understand and participate in public charity works. To this end in November Tencent has issued the first Corporate Social Responsibility Report in the Internet industry. Industry analysts believe that since Tencent operates the largest instant messaging platform and the No.1 portal by PV & UV in China compared with other companies in traditional industries the company has more channels of communication with the public. While the company itself is taking part in public charity works it also has the means and responsibility to spread the spirit of compassion via its platform. The goal is to encourage society to care about and participate in public charity and catalyze social harmony and progress. Due to their high interactivity and usage rate instant messaging tools have proven themselves to be highly effective in promoting public charity works.
During his visit Jet Li and his entourage also participated in an interactive Q&A panel with Tencent's staff answered questions from Tencent Public Charity Foundation volunteers Tencent employee volunteers and One Foundation disaster relief donor representatives. A plan for volunteers to cooperate in depth is another important topic. During the earthquake relief projects in addition to donating over 3 million RMB Tencent employees also volunteered to help in a variety of ways. Jet Li stated "The One Foundation and Tencent Tencent employees Tencent users and also QQ users around the world all belong to one family. Sustained cooperation between Tencent and the One Foundation will rally everyone to the cause of bettering the welfare of the human family."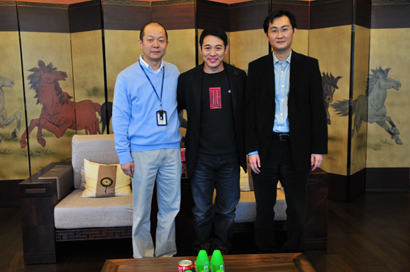 Ma Huateng pose with Jet Li and Guo Kaitian for a group photo.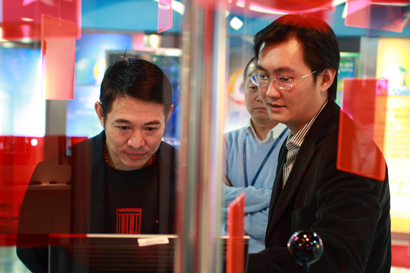 Ma Huateng and Jet Li in Tencent Experience Hall 1.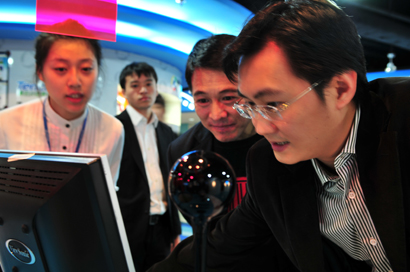 Ma Huateng and Jet Li in Tencent Experience Hall 2.