Romantic Festival, Great Compassion: Tencent and Red Cross launch the Children's Serious Disease Rescue Foundation
2007.02.14
Beijing February 14 2007 – A charity concert was performed today in the Central Conservatory of Music under the name of "Harmonious Cooperation and Infinite Love – Tencent and Red Cross 2007 Spring Charity Concert". The concert was host to many leading enterprises and personalities all of whom enjoyed a marvelous performance of famous violinists Chai Liang and his wife visiting China from the United States. During the event the company Tencent was given recognition as a founding partner and first donor to the Red Cross' new Children Serious Disease Rescue Foundation. Prominent citizens from all social circles attended the concert and made numerous donations to the foundation changing Valentine's Day into a day to celebrate people's compassion and caring for children in need.
Chai Liang and his wife flew to Beijing from the United States specially for this charity concert. "When my friends in Tencent told me about this idea I accepted at once" Chai Liang told the reporter. "In this special day we are happy to be able to take part in efforts to help sick children. Meanwhile we hope that with the influence of Tencent this compassion can be spread around China and make everyone aware of the need to support the healthy development of children and teenagers."
Prior to the creation of this foundation the Red Cross had established the Mutual Fund for Children's Hospital Medical Expenses which has attracted the support of more than 920000 Beijingers and thus helped to alleviate the economic burden of families of diseased children. However for serious diseases that require higher expenses than others such as leukemia the mutual fund is not enough. Consequently children suffering from serious diseases urgently need the public's help. "As Tencent possesses a powerful Internet platform and huge base of users the company can play a positive role in raising funds for the Children Serious Disease Rescue Foundation" remarked Han Lu President of the Red Cross Beijing. "As Tencent is a public-spirited enterprise we are confident in this cooperation."
"The mission of the Children's Serious Disease Rescue Foundation is to allow more diseased children and teenagers to access attention and care from all social circles and live healthily. Children and teenagers are loyal users of Tencent's services and their health is the focus of our attention. We hereby thank the Red Cross for initiating this relief foundation project and will try our best to build people's awareness and encourage them take part in this project" said Tencent Vice President Zou Xiaomin. According to Zou as a sponsor and active advocate and partner in the rescue foundation Tencent is proud to make the first donation. Last year Tencent also invested CNY 20 million in the creation of a charity foundation and promised to allocate a percentage of its operating profits each year to social projects including youth health and education. Recently Tencent launched a children's channel on QQ website marking its concern for the next generation's healthy development through the company's ongoing activities.
Representatives of the Western Returned Scholars Association of Chinese Overseas ("WRSACO") also attended the concert. The WRSACO is an important bridge for overseas Chinese to communicate with China. "With Tencent offering important communication tools to connect Chinese around the world WRSACO is happy to work together with Tencent and the Red Cross to influence the Chinese both at home and abroad to contribute to the health and well-being of Chinese youth" noted Yan Changming WRSACO's Vice President and Deputy Secretary-General of the Chamber of Commerce.
With over 570 million registered QQ users and active QQ users now totaling 220 million QQ.com is the by far the most popular Chinese portal. The Red Cross is a respected social relief organization engaged in humanitarian work. The Red Cross' goals are to protect the life and health of human beings promote humanitarianism endorse peace efforts and progress and assist governments to be committed to humanitarian endeavours.
Exercising its influence Tencent called upon all young people to take responsibility in helping vulnerable groups but also upon leaders from all social circles to become examples for young people and motivate more people to participate in charitable activities. In 2006 Tencent established China's first charitable foundation established by an Internet enterprise. By cooperating with the Chinese Young Volunteers Association to launch the "Protection of Chinese Cultural Treasures" and through other activities of this nature Tencent has established itself in the public eye as a caring and principled enterprise that is out to positively influence the Internet industry and society in general.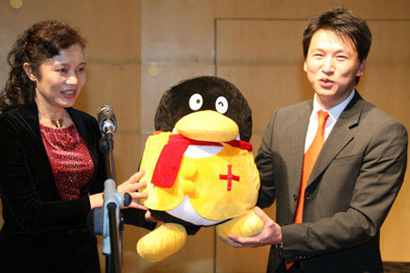 Tencent Vice President Zou Xiaomin and Beijing Red Cross President Han Lu exchange mascots.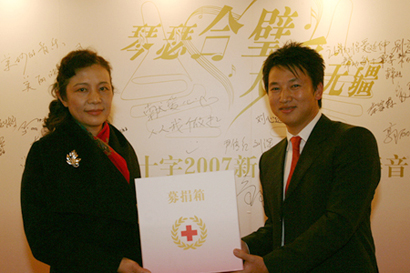 Zou Xiaomin hands over the charity funds raised to Han Lu.