Compassion Unites - Tencent Charity Foundation Goes to Poverty-stricken Mountainous Regions
2007.01.12
Shenzhen January 12 2007 – Recently students living in poverty-stricken mountainous regions in Guizhou and Sichuan provinces received their Spring Festival gifts in advance. Tencent Charity Foundation donated over three thousand new winter coats worth CNY 500000 to students from Shiqu of Sichuan Province and three middle schools in Qiandongnan Prefecture of Guizhou Province. Students from these schools including Shuangjiang Middle School of Liping County Tonggu Middle School of Pingjin County and Cuili Middle School of Congjiang County expressed their happiness and appreciation in accepting the gifts.
"These clothes are the best ever received by students living in mountainous regions – they are precious Spring Festival gifts" commented Zhu head of the Basic Education Division of the Education Bureau of Qiandongnan Prefecture. "In the past lots of donated clothes were used items. On one hand sizes and designs were different. On the other hand the donations required sterilization a difficult process for us. This time all the clothes donated by the Tencent Charity Foundation are new coats. In addition the foundation discussed with us several times to decide the designs and sizes. We admire and thank their passion and seriousness."
"When Spring Festival comes people wear new clothes. This is a Chinese Spring Festival custom. Today children living in well-off cities in China have piles of new clothes in their wardrobes all through the year. In contrast children living in poverty-stricken mountainous regions still only expect to wear new insulated coats during the Spring Festival for the winter. We wish these children of poverty-stricken mountainous areas a warm Spring Festival and winter holiday" said Tencent Vice President Guo Kaitian when talking about this donation initiative.
Tencent has been devoted to charitable activities and is enthusiastic in its socially minded projects. To increase the scale of its social contributions and develop projects in a more systematic and organized way Tencent established in 2006 the first charity foundation ever set up by a Chinese Internet enterprise. The foundation has since been particularly focused on youth education and especially the youth of poverty-stricken households.
To better understand the situation and needs of these poverty-stricken areas and help guide future charitable activities Guo and a team from the foundation conducted a special four-day research tour of Guizhou's Qiandongnan Prefecture.
"It is really a very tough task for kids to go to school in mountainous regions. To study many children need to carry their food and walk for kilometers on end on steep roads. Many schoolhouses are unsafe due to a lack of maintenance over the years. There are so many cracks and gaps everywhere that houses are not fit to keep out the winter cold at all. After our investigation we decided to do something for these mountainous children. As the cold winter has arrived we organized this donation of clothes" said Guo.
Tencent organized an Internet-based publicity campaign to involve more people in the donation of winter coats generating over three million clicks. "Tencent's strong commitment towards corporate social responsibility will entail taking on more responsibilities and contributing more in cash and in kind to improve social harmony.
More importantly Tencent needs to make full use of its Internet platform and the strength of Internet technologies to generate greater awareness sense of social responsibility and compassion among its users about people of the generation and vulnerable groups in society" continued Guo.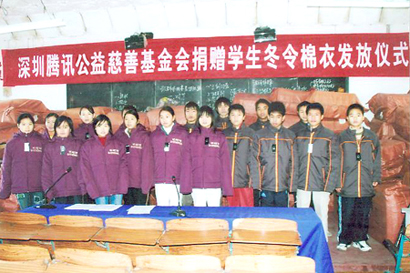 Student representatives wearing the new clothes during the donation ceremony.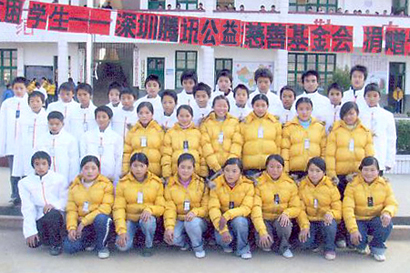 Each of the 630 students of Cuili Middle School of Congjiang County received a new coat. All the students of one of the middle school classes posed for a group photo wearing their new clothes.