Celebrations to Tencent's successfull listing in HK,Many thanks to our users for their long-term support
2004.06.16
[June 162004 from Hong kong]
Tencent Holding Limited will go public on Hong Kong Stock Exchange on 16 June Wednesday with the stock code of 700.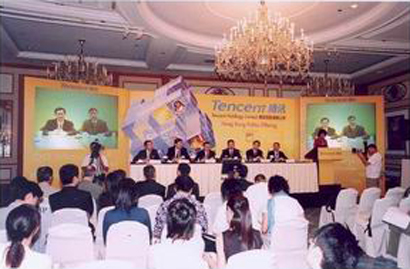 Upon the successful listing Tencent expressed its heartfelt appreciations to long-term supports from our users. As one of the first Internet IM software developers as well as Internet service and mobile value-added service providers in China Tencent has always been focused on usrs since its establishment in 1998. Its listing in Hong Kong will no doubt enable the company to offer customers more and better services. The development of Tencent can never be separated from the supports and concerns of our users. Their advices and suggestions have always been our driving force.
As to products Tencent will continue to offer more and more creative products and value added services based on its integrated IM platforms with Internet mobile and fixed line network. Apart from texts images video audio transfer and emails our users can also have access to various Internet services and mobile value-added services designed to enhance community experience including mobile games dating content downloads and other entertainment services.
As to technology Tencent has a background server cluster with thousands of servers and a R & D team of more than 400 staff to ensure its high capacity to load heavy network traffic and handle various kinds of IM applications. With the orientation of excellent technology Tencent aims to provider huge QQ users with superior and safe communication services.
As to customer service Tencent's customer service center will stick to the motto of Users' Sincere Friend ---Tencent Customer Service Call Center and provide comprehensive timely and friendly service to our users including 7×24-hour hotlines QQ online customer service email response and BBS response service etc.
As a public company Tencent will continuously provide new services focused on IM technology to hold the leading market position. We are committed ourselves to offering new Internet value added services and reliable community experiences for our large user base. We hope our service will become an integral part of their lives just like water and electricity.
Furthermore Tencent will keep on establishing an equal close and mutually beneficial relationship with all business partners.
While celebrating our successful listing in Hong Kong nearly 1000 Tencent employees will continuously observe our values as practical and devoted innovative teamwork happy working responsible and conscientious to build a best team to provider our users with top technology top applications and best services and to fulfill our vision of "To become a top Internet enterprise".