RTX is launched as the Real-Time-Enterprise solution
2003.09.09
[Sep. 10 2003 from Shenzhen]
Guests discussing about RTX's application in the "Real Time.
Tencent Technology (Shenzhen) Co. Ltd. the largest IM service provider in Asia launched its enterprise IM product "Tengxuntong" (RTX) in Kerry Center of Beijing on Septermber 9th which symbolized Tencent's official entry into the enterprise market.
In recent years thanks to the mature internet the advantages of instant messaging (e.g. real time interaction and low cost) catch the attention from many industries. Customer IM software (e.g. QQ ICQ) experienced rapid development in recent years. Tencent QQ's registered user accounts has reached 160 million. However IM application software for enterprise users is still a new market.
RTX is exactly a breakthrough in this market. It provides enterprises with a new communication method apart from telephone and fax to realize their informatization and build real time enterprises. It's reported that Tencent is also the first hi-tech company in China to release software in this sector.
In the press conference Mr. Ma Huateng CEO of Tencent brought forward the slogan-real time creates real value. In fact the improvement of enterprises' core competence through informatization has always been a hot topic in corporate management and communication with high efficiency is also vital for enterprises to enhance their own core competence.
The road of enterprises' informatization can be divided into two major steps: the first focuses on improving enterprises' office efficiency through standardization and collaboration which are showed by Office Automation (OA) Knowledge Management (KM) ERP and EAI; the second step mainly emphasizes on improving the flexibility of the enterprise through enhancing information integration and interaction. In the step the concept of "Real Time Enterprise" (RTE) was put forward by famous IT consulting firm Gartner. Its core idea is to make use of latest information to eliminate the delay in management and execution of the key business and reduce time delays in various stages such as problem identification information delivery decision making and execution so as to enhances core competence. In the foreseeable future "Real-Time" will be one of the vital features in enterprises' informatization and enterprise instant messaging EIM the key technology in RTE.
As the leader of IM service providers in China Tencent has always regarded EIM as one of its 3 major product lines. Since BQQ was launched as early as December 2001 nearly ten upgraded versions have been released now with more than 80000 registered enterprise users.
On the base of BQQ Tencent's core technology brand RTX has a lot of meanings. It shows that Tencent is self- positioned as a Real-time Tech eXpert its products and services are Real-Time eXchange/eXpress/eXtension and the company promises to offer customers Reliable Tech eXperience as well. Besides the shape of "X" represents the interaction of various communication ways. Comparing with the original BQQ RTX focuses more in the security controllability and efficiency that enterprises require. At the same time owing to Chinese enterprises' own feature RTX emphasizes on high practicability and convenience.
According to Mr. Zhan Weibiao GM of Tencent's Enterprise IM Department RTX includes applications such as instant messaging voice/video conference and SMS. In the future it is also supposed to realize customer service communications (B2C) commercial interactions among enterprises (B2B) and Call Center based on IM technology. Meanwhile as an enterprise communications platform RTX on the one hand provides enterprises with real time application on the other hand offer IM and technical support for enterprise application systems such as ERP OA KM and CRM including secondary development interface SDK package. Through integration with RTX the real time transmission and interaction in the ERP and OA systems can be quickly realized.
In accordance with the evaluation report from Gartner if an enterprise can make a correct application of RTE its revenue will increase as much as 15%--25%. According to a third party's survey into Tencent existing enterprise users internal communication expense reduced 13% and the work efficiency increased 17% after applying RTX platform. For large enterprises with more than 1000 staff the number of business trips/expense are cut as much as 12%. It's fair to say that through RTX application enterprises have already realized RTE at the first step and its introduction will effectively promote the real time informatization of Chinese enterprises build real time enterprises and improve their core competence.
Tencent's entry into the enterprise market is also supported by many famous partners such as IBM UFsoft Kingdee Hi-Tech Wealth ChinaSuntek and Kingsoft. They all strive together to create the real time enterprise industry value chain. In the foreseeable future China will anticipate more and more highly effective "Real Time Enterprises" with the collaboration of so many excellent enterprises.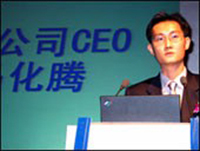 Mr. Ma Huateng CEO of Tencent Deliver Speech.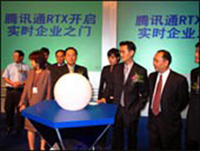 RTX start-up ceremony: Ma Huateng CEO of Tencent ignite the reactor of the RTX Rocket.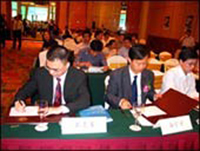 Tencent signs strategic alliance agreement with UFsoft ChinaSuntek Kingsoft and Hi-Tech Wealth.