Tencent ranked 1st in the annual SP ranking by Jiangsu Mobile
2003.01.26
[Jan 29 2003 from Shenzhen]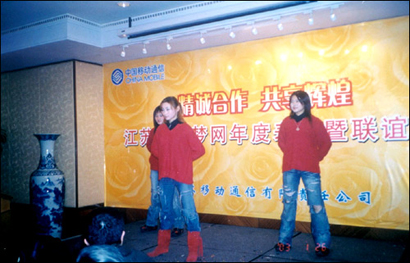 QQ Star's winners from Jiangsu performed on the party
On January 26 2003 Tencent was ranked 1st in "The first session of Jiangsu Monternet's 2002 top ten partner Campaign" and won special prize. It's also invited to Jiangsu Mobile's 2003 spring evening party.
As early as 2000 Tencent has established extensive cooperations with Jiangsu Mobile. Tencent's product and service quality were favored by both users and the mobile network operator as its stable service quality for mobile users. Since the cooperation Tencent released more than 20 wireless value added services including Mobile QQ QQ Love and QQ Gas Station etc. In the 2002 annual comprehensive ranking in terms of three indexes-message volume customer service and operation income Tencent ranked 1st in Jiangsu Mobile's SP ranking for 12 months in a row.
Last year Tencent and Jiangsu Mobile jointly launched series of effective promotion activities within Jiangsu Province including "Big Prizes from Nanjing Mobile - QQ" "Xuzhou Mobile - Mobile QQ carol of happiness" and "QQ Star Campaign" as well as series of activities with Changzhou Mobile for McDonald's promotion. These activities not only largely increased the number of users but enhance the brand of Mobile QQ. Driven by these achievements Tencent will stick to offer users better and more comprehensive services.