CEO Mr. Ma Huateng participated in the 3rd Conference of Xihu Lunjian Forum
2002.11.05
[Nov 05 2002 from Shenzhen]
In November Hangzhou once again became the focus of attention with the hot business atmosphere and huge business opportunities brought by the synergy of new and old economy models. The 3rd Conference of Xihu Lunjian Forum opened as scheduled in this crisp season with Mr. Ma Huateng CEO of Tencent Mr. Zhou Weihong President of 3721.com Mr. Zhen Ronghui President of 51job.com Mr. Liang Jianzhang CEO of Ctrip and Mr. Bao Yueqiao President of ourgame.com being invited.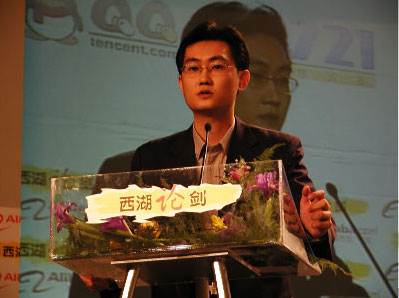 Hosted by the famous emcee Miss Zhang Wei the forum commenced with addresses from the guests one by one. Mr. Ma Huateng CEO of Tencent made a speech as follows: "Dear guests as we know the Internet develops fast. After four years of development Tencent now focuses on its QQ product which sustains180 million messages per month. We strive to promote the concept of 'Q generation' and 'Q life'. The company broke even as of last June. We have been practical and focused in our business development and the future progress is most crucial to us. Thanks!"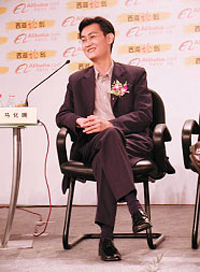 The 5 guests responded to various questions from medias and their remarks often won applauses. Mr. Ma Huateng answered questions regarding the new development directions of QQ the prospect of Mobile QQ and his opinions on Microsoft's MSN.
He said that Tencent just began to launch MMS in coincidence with China Mobile: the colorful and lively QQ images could be sent onto mobile phones. In the future Tencent will continue to offer more unique services to enhance the functions of mobile phones and enrich the modes of communications.
As for Mobile QQ it's a new type of messaging service and now occupies a considerable percentage of China Mobile's SMS business. Meanwhile Mr. Ma Huateng saw room for improvement in user base as well as user experience. In the future there will be a large amount of mobile phones with Mobile QQ inside just like Motorola's E360 color screen mobile phone released not long ago. The popularization of this kind of mobile phone will facilitate the usage of Mobile QQ and the constantly growing number of mobile phone users also drives the development of Mobile QQ.
In terms of the development of Microsoft MSN Mr. Ma Huateng figured out that Tencent QQ is quite different from MSN. They are targeted for different markets. He added that MSN did not tailor enough features for business environment. In fact although Tencent is developing QQ software its employees still apply BQQ for its daily communications. Depending upon its planning the instant messaging software can increase as well as decrease working efficiency. MSN does place certain pressure on Tencent but Microsoft doesn't regard Tencent as a competitor. We target for different markets are not in competition and can even cooperate.
Mr. Ma Huateng also answered questions regarding the company's profitability and development directions. The good communication among guests medias and audiences brought a heated and friendly atmosphere to the forum.