Tencent participated actively in China Telecom's Vnet plan
2002.09.30
[Sep 30 2002 from Shenzhen]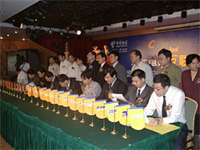 On July 25 2002 China Telecom officially started the VNET plan on the "VNET Guangdong" news release conference. Since then China Telecom further promoted more Internet applications all over the country. China's Internet industry became more and more energetic as many ICPs ASPs and equipment providers all participated in VNET.
VNET plan makes fully use of China Telecom's network and user resources to build healthy development environment for Internet aiming to cultivate the sustainable development of the Internet industry chain and create new business models of Internet service. Through integrating with SPs' features VENT will provide versatile information services for China Telecom's Internet users and realize win-win situation for users ISPs and SPs.
Jiangsu Telecom's "VNET Jiangsu" and Hunan Telecom's "VNET Hunan" activities were launched on 17th and 23rd of September respectively. As a long term partner for China Telecom Tencent paid close attention to the VNET plan and actively participated in it. The company was one of the first partners in VNET plans of many provinces and is now in close cooperation with China Telecom in terms of member fee charging paid call charging and VQQ video promotion. We are willing to create the successful tomorrow for Internet along with China Telecom.