Asia Internet Entities and Websites rankings for December 2000
2001.01.31
[Jan 2001 extracted from: Net Ad Pioneer Web]
On January 31 2001 NetValue a famous professional Internet research company revealed in Hong Kong the Internet entities and websites rankings in five countries and districts of Asia. Making use of the Internet fixed sample group method NetValue adopted global unique techniques to trace cyber users' every online behavior including webpage browsing email chatting file transferring audio/video and instant message transmission. The following data is based on Internet home users from five Asian countries and districts including Hong Kong Korea Singapore Taiwan and Mainland China (covering Beijing Guangzhou and Shanghai).
Following data is based on reports upon Asian family Internet user sample groups in December 2000: China (Beijing Guangzhou Shanghai - 5195) Hong Kong (2728) Korea (2540) Singapore (4068) and Taiwan (3110).
Comprehensive ranking China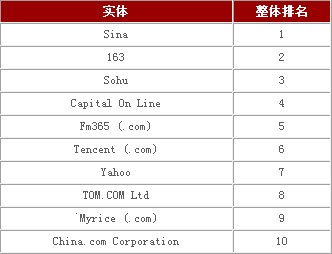 Notes:
Comprehensive ranking:
The comprehensive ranking of a site or entity depends on the arithmetic mean value of the following parameters: visit rate average number of days a cyber user visits the site or entity non-repetitive pages opened and total number of pages opened average time and number of times a cyber user visits the site or entity.
Visit rate
In the referred period the percentage of cyber users that at least visited a site or entity once is that site or entity's visit rate.
Entity
A group of websites owned by one company (e.g. "Yahoo" as an entity is composed of yahoo.com yahoo.co.uk yahoo.de etc).
Website
A group of web pages under a same category (e.g. Yahoo.co.uk is composed of all web pages under its name).
About NetValue
NetValue is an international professional Internet research company that provides Internet usage situation data and cyber users' online behavior research services. It depends on its leading technology and designs establishes and maintains a complicated and comprehensive cyber user sample group so as to provide unique rich and accurate Internet and user online information reports. According to information unveiled from the sample group NetValue's global clients such as Freeserve MSN Societe Generale Salomon Smith Barney and Yahoo can discover different opportunities and make strategies.
NetValue was born in France in 1998 and now has established fixed sample groups in China France Germany Hong Kong Singapore Korea Mexico Northern Europe Spain Taiwan UK and US.
Research methods
NetValue established a global strategic partnership with the famous market research company Taylor Nelson Sofres (TNS). TNS is responsible for building up sample groups for NetValue globally and the establishment of sample groups in China is done by CVSC. Basic investigation will decide the number and features of cyber users in each country and district. Meanwhile Internet-related data (including penetration rate ISP usage and Internet usage time) demographic and social/economic information will be gathered. The authenticity of cyber users can be ensured by monthly random phone.
Once become a member of the sample group the cyber user will download NetValue's special software NetMeter onto his/her computer to allow NetValue to trace all his/her online behaviors including webpage browsing email chatting file transferring audio/video and instant message transmission.