Tencent's Industry Accelerator Coming into the World with both AI and SaaS
2019.07.10
Recently, the retest of Tencent's AI Accelerator Phase III was completed. In fact, Tencent has expanded its AI Accelerator into an Industry Accelerator and will also, in the future, develop IoT, 5G and other aspects, in addition to the new SaaS Accelerator.
A Glance of Tencent's AI Accelerator Phase III Retest
Tencent's Industry Accelerator, with Tencent's industry ecological investment as its starting point, through the Tencent ToB Ecological Platform – Yunqi, in connection with Tencent's abundant resources, provides the selected projects with 6 individual closed tutoring sessions and the opportunity of an overseas visit, and ecological support in terms of capital, technology, products, business opportunities and other aspects, so as to boost the transformation and upgrading of the industry.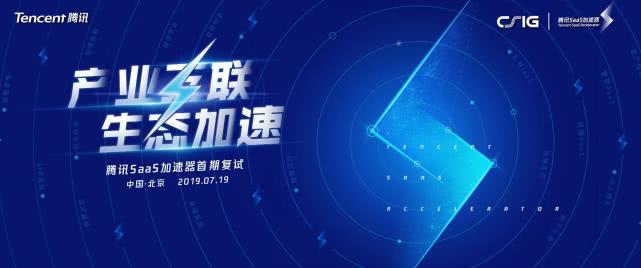 At present, two phases have been successfully completed for Tencent's AI Accelerator, with 65 projects selected from 2000-odd projects worldwide, total financing of over CNY 7 billion, and 70% of the projects having completed the first round of funding, amongst which GJS Robot, Versa APP, and Leju Robotics, as well as others, have received investment from Tencent.
The final list of trainees in AI Accelerator Phase III will soon be unveiled. Phase III, focusing on the industrial Internet field, will rely on the technical capabilities of AI laboratory matrices such as Tencent's AI Lab and Tencent YouTu, Tencent Cloud's platform and computing capabilities, working with its partners to jointly create industrial Internet solutions and help the selected AI projects achieve faster and wider deployment in various scenarios.
In addition to the AI Accelerator, Tencent's phase I SaaS Accelerator has started global recruitment, open to SaaS enterprises or enterprises embracing SaaS for transformation. The retest of the Phase I will be held on July 19.
Tencent started its SaaS accelerator as it sees the industrial digitisation at a turning point where SaaS is critical for digitizing enterprises in various sectors. In 2018, the overall market size of SaaS at enterprise level in China was about CNY 25 billion, representing a 47.9% growth compared to the previous year, and a compound growth rate expected to be near 40% in the next three years. SaaS providers are faced with a broad space for development. 
However, at present, the SaaS industry still encounters challenges in client solicitation, system construction and other aspects. In response, Tencent launched the SaaS Accelerator to help the start-ups achieve omni-directional acceleration, from strategy to implementation.
The selected projects can connect directly with Tencent's AI, Big Data, security capabilities, ensure quick creation of SaaS products based on Cloud development, use one-stop operation and the maintenance platform Tencent Cloud Tstack, as well as enjoy Tencent Cloud's market + channel dual support opportunities and cloud resources support at the ten-million level.
In the future, a number of accelerators, like 5G and IoT, will also be included in the Tencent Industrial Accelerator, so as to expedite the industrial upgrading to a smart future.