Tencent Miying's AI Electronic Colposcopy-Aided Diagnosis System Makes Its Debut Appearance in Yunnan
2019.05.22
On 22 May 2019, the Tencent Global Digital Ecosystem Summit for Smart Healthcare was held in Kunming, Yunnan Province. At the conference, Tencent Miying, the AI Medical Solution of the company, officially rolled out its AI Electronic Colposcopy-Aided Diagnosis System. With the AI technology to assist in identifying precancerous lesions during colposcopy, Tencent Miying can help gynecologists efficiently identify cervical transformation zone, cervical intraepithelial neoplasia (CIN) and location of lesion, uncorking the bottleneck of the "last mile" in the cervical cancer screening process.
Chen Guangyu, Vice President of Tencent CSIG, said that it is Tencent Miying's long term goal to promote early detection, diagnosis and treatment of cancer. The application of AI in early detection of cervical cancer will provide strong support for early screening and prevention of cancer for the grassroots, assist areas without sufficient healthcare resources to tramp the "last mile " of the cervical cancer screening process, and further promote a balanced development of medical resources in China.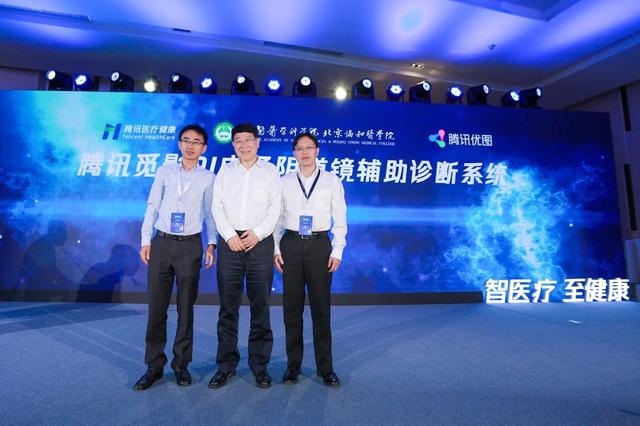 Chen Guangyu, Vice President of Tencent CSIG (left), Prof. Qiao Youlin, Chinese Academy of Medical Sciences and Peking Union Medical College (CAMS & PUMC) (middle) and Zheng Yefeng, Director of Tencent YouTu Lab Medical AI (right), jointly announced the launch of Tencent Miying's AI Electronic Colposcopy-Aided Diagnosis System.
Early Detection Is Key to Prevention of Cervical Cancer
Tencent Miying's AI Electronic Colposcopy-Aided Diagnosis System has been developed under the guidance of Prof. Qiao Youlin's team from CAMS & PUMC. Its launch was led by Tencent Medical and Health Business Division and supported by YouTu Lab. The system is capable of identifying the location type of the cervical transformation zone, intraepithelial neoplasia as well as the location of lesion. Cervical transformation zone is the area where cervical intraepithelial neoplasia or cervical cancer is likely to develop. It is also the main observation area during cervical examination and cervical cancer screening.
As the malignant tumour with the highest prevalence rate in the female reproductive system, cervical cancer ranks the fourth most common cancer causing death among females in the world, and it is the second most common malignant tumour of the female reproductive tract in China, posing severe threat to the health of women. HPV, or human papillomavirus, is the cause of cervical cancer. It takes several years for cervical cancer to occur following HPV infection. It means that early detection of precancerous lesion and timely intervention can significantly reduce the morbidity and mortality of cervical cancer.
The purpose of conducting cervical cancer screening is to identify any existing precancerous lesion and enable timely intervention. At present, cervical cancer screening is carried out in the following three steps: first, HPV testing or cervical exfoliative cytology as a primary screening tool (TCT or Pap smear); second, colposcopy and biopsy for HPV-positive subject after preliminary screening; and lastly, cervical pathological diagnosis, of which colposcopy is a key step that will greatly affect the doctor's final decision on the necessity of performing a biopsy and the determination of the location of biopsy.
However, colposcopy technology highly relies on the subjective experience of doctors, especially in grassroots areas where cervical lesions are highly complicated, colposcopy doctors are scarce and medical expertise is uneven, which result in missed diagnosis and misdiagnosis from time to time, seriously affecting the screening and prevention of cervical cancer.
As pointed out by Prof. Qiao, a doctor's misjudgment in colposcopy will delay many patients' timely diagnosis and treatment in the precancerous or early stage of carcinogenesis.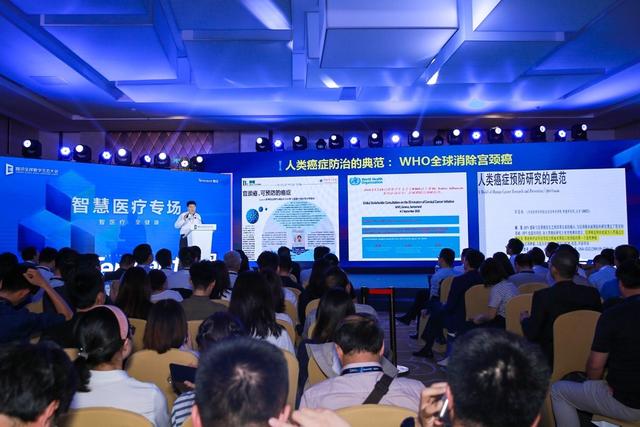 Prof. Qiao Youlin highlights the importance of cervical cancer prevention and early screening
AI solution to problem: Identify Lesions in 1 Minute
The use of Artificial Intelligence (AI) has brought in new ideas for electronic colposcopy. Tencent Miying's AI Electronic Colposcopy-Aided Diagnosis System has adopted the AI technology to assist the identification of precancerous lesions in colposcopy, so as to improve the accuracy of examination.
Zheng Yefeng, Director of Medical AI at Tencent YouTu Lab, also shared with the audiences the technological breakthrough in the system, which has a newly-designed in-depth learning network structure that simulates the process of colposcopy examination by doctors. It can provide doctors with quick and reliable clinical advice to solve the two major problems in the diagnosis of cervical cancer and precancerous lesions: the location type of the cervical transformation zone and the identification of lesion location. As such, the system is able to identify cervical cancer and precancerous lesions as accurate as experienced human doctors.
"With this auxiliary diagnostic system, doctors can upload electronic colposcopy images and obtain results within tens of seconds.." Prof. Qiao said. "The system is not only able to help doctors diagnose cervical cancer, but it can also use algorithms to streamline cervical biopsies and thus reduce unnecessary biopsies."
Early screening of cervical cancer is Tencent Miying's another key capability following the invention of other technologies such as early screening of early oesophageal cancer, early lung cancer, diabetic retinopathy, colorectal tumour and breast tumour.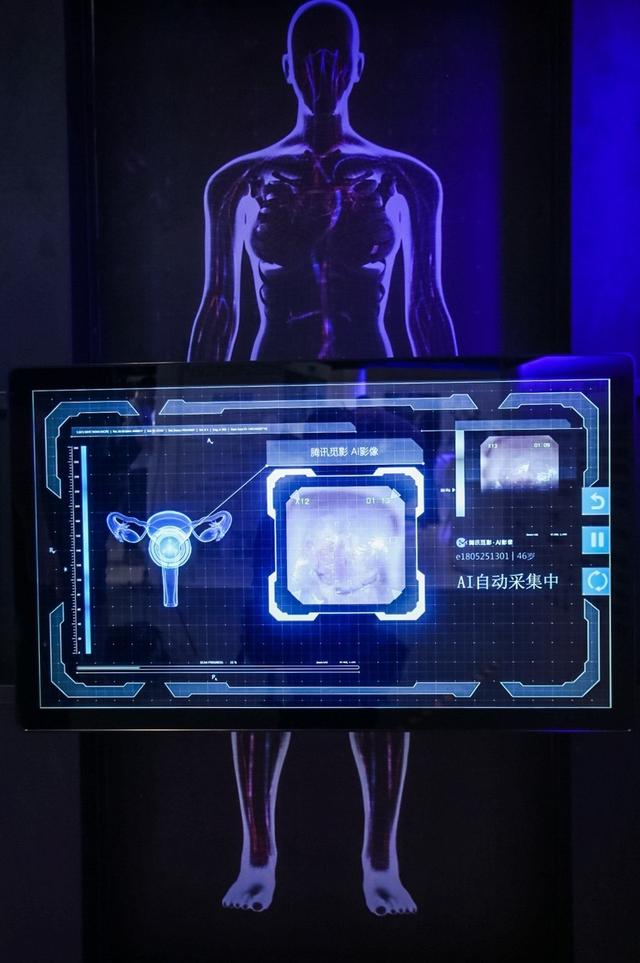 Tencent Miying is featured at the Tencent Global Digital Ecosystem Summit
Launched in August 2017, Tencent Miying has been making breakthroughs in types of disease, continuously optimising its services and improving its value system. To quantify its assistance to doctors, Tencent Miying has so far read 270 million medical images, served almost 1.6 million patients and issued 210,000 warnings. Meanwhile, Tencent actively takes part in and promote the charitable campaign about early screening for oesophageal cancer, gastric cancer and lung cancer.
The application of AI technology is expected to benefit the vast number of rural and grassroot hospitals. Prof. Qiao said that the AI-supported medical assistance system will be able to average up the level of healthcare among the grassroots in China and solve the problems of insufficient medical resources and poor infrastructure in remote areas.
Chen Guangyu also said that any breakthrough in cutting-edge technologies is dependent on the cooperation with top-level medical experts, but the most popular use case of medical AI is still at the grassroot level. "Service for grassroot medical institutions, support for universal health coverage, assistance for graded diagnosis and treatment, promotion of early cancer screening and the like will be the main scenarios of how we use medical AI. Tencent will continue to explore new medical technologies, contributing to human health and enabling deeper and wider development of social welfare and charity in line with our Tech for Good vision and mission."