Protecting Our Planet: Building Sustainable Solutions to Global Problems
2020.10.20
The evidence is all around us. Wildfires ravaging the Pacific Northwest in the United States with a ferocity never before seen, news that a town in the Artic Circle reached an astonishing 38 degrees Celsius, a cataclysmic flood season in China that has become the heaviest on record, leaving people's homes and businesses under water; a widespread locust infestation in Africa threatens the food supply, and so many more that go unreported. These apocalyptic scenes are real, and climate scientists are pointing their finger at the cause: climate change caused by human activity. Awareness is growing around the world that we must unite to take appropriate action to make life on earth more sustainable -- and more livable -- for future generations. 
With over half of the world's population living in crowded cities and more than one million people moving to urban areas every week, our food supply, energy grid and water treatment systems are beginning to buckle under the pressure. Unless urgent action is taken, the devastating fires that broke out this year in California and Australia may just be a hint of what's to come.
Understanding the relationship between food, energy, and water (also known as FEW) is critical to solving the sustainability problem, according to Tencent Chief eXploration Officer David Wallerstein. 
"I think the kind of moment we are facing in history is one in which the educational models we have, the intellectual paradigms that we used to understand the world, are basically insufficient to deal with what we are facing," said Wallerstein. "So we need to start introducing more models where we are actually synthesizing different factors."    
A few years ago, Wallerstein and his team discovered something interesting with one of Tencent's investee companies. Farmers were using a huge amount of water on their plants – sometimes up to 40 percent more than needed – to grow them as quickly as possible. Ultimately the goal of a farmer is to have the best, most profitable harvest with the least amount of resources and cost. But how can we be sure exactly how much water a plant requires, and how often?  
Wallerstein believes technology can help. If we could find a way to increase crop yields for humans while using less water, it would benefit both people and the environment. In fact, for many countries, 40 to 70 percent of national water usage is for agriculture. With many countries already facing water shortages, any savings could help alleviate pressures elsewhere. Furthermore, many energy systems are dependent on water, like hydro power or even nuclear power, demonstrating the inter-connectedness of FEW.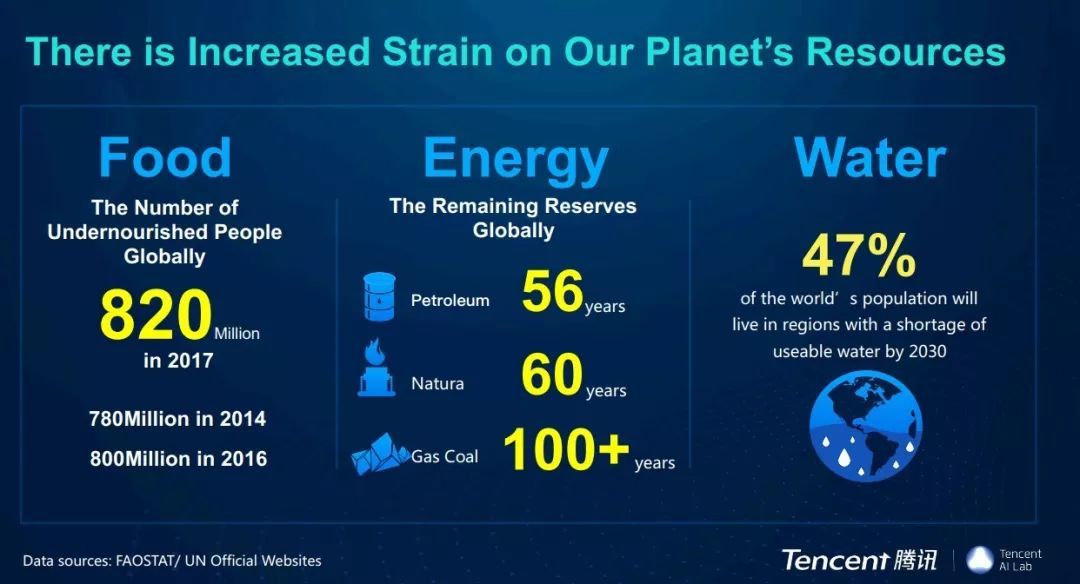 Our food supply, energy grid and water treatment systems are beginning to buckle under pressure.
Using AI to build a more sustainable world
The world's population is expected to grow by two billion people in the next 30 years, from 7.8 billion today to 9.9 billion in 2050 -- with most of that growth in the developing world, according to a United Nations report. The world's population is also growing older, meaning a shrinking group of working-age people is having to help support a large and growing number of retirees. Both factors pose significant challenges to traditionally labor-intensive industries like agriculture. 
The Agricultural Outlook 2019-2028, published by the Organization for Economic Co-operation and Development and the UN's Food and Agriculture Organization, states that while technological innovation is driving yield improvements and higher production intensity, new uncertainties are emerging like the spread of crop and animal diseases, increasingly extreme weather, and more. Many countries are moving quickly to find ways to promote sustainable technologies that help to increase the production of food and energy in a safe, sustainable, and healthy way.
Tencent's expertise in artificial intelligence, big data, cloud computing, machine learning, and computer vision brings a new approach to these challenges. For example, AI can analyze data in a food production system to increase crop yields. In fact, as AI continues to develop, its application has gradually penetrated the entire process of agricultural production, such as: 
Prior to planting, AI can help select suitable crops through the detection and analysis of soil composition. It can also help screen and improve crop genes to achieve a better taste, according to the Tencent AI Lab, as well as improve insect resistance and increase yields. During the planting process, AI can leverage its intelligence to control diseases and insects, thereby reducing economic losses. Using machine learning to process satellite images can more accurately predict the impact of weather and other environmental changes on crops, giving farmers more information and time to manage their crops.  

When the crop is ready for harvest, a robotic arm guided by computer vision can perform a pre-sale quality inspection, classification and packaging of agricultural products. It can also use big data to analyze market conditions, which can help agricultural e-commerce operations and guide enterprises to formulate more flexible and accurate sales strategies. Algorithms and mathematical models can intelligently optimize logistics and distribution, ensuring the freshest products reach consumers in the shortest possible time.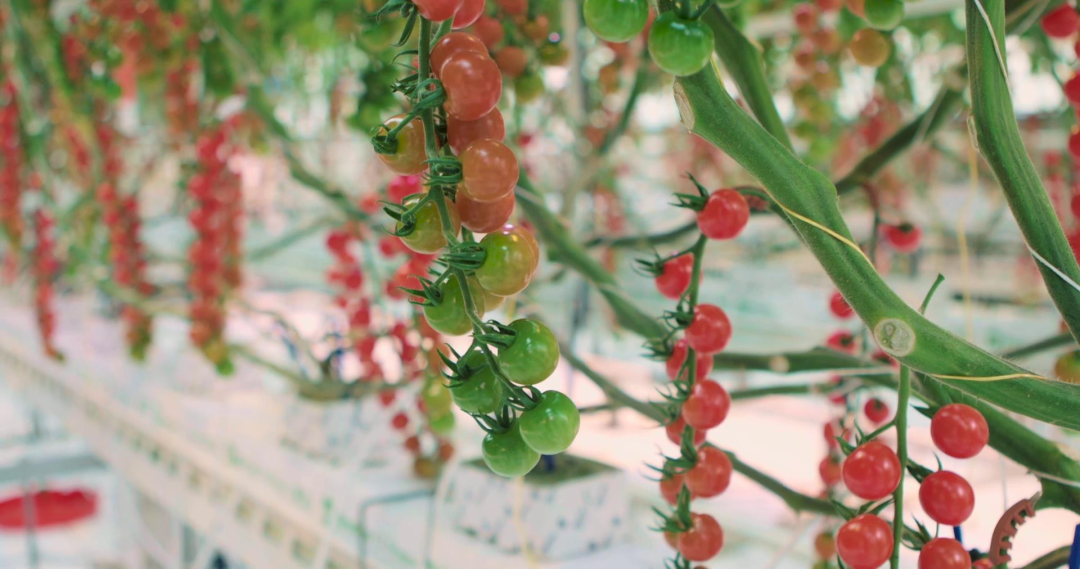 Cherry tomatoes grown by AI.
Tencent's contribution
Tencent has invested in several sustainable businesses and cleantech over the past three years including Tesla, Israel-based farming technology startup Phytech, and aircraft startup Lilium. 
In June this year, we announced the winning team in our second Autonomous Greenhouses International Challenge, a competition organized by Tencent AI Lab and agriculture institution Wageningen University. The competition invited computer scientists and horticultural experts to form multidisciplinary teams. The computer scientists were tasked with creating new, state-of-the-art, autonomous AI-driven methods of greenhouse production and compare results with the experts who applied their own extensive knowledge and deep experience to the challenge. Leveraging AI, the winning team of computer scientists was able to achieve a 16 percent reduction in resource consumption and a 121 percent increase in net profit* over the produce cultivated by the team of agricultural experts. Technology once again demonstrated its value in intelligent decision-making and automatic greenhouse control, and showcased its promising potential to help farmers as well as our environment as a whole.
"AI for FEW is not a business but a solution to the planet-level challenge facing all humans," wrote Pony Ma, Co-Founder, Chairman of the Board and Chief Executive Officer of Tencent, on WeChat Moments. "The acronym 'FEW' is profound and points to the lack of resources and public attention. We both believe IT and AI will have great significance for FEW in this digital and intelligent era." In 2019, Tencent officially proposed the AI for FEW initiative to explore the possibility of using AI as a means to mitigate the lack of resources in food, energy and water.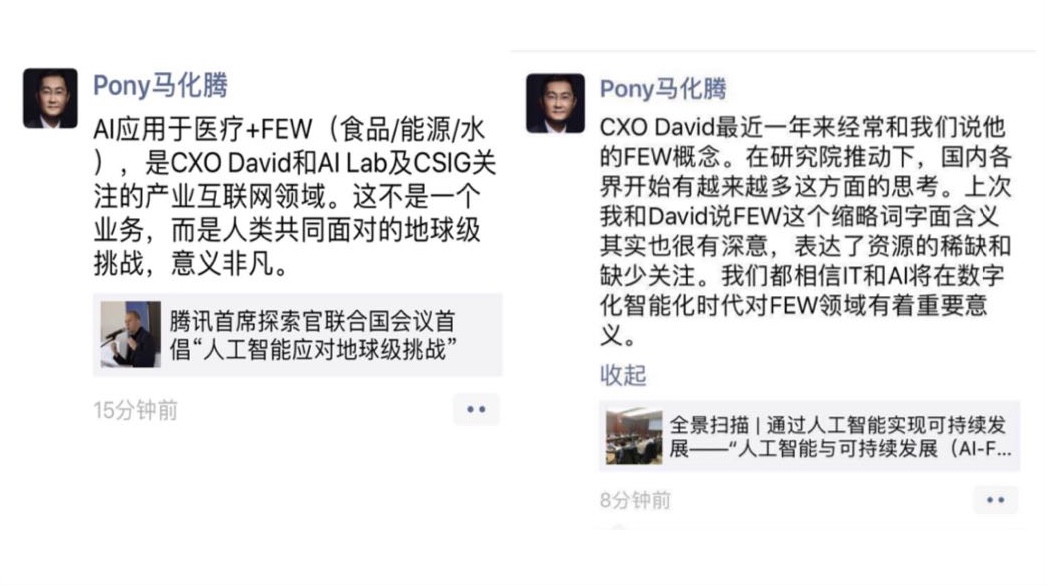 Pony Ma shares his thoughts on AI for FEW on his WeChat Moments.
Wallerstein believes in the power of technology to solve urgent environmental problems, but also thinks that time is running out. "Everyone agrees that the global environment is deteriorating, but everyone feels that there is still unlimited time. I hope companies like Tencent can play a leading role in protecting the planet and encouraging more people to take action," he said. "I would say don't just look up at outer space, look around us on earth and solve the problems here and now because we already have the power and the technology to do so."
These technology breakthroughs are good for farmers and our own health. "Tech for Good" is not just a slogan -- it's our conviction. "Tech for Good" is at the heart of our products and services and a core part of our mission to bring people together to create a cleaner, healthier, safer and more sustainable world. 
*The result was generated during the Challenge in six months from December 2019 to May 2020.