A Japanese Drugstore Successfully Turns to Weixin After a Sharp Drop in Tourists
2020.12.17
In pre-pandemic times, Japan was a hot destination for Chinese travellers. They were visiting the country in droves all-year round, exploring ancient temples in Kyoto, partaking in Tokyo's famous entertainment, and simply enjoying the country's beautiful scenery, hot springs, cultural heritage and gourmet cuisine.
To many, no trip is complete without a stop at the quintessential super drugstores and specialty shops. Bringing home Japanese goodies for themselves, family and friends is not an option – it's a necessity. Based on data from the Japan Tourism Agency, Chinese tourists spent a total of JPY1.8 trillion ($16.2 billion) in 2019, equivalent to nearly 37 percent of total visitor spending. With numbers like these, Japanese retailers have been investing significantly to attract Chinese tourists by stocking products that Chinese shoppers buy and providing shopping services in Chinese. 
The COVID-19 pandemic has been a big damper on tourism and shopping in offline stores throughout 2020. In fact, as of September this year, the number of international tourists visiting Japan declined 99.1 percent from one year ago. 
While it might be a while before the hospitality, retail and tourism industries bounce back, Tsuruha Drug stands out for making a successful pivot to cross-border eCommerce. 
"Most companies in Japan, including Tsuruha Drug, have been greatly affected by the pandemic," said Kazuyuki Miura, Executive Director of Tsuruha Drug. "Facing this difficult situation, Tsuruha Drug leveraged Weixin Mini Programs to establish our eCommerce business in China and successfully engage with our customers."
"Tsuruha Drug Express" launched in October this year, making more than 1,400 high-quality Japanese products available to Chinese consumers 24 hours a day, seven days a week. Customer orders are packaged in Tsuruha Drug's Dotonbori stores in Osaka and directly shipped to the customer's doorstep. In its first month of operation, the Tsuruha Drug mini program already generated half of total sales conducted via Weixin Pay from October 2019.
"We use Weixin as a social marketing tool to promote the Tsuruha brand to Chinese consumers," Miura said. "We have seen first-hand Weixin's capabilities to connect 1.2 billion users and provide products Chinese consumers want and need through a robust and easy-to-use platform."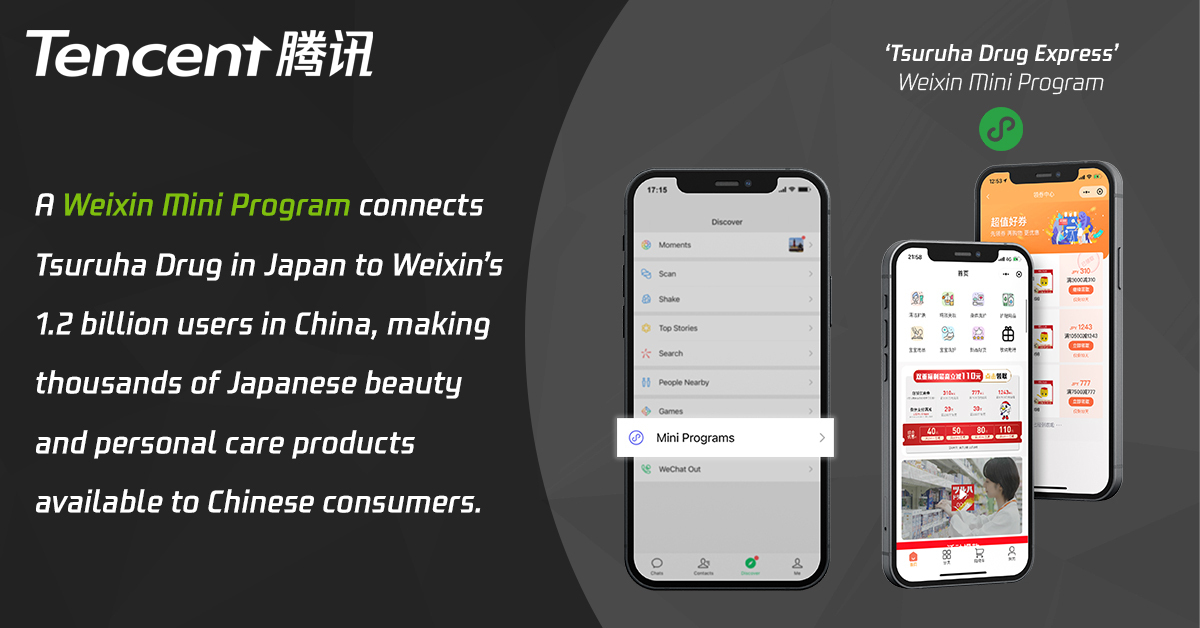 A New Cross-Border Sales Model: Weixin Mini Programs + eCommerce + social media.
Creating A New Cross-Border Sales Model 
This idea didn't happen overnight. Several years ago, Tsuruha Drug noticed that nearly all of the Chinese tourists who visited its stores used Weixin Pay to complete their transactions. That triggered the company's decision to open their own Weixin Official Account, making it much easier to engage customers and potentially attract more shoppers from China.
Tsuruha Drug has a long history of operating offline stores, but had yet to explore international eCommerce. The super drugstore looked at several potential solutions – testing out different functions and capabilities of multiple eCommerce platforms – before ultimately committing to a Weixin Mini Program.
The Weixin ecosystem gave Tsuruha Drug a number of ways to reach shoppers online. It replied to comments on its Weixin Official Account page to interact with shoppers, used Weixin chat groups to promote the online store via content and dished out discount coupons to encourage followers to repost and share with friends.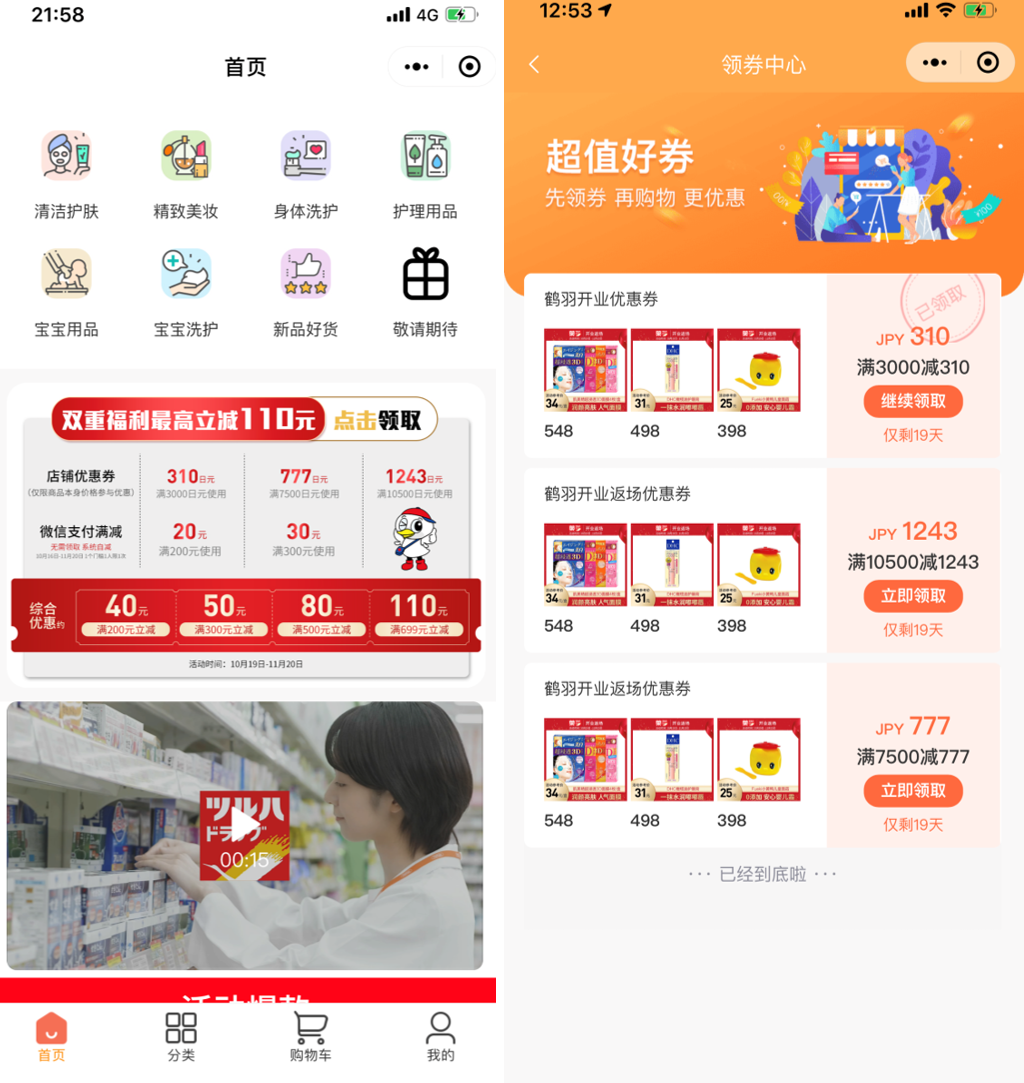 Shoppers can find coupons in the "Tsuruha Drug Express" Weixin Mini Program. 
Tsuruha says up to 20 percent of shoppers shared the coupons with friends on Weixin. Customers can actively engage with the company, enquire about new products, and give real-time feedback on the online shopping experience. Data shows a Tsuruha follower opened the mini program nine times per day on average, and browsed more than 80 items over a 24-hour period. Well-known brands in China, like Tsuruha Drug, can take full advantage of their brand awareness and social engagement to boost sales.
Many platforms charge merchants to run advertisements designed to drive consumers to their online stores, but Weixin Mini Programs use a decentralized strategy that enables merchants to operate their private domain traffic, without any fees, and conduct transactions inside the Weixin ecosystem. User and transaction data can only be accessed by the merchant. 
Digital the Key to Unlocking Business Potential in a Post-Pandemic Era
Shopping online isn't just an alternative for shops like Tsuruha Drug, it's also a way to learn about shoppers' habits and changing preferences. 
"Our efforts in building the Weixin Official Account and Weixin chat groups provide us with opportunities for timely and deep interaction with our customers and helps us better meet the needs of Chinese consumers," added Miura. 
More and more Japanese brands are starting to see the value of layering Weixin Mini Programs on top of social engagement within the Weixin ecosystem. A number of Japanese cosmetics brands, department stores and airports are now preparing to join this ecosystem, with plans to capitalize on consumers' desire for shopping from around the world, but with only a few taps on their smartphone screen. 
A recent Bain Consulting report on Chinese consumer behaviour revealed that rational consumption, demand differentiation, digital acceleration, and the rise of owned user traffic have become the four new consumption trends emerging in a post-pandemic China. The penetration rate of a brand's official online channels, communities, and Mini Programs already exceeds 20 percent, and is expected to maintain a 15-25 percent growth rate until the first half of 2021.  Brands and retailers will be facing more cautious consumers as economies bounce back, with no indication of when tourism and offline shopping will return to 2019 levels. This makes it even more important for companies to seek new ways of reaching customers. 
About Tsuruha Drug
Tsuruha Drug is the largest drugstore chain in Japan with 2,399 stores as of October 2020. Since its establishment, Tsuruha has worked to create appealing shops that earn the confidence of customers based on the concepts of kindness and trustworthiness. The company aims to support everyday living with a wide variety of useful medicines and other items by positioning itself as a health and lifestyle partner.